Here's the full recap of the BlizzCon 2023 Opening Ceremony, including all of the announcements about Overwatch 2, World of Warcraft, Hearthstone, and more.
BlizzCon 2023 Opening Ceremony kicked off with welcoming speeches from Blizzard Entertainment president Mike Ybarra and Microsoft Gaming CEO Phil Spencer. Read on for the full recap of every BlizzCon 2023 announcement.
BlizzCon 2023 Opening Ceremony announcements (Image via Blizzard Entertainment)
BlizzCon 2023 Overwatch 2 announcements
After the Ybarra and Spencer speeches, game director Aaron Keller went on stage. He talked about how Overwatch 2 unites everyone in the community, highlighting the game's LGBTQ+ characters, cultures from around the world, and the Loverwatch event. Keller then mentioned the LE SSERAFIM concert that will be happening on Nov. 4.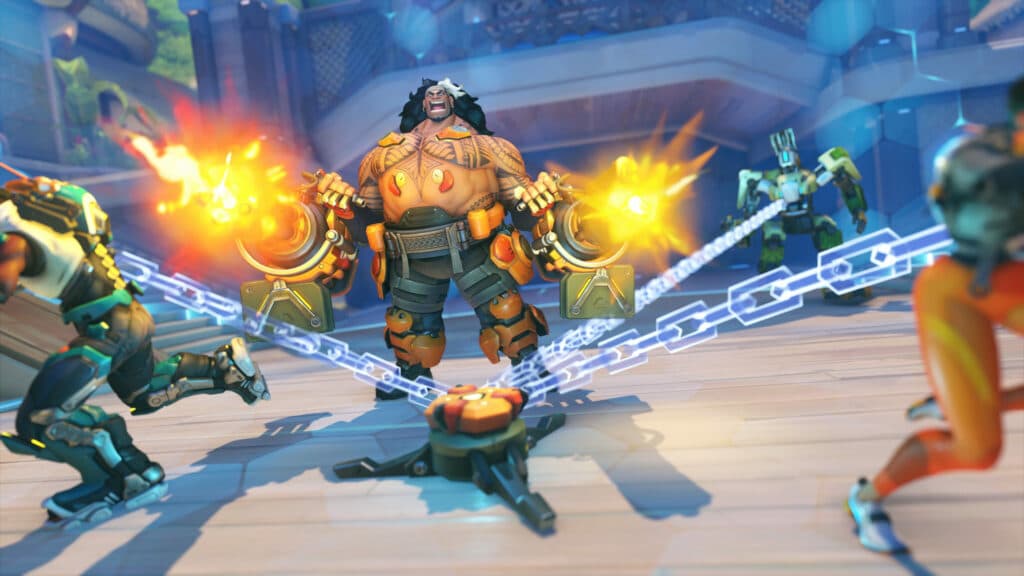 An Overwatch 2 announcement featured new tank hero Mauga (Image via Blizzard Entertainment)
Both Keller and Overwatch 2 art director Dion Rogers then talked about Mauga, who is the new tank hero. This announcement was followed by a brief introduction to upcoming heroes Venture and Space Ranger. Other key BlizzCon 2023 Overwatch 2 announcements included an introduction to the Clash game mode plus the Hanaoka map.
World of Warcraft: Worldsoul Saga expansions (Image via Blizzard Entertainment)
BlizzCon 2023 World of Warcraft expansion announcements
The Opening Ceremony event boasted The Worldsoul Saga as well! This will feature three expansions, including World of Warcraft: The War Within, World of Warcraft: Midnight, and World of Warcraft: The Last Titan.
The War Within will be the first installment of the saga, and players will get to explore ancient civilization Khaz Algar in 2024. A cinematic trailer for this featuring an older Anduin and Thrall made its debut on the BlizzCon 2023 stage.
BlizzCon 2023 WoW Classic announcements
Meanwhile, for fans of World of Warcraft Classic, the new Season of Discovery will go live on Nov. 30. It will have new features and unique rulesets, including runes, rune-engraving, incremental level cap increases, reimagined dungeons, and world player-versus-player (PvP) events.
The Opening Ceremony event also announced Cataclysm Classic! This will launch in 2024 and feature a plethora of quality-of-life changes and features. Some examples include a level cap of 85, new races Worgen and Goblin, the Archeology profession, streamlined leveling, dungeon difficulty modifiers, and more.
Deathwing screenshot (Image via Blizzard Entertainment)
Warcraft Rumble goes live at BlizzCon 2023
For those who wish to take a piece of Warcraft with themselves while they're on the go, they can jump into Warcraft Rumble. This is a mobile game that requires players to defend their own towers and destroy the enemy towers plus bosses.
Interested folks with Android and iOS devices can download the game now.
BlizzCon 2023 Diablo 4 announcements
Don't forget about the event's Diablo 4 announcement! Vessel of Hatred will be the game's next expansion and feature a new region, information about Mephisto's fate, a brand-new class, and more.
In a post, Blizzard also noted that Diablo 4 Season 3 will be able to enter The Gauntlet as a weekly challenge dungeon. "At the end of each week, the combatants with the highest rank will have their name cemented in the Seasonal Hall of the Ancients for all of time," Blizzard noted.
Hearthstone announcements at BlizzCon 2023
As for Hearthstone, BlizzCon 2023 revealed the official Showdown in the Badlands cinematic. It features the adventures of outlaws Reno and Elise as they attempt to take down some corrupt townsfolk!
Other things to note for Hearthstone include Battlegrounds Duos, a free Warcraft Rumble card back, plus the arrival of new Catch-Up Packs. These are card packs that help players catch up with the new expansion. According to Blizzard, they include up to 50 cards.
Hearthstone was part of the BlizzCon 2023 announcements (Image via Blizzard Entertainment)
"Catch-Up Packs are a new type of Hearthstone Pack that include a variable number of cards in them — between 5 and 50 cards per pack — based on the percentage of prior Standard expansion cards you've already received," Blizzard explained in a post.