BlizzCon 2023 has revealed the official cinematic for Hearthstone's Showdown in the Badlands expansion! Read on for details and everything to know about the characters, gameplay, and more.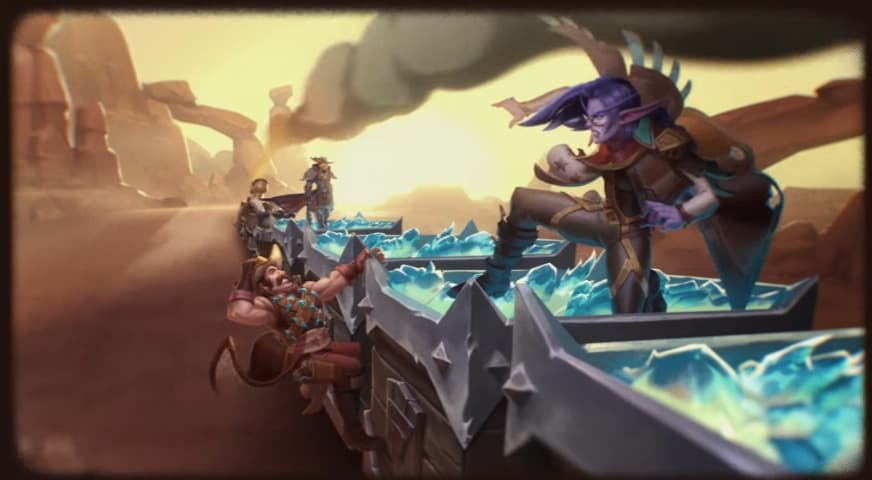 Hearthstone Showdown in the Badlands cinematic screenshot (Image via Blizzard Entertainment)
Hearthstone Showdown in the Badlands cinematic
The Showdown in the Badlands cinematic kicks off with a narration by Reno Jackson. He recalls how he used to work alone before honorable outlaw Elise joined him on the quest to take down the Bloodrock Mining Company run by Sheriff Barrelbrim.
Sheriff Barrelbrim is a 4 mana 4/4 neutral legendary minion (Image via Blizzard Entertainment)
The cinematic then showcases a bunch of new cards at play on the Hearthstone board. In addition to Elise, Badlands Savior, some of the other cards include Theldurin the Lost, the Dehydrate spell for the Shaman class, and the Kobold Miner minion. Reno himself then appears as a playable hero.
Showdown in the Badlands launch date
This expansion is set to launch worldwide on Nov. 14. It not only features Elise and Reno as key characters in the story, but also the new Excavate and Quickdraw keywords. While cards with Excavate give players treasure, Quickdraw cards receive a bonus on the turn they're added to a player's hand.
Further adding to the Wild West theme of this expansion, the legendary outlaws are represented by the Demon Hunter, Druid, Hunter, Paladin, Priest, and Shaman classes. Each of these outlaw classes get a legendary minion with a bonus effect if the player's deck has no duplicates.
Meanwhile, Sheriff Barrelbrim's corrupt townsfolk classes can get legendary Excavate treasures. These classes include Death Knight, Mage, Rogue, Warlock, and Warrior.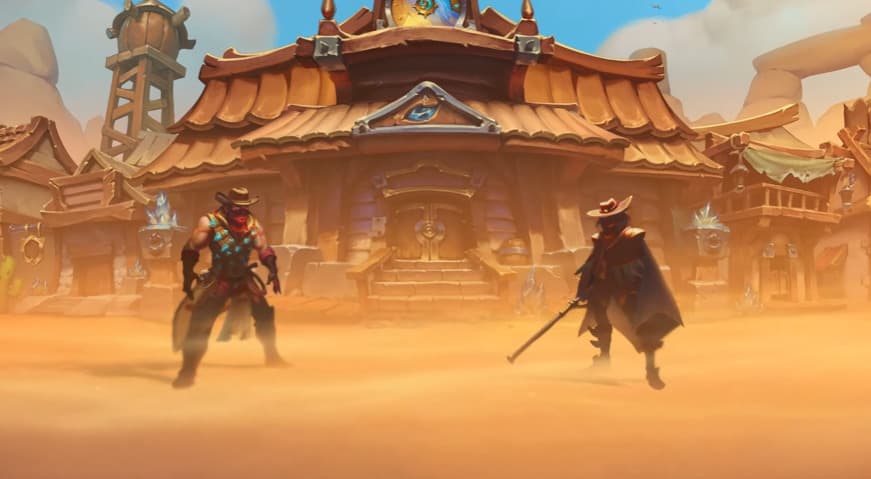 Cinematic screenshot (Image via Blizzard Entertainment)
In an interview with esports.gg, the Hearthstone team talked about the development of this expansion. Game designer Leo Robles Gonzalez shared how cowboys inspired the Quickdraw keyword.
"Quickdraw is one of our two new keywords. Cards with Quickdraw have a bonus if they're played the turn they enter your hand," he said. "And that counts when you draw from your deck or when you randomly create it or return it to your hand. As long as it entered that turn. That keyword is super cool 'cause it really feels like you are a cowboy."