Howdy, partner! It's high noon somewhere in the world.
Hearthstone's next expansion is Showdown in the Badlands! Ahead of the official announcement, we sat down with game designer Leo Robles Gonzalez and lead narrative designer Valerie Chu for an interview! Read on to learn all about the Legendary outlaws, Quickdraw and Excavate keywords, and more.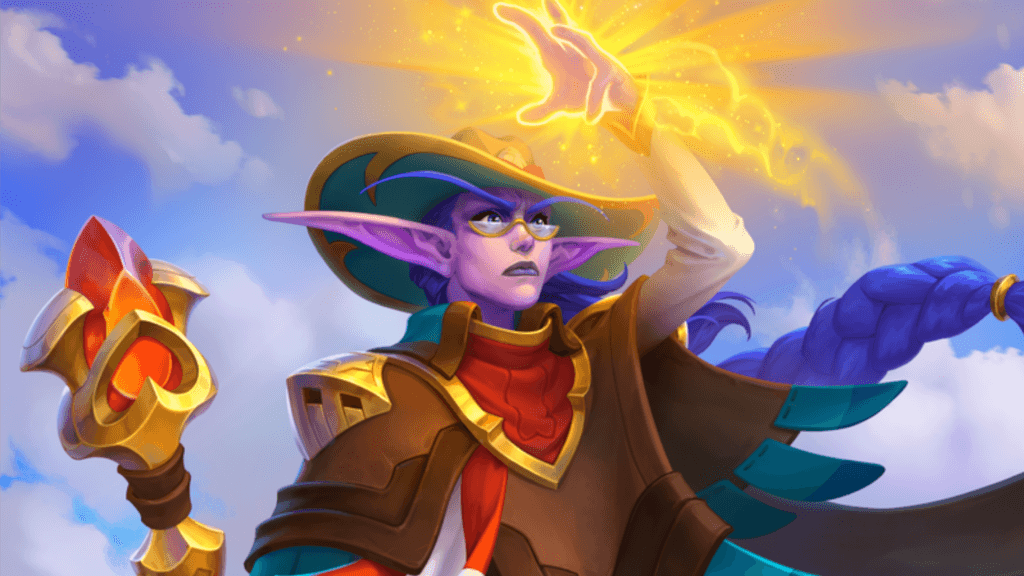 Elise, Badlands Savior in Hearthstone Showdown in the Badlands (Image via Blizzard Entertainment)
Hearthstone Showdown in the Badlands interview
Hearthstone players are heading to the Wild West through the upcoming Showdown in the Badlands expansion! Arriving this November, Showdown in the Badlands boasts 145 brand-new cards, Legendary outlaws, the Quickdraw and Excavate keywords, plus a bonanza of in-game events.
When asked about what inspired Showdown in the Badlands, Chu detailed how excited the Hearthstone was to explore a Wild West storyline involving the League of Explorers. In this narrative, Elise leads a group of outlaws against corrupt townsfolk who are excavating treasures in the mines. The twist is that they're mining Azerite, which could endanger everyone.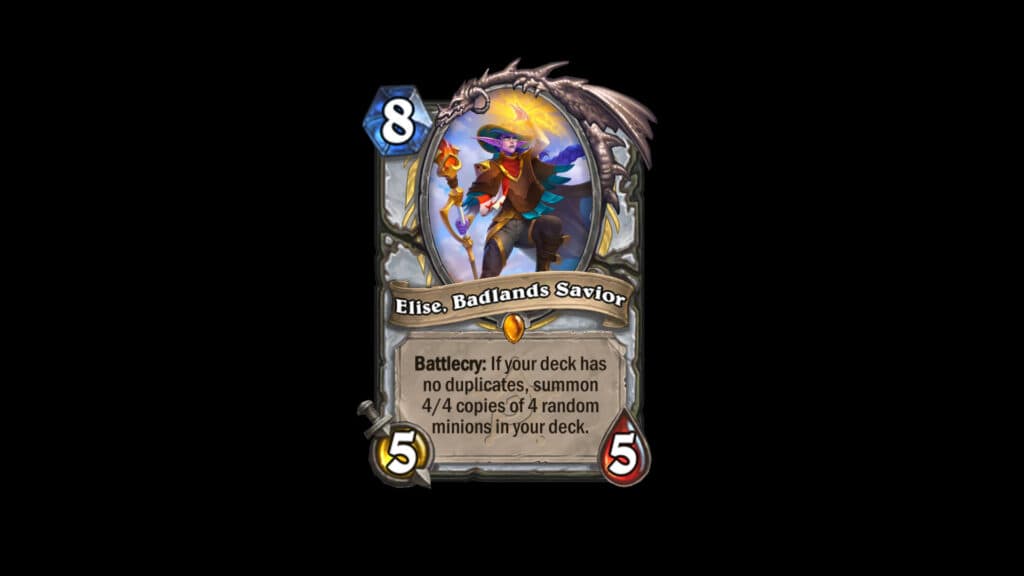 Elise, Badlands Savior card (Image via Blizzard Entertainment)
"So at first, you're like, 'Wait. What's going on? How is Elise an outlaw?' But then you learn the twist, which is that they are mining Azerite, which could destabilize the entire region," Chu told esports.gg. "So it's actually heroic to be an outlaw in this version of the story. A little good, bad, and Hearthstone mixed in there."
Meanwhile, Gonzalez told esports.gg how centering the expansion around cowboys is a departure from typical World of Warcraft themes. Translating the Wild West into Hearthstone while maintaining the World of Warcraft universe's integrity required some creative thinking.
"As far as gameplay goes, it's a matter of finding things that are really evocative of the theme and making them feel as cool as we can within the rules of Hearthstone," Gonzalez added. "I think Quickdraw is a perfect example [how you] can't have a Wild West showdown without gun-slinging action. So what does this expansion need? Card slinging!"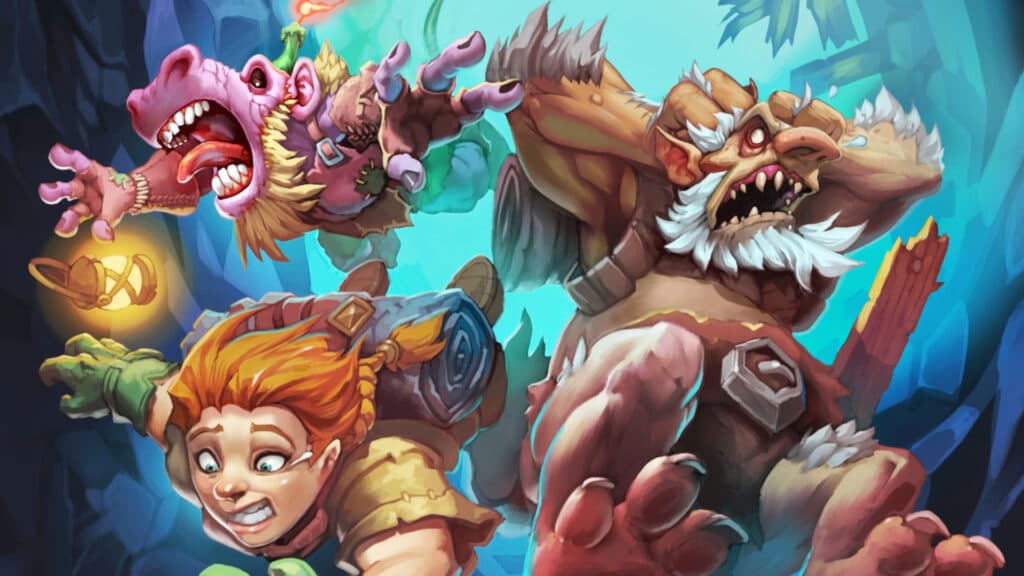 Collapse! is a 3-mana neutral epic spell that deals 3 damage to all enemies (Image via Blizzard Entertainment)
Hearthstone gets Quickdraw keyword
In Showdown in the Badlands, cards with the Quickdraw keyword get a bonus on the turn they're added to a player's hand. This encourages players to shoot cards off as soon as they draw them!
"Quickdraw is one of our two new keywords. Cards that have Quickdraw on them have a bonus if they're played the turn they enter your hand. And that counts when you draw from your deck or when you randomly create it or return it to your hand. As long as it entered that turn," Gonzalez explained. "That keyword is super cool 'cause it really feels like you are a cowboy."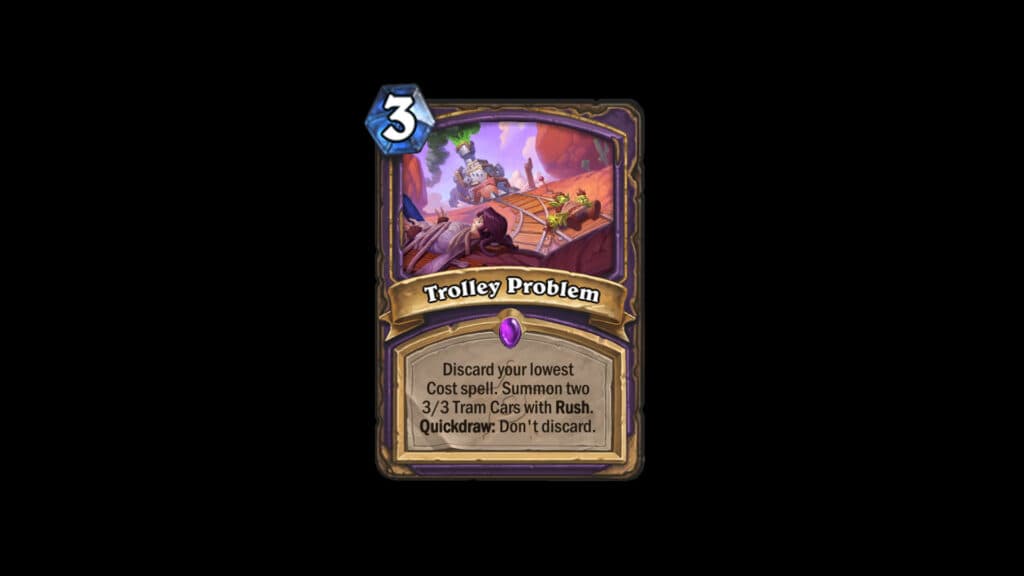 Trolley Problem has the Quickdraw keyword in Hearthstone (Image via Blizzard Entertainment)
How the Excavate keyword works in Hearthstone
Gonzalez and Chu also went into detail about the Excavate keyword in Hearthstone. Excavate is made for the corrupt townsfolk as opposed to the outlaws. The townsfolk classes include Death Knight, Mage, Rogue, Warlock, and Warrior.
"We've got the classes that are allied with the mining company. The townsfolk get to do Excavate. Cards that say Excavate, when you play them, you get really awesome treasures from the mine," Gonzalez said. "The more that you Excavate the rarer and more powerful the treasures get until you get to the very end of the mine." The corrupt townsfolk classes, in particular, excel thanks to this keyword.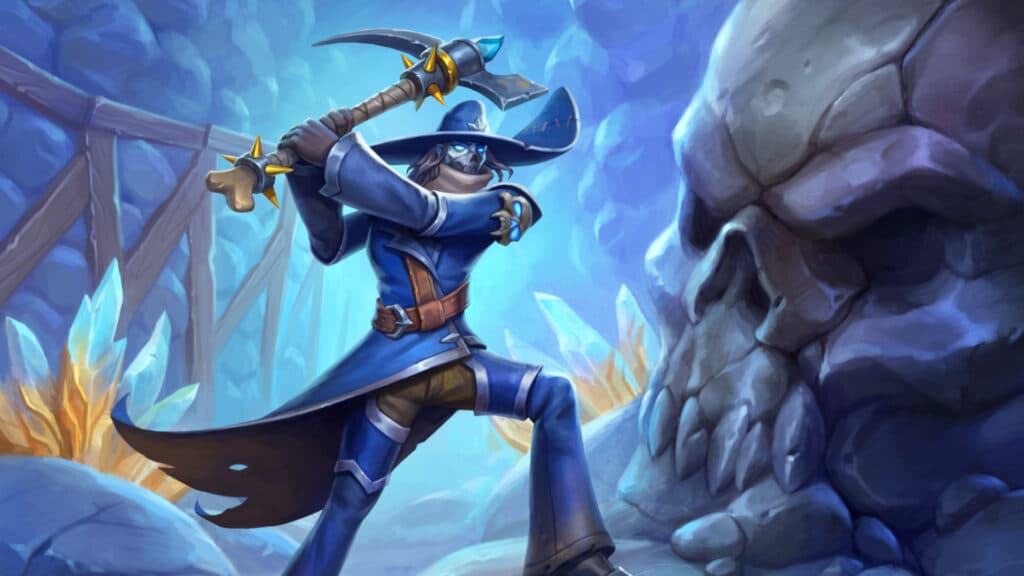 Reap What You Sow is a 3-mana common Death Knight spell that deals 3 damage and lets you Excavate a treasure (Image via Blizzard Entertainment)
Legendary outlaws in Showdown in the Badlands
Meanwhile, the outlaws reintroduce the Singleton meta with a Wild West twist. Singleton decks only allow single copies of cards. In exchange for this limitation, players gain access to powerful benefits. The classes that represent the Legendary outlaws are Demon Hunter, Druid, Hunter, Paladin, Priest, and Shaman.
"I think Elise is one of the coolest ones that we have right now," Gonzalez revealed. "Theldurin is also plenty cool, but Elise is [the] star of the show. If you're running no duplicates, when you play her, you kind of recruit a bunch of her posse outlaws to come into battle alongside her."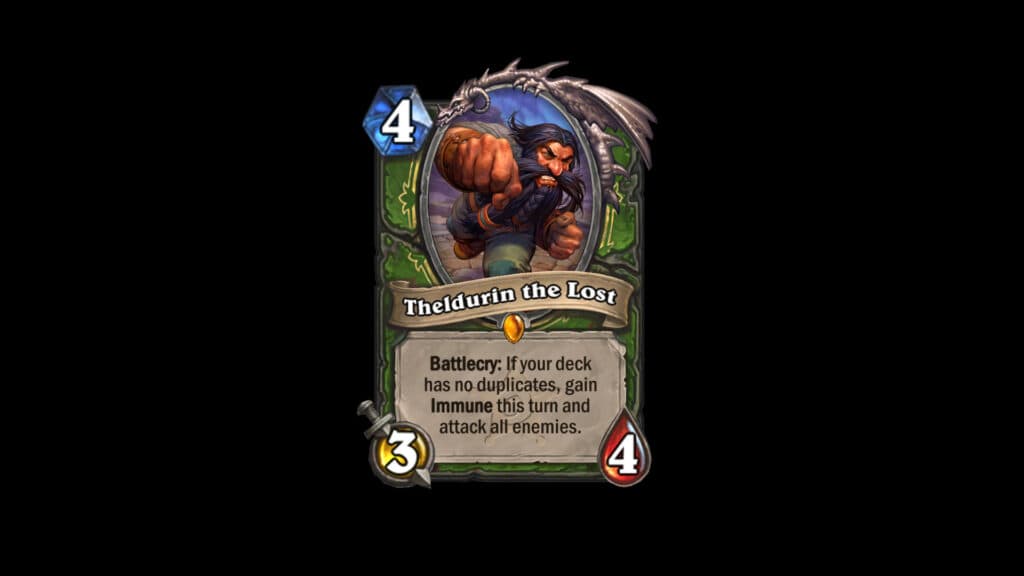 Theldurin the Lost in Hearthstone Showdown in the Badlands (Image via Blizzard Entertainment)
Townsfolk versus outlaws
When asked about it was like deciding which classes would be the Legendary outlaws versus the corrupt townsfolk using Excavate, Chu told esports.gg all about that process, noting that it was influenced by the key characters' affiliations and the thematic vibe.
"We did have a bit of an advantage starting out with this because we knew we wanted Elise to be the leader of the outlaws," Chu said. "So that seemed like a shoo-in for Priest. And then you can see Theldurin, because he's a Hunter, he's part of that as well. So some of those key characters helped us decide who should go where. But also, I think the vibe of having the townsfolk be up to something that kind of helps you with those more mischievous classes, perhaps."
As for other faces in the Showdown in the Badlands, Chu revealed that the expansion features more characters from World of Warcraft alongside some new faces. Matt Mercer and his iconic "It's high noon" line from the Overwatch 2 might also make an appearance!
"You'll have to stay tuned to find out, but I feel like there's a probability much higher than zero," Chu said.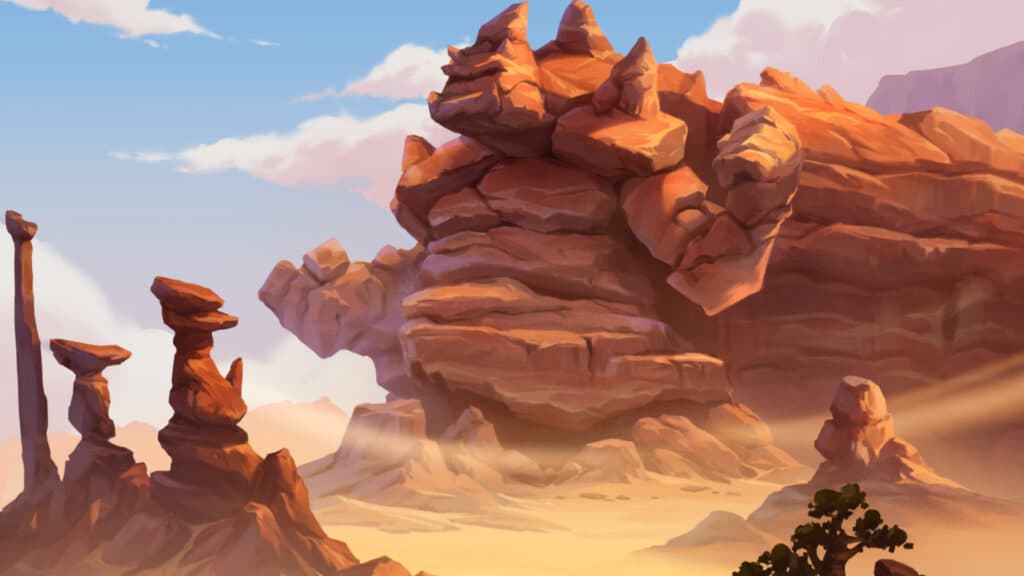 Ogrefist Boulder is a 3-mana Location card that sets a minion's stats to 6/7 (Image via Blizzard Entertainment)
Riding into Showdown in the Badlands with Thunderbringer
In terms of what Gonzalez is the most excited about in Showdown in the Badlands, he hinted at the shenanigans with the Rogue class and provided more details about the Excavate keyword. According to Gonzalez, each of the townsfolk classes has a Legendary treasure that guides the deck-building and game plan, making each deck unique.
Meanwhile, Chu told esports.gg about Thunderbringer. This Legendary card is an Elemental Beast with Taunt and Deathrattle. It's also a free log-in reward and goes well with the expansion's overall theme.
Thunderbringer in Showdown in the Badlands (Image via Blizzard Entertainment)
"Our free log-in reward card is really fun this time. It is the Thunderbringer, an Elemental and Beast card type," Chu said. "And the best thing about it is — it's a pony! So you go to the Wild West with us and you get your very own pony to ride out there. Honestly, just the way the card came together — the mechanic and the animations and art look so cool. I'm thrilled for people to get to enjoy that."
Gonzalez agreed, noting how the design of Thunderbringer brings him so much joy.
"So you've got this big thunder pony! And when it dies, you get a potential thunder thing and potential pony things on the board. Designs like this make me really happy. They're really easy to understand and digest. But the possibilities are limitless, right? It's up to the players to figure out what's the best thing to do with this."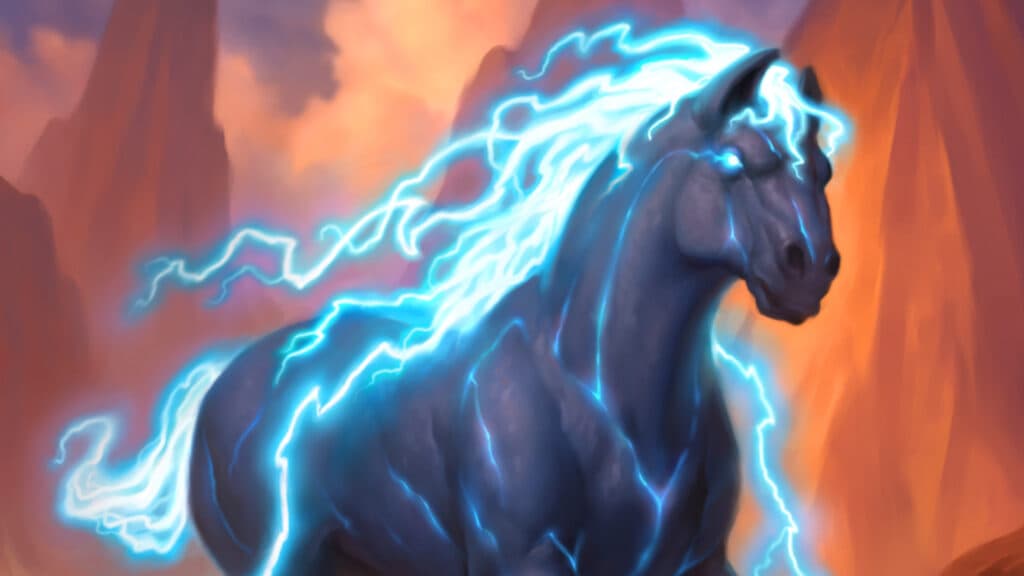 Thunderbringer artwork (Image via Blizzard Entertainment)
That's all for now. Are you excited to ride into the Wild West that is Showdown in the Badlands? Don't forget to saddle up Thunderbringer! Stay tuned on esports.gg for more news, interviews, and updates!