Warcraft Rumble launches worldwide at BlizzCon 2023 on Nov. 3!
Warcraft Rumble is a mobile game that takes place within the Warcraft universe. In this action and strategy game, legendary characters that we all know and love come to life as collectable minis and duke it out in multi-lane battles across unique missions. The game boasts a single-player campaign and PvP battles. Raids will later join the action.
We sat down with associate game director Adam Kugler and lead technical artist Josue Mariscal for an interview to learn more about what it takes to create Warcraft Rumble!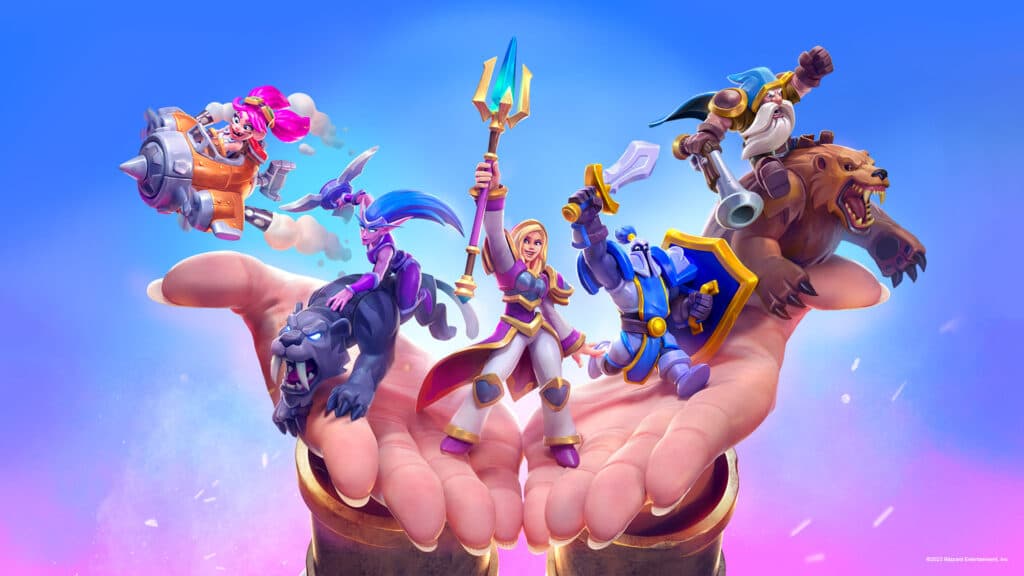 Alliance in Warcraft Rumble (Image via Blizzard Entertainment)
Unleashing joyful chaos for Warcraft fans and new players
When players jump into Warcraft Rumble, they may feel a lot of nostalgia. The game has familiar spells, classic sound effects, iconic locations, plus well-known characters such as Grommash Hellscream, Jaina Proudmoore, Cairne Bloodhoof, Ragnaros, Onyxia, Stitches, and more. Warcraft Rumble is also able to champion nostalgia with details that make players smile.
"For me, Warcraft has always ranged from serious to silly," Kugler told esports.gg. "And silly is part of the way that I fell in love with the game first. — Especially during [the] Warcraft 2 [and] Warcraft 3 era when you could click on units forever and get them to say jokes or click on sheep a bunch of times and get them to explode. We have an Exploding Sheep talent in our game as a homage to that."
Warcraft Rumble gameplay (Screenshots via esports.gg)
Kugler emphasized that his team enjoys adding references to things they love. It's a fun part of game development that highlights how Warcraft Rumble can include jokes that bring people from diverse backgrounds together.
As for one of his favorite references, Kugler told esports.gg that it's the one with Chef Audrey from Lordaeron. In Warcraft Rumble, she throws food from a Meat Wagon at characters. Finding a reference and figuring out the best way to put that into Warcraft Rumble is a rewarding experience.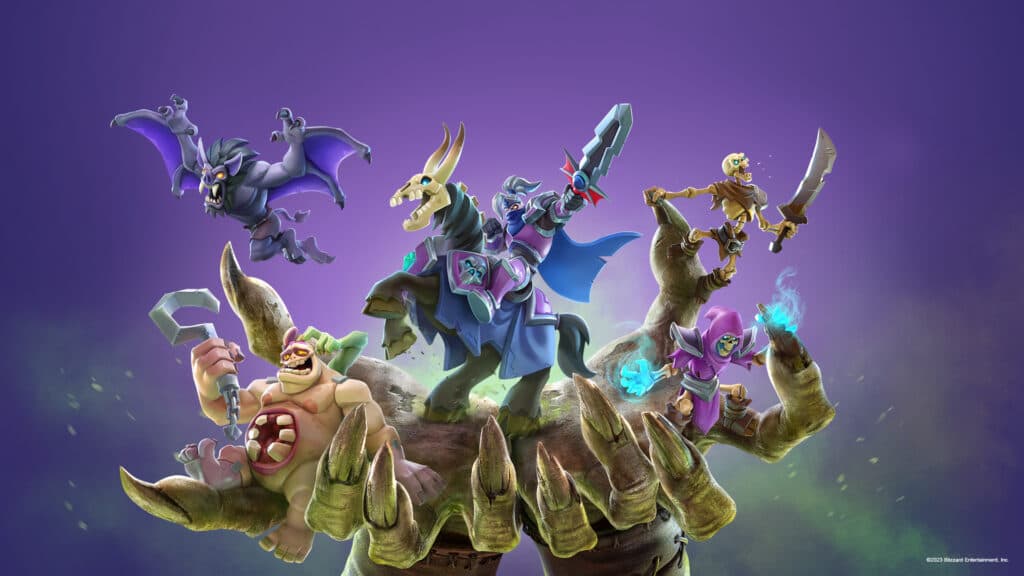 Undead in Warcraft Rumble (Image via Blizzard Entertainment)
Warcraft Rumble as a love letter to veterans
Mariscal shared his thoughts on the Easter eggs and what he personally enjoys the most about the game as well. He especially appreciates the game's audio and shared an anecdote about how the silliness always makes him laugh.
"One of my favorites is using the Footmen. Whenever you deploy them, they go, 'Ha ha!' And it's just exciting to me and it makes me laugh every time that I deploy them," Mariscal told esports.gg. "And so much so that I audibly, to myself or in whatever room I'm in, I go, 'Ha ha!' and I get funny looks for my wife whenever I do that.
"I think the audio itself just plays such a fun role for me when playing the game. The universe in general, when it comes to Warcraft, is so nostalgic it kind of shoots me back to when I was much younger and playing the original WoW or Warcraft in general.
"So like you mentioned and like we mentioned earlier, there's a ton of people that are on the game, like Adam included, who've worked on these other games and they've brought so much of that kind of love and care into this game that hopefully everyone can notice."
Warcraft Rumble gameplay (Screenshots via esports.gg)
Warcraft Rumble missions and group play
Warcraft Rumble features a single-player experience with over 70 missions. There are also weekly and monthly challenges. Players can enter the game with their friends in both PvE and PvP modes while joining guilds to connect and fight alongside others.
Mariscal mentioned the ability to join guild mates to earn rewards like the War Chest. Players can collaborate and accumulate points for different Families as well. In Warcraft Rumble, Families refer to five groups: Alliance, Horde, Blackrock, Beasts, and Undead.
Blackrock in Warcraft Rumble (Image via Blizzard Entertainment)
"We have things like raids coming down the pipe," he told esports.gg. "And that is specifically geared towards co-op where you can play with a guildie and make armies that complement each other and think of different strategic ways that two people can join together to beat Molten Core."
Kugler agreed, noting that group dynamics have always been crucial in the franchise — from folks playing against each other in Warcraft 3 battles to large 40-player raids in the early days of World of Warcraft. He acknowledged the challenge of adapting raids to a mobile platform and emphasized that raids are positioned as top-tier aspirational content requiring teamwork and strategy.
"The last fight in the campaign [featuring] Onyxia is kind of like a single person raid," Kugler said. "There's three different phases to her. She's incredibly difficult. There's a lot of spectacle going on in that fight. So it's important to let players play the way they want to, but also group content and high-end aspirational play is core to the DNA of Warcraft."
Warcraft Rumble maps, bosses, and gameplay (Screenshots via esports.gg)
How to play Warcraft Rumble
In Warcraft Rumble, resource and time management happen in battle thanks to units and spells that go up against enemies. There's also the need to gather gold to use those units and spells. The game requires players to think about how Melee, Ranged, and Flying units can work together.
Every campaign mission is different as well, according to Kugler. He added that there are multiple ways to solve a mission in Warcraft Rumble. However, certain Leader units and regular units are sometimes more beneficial in terms of strategy. To fight Baron Geddon, for example, players should use Flying and Unbound units. This is because the floor is lava!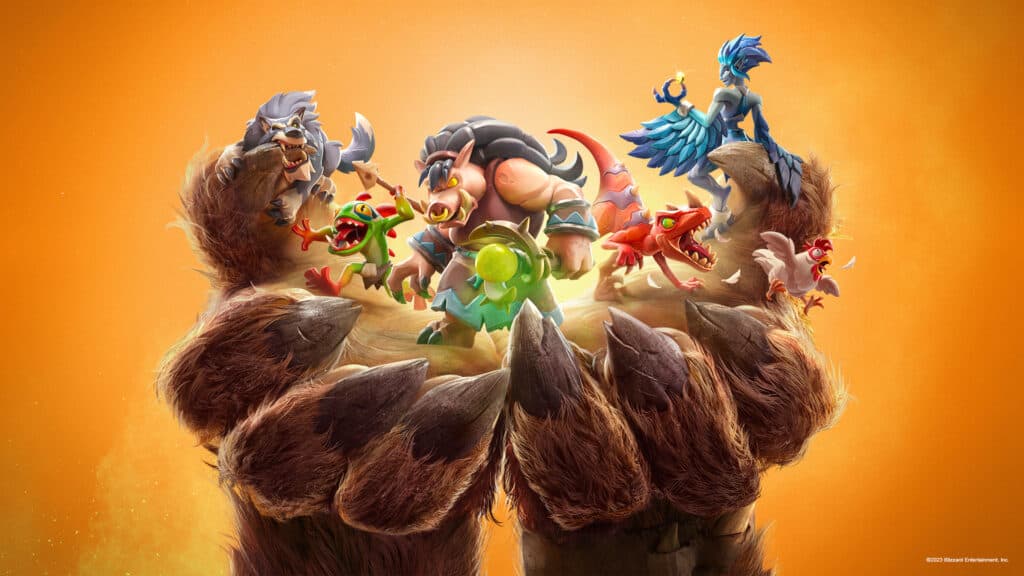 Beasts in the game (Image via Blizzard Entertainment)
Warcraft Rumble, monetization, and supporting the developers
In terms of Warcraft Rumble's monetization system, Mariscal emphasized that everything in the game can be earned by playing it. He also talked about the skill and strategy required to play the game well. For example, having more units doesn't guarantee a win. Instead, a well-built and synergized army can be the difference between victory and defeat.
"I think as far as pay-to-win is concerned, I think the most important thing to remember is with Warcraft Rumble, everything in the game, literally everything, can be acquired just by playing," Mariscal "There is nothing in particular that you can purchase that someone who plays for free won't get."
In-game store items (Screenshots via esports.gg)
"I think the only thing that purchasing does for a player is [that it] allows you to build your collection of units a little faster. That's all it really does," he continued. "At the end of the day, this is a strategy game. So let's say, for example, if you're in PvP and you have units that your opposing player doesn't. It's not necessarily a winning strategy. That other player could beat you based on the synergy that their army has and just the skill that they've acquired by playing with that specific army."
Meanwhile, Kugler noted that there are currently no plans for a battle pass. He then added how it's worth mentioning that there's the Arclight Booster in the store.
"So if you decide that you really like this game after you've played for free for a period of time, there's a one-time permanent upgrade to your comp that you can get, which basically just makes it so that every time you play a match, you get more experiences, 20% more experience, and every time you get a reward for beating a campaign mission or heroic mission or PvP milestone, you'll get 50% more coins than you would normally."
Kugler also mentioned a feature that's similar to a piggy bank. This feature accumulates premium rewards earned from campaign missions — even if a player hasn't purchased the premium booster yet. It means there's no rush to buy the booster early, and when a player does decide to purchase it, they'll receive all the rewards they've earned up to that point.
"So I'm super excited about that because usually, when I'm playing a game in a space and it's a free game, I'm looking for a way to support the developer," Kugler said. "That's just the thing that makes the most sense. And for me, this is the thing that makes the most sense if you're the type of person who wants to buy just one thing to support the developer."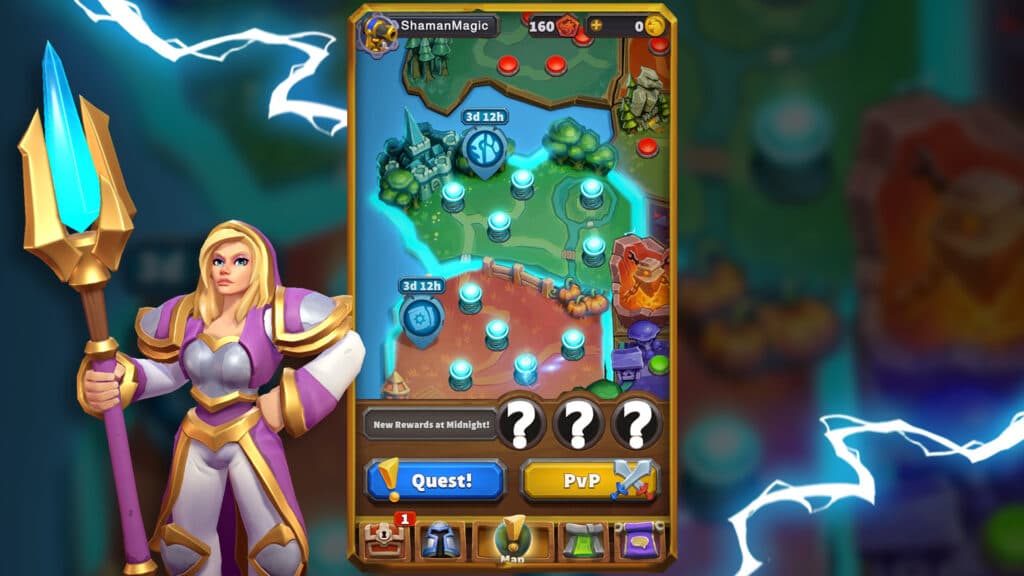 Screenshot featuring Jaina (Image via Blizzard Entertainment)
Warcraft Rumble release date and BlizzCon 2023 details
Are you ready to engage in joyful chaos with over 60 heroes, villains, monsters, and more? Some players can visit the official Warcraft Rumble website to get access to the game. Meanwhile, the worldwide launch for it will happen live at BlizzCon 2023 on Nov. 3!