Illari enters Overwatch 2 as first-ever Peruvian hero
Hailing from Peru, Illari is a new support hero who has solar powers! We interviewed Blizzard about her abilities, inspiration, design, and gameplay.
Illari has entered Overwatch 2 as the game's first Peruvian hero! We sat down with Blizzard for an interview about what this means to them, Illari's inspiration and design, and gameplay tips. Read on for details!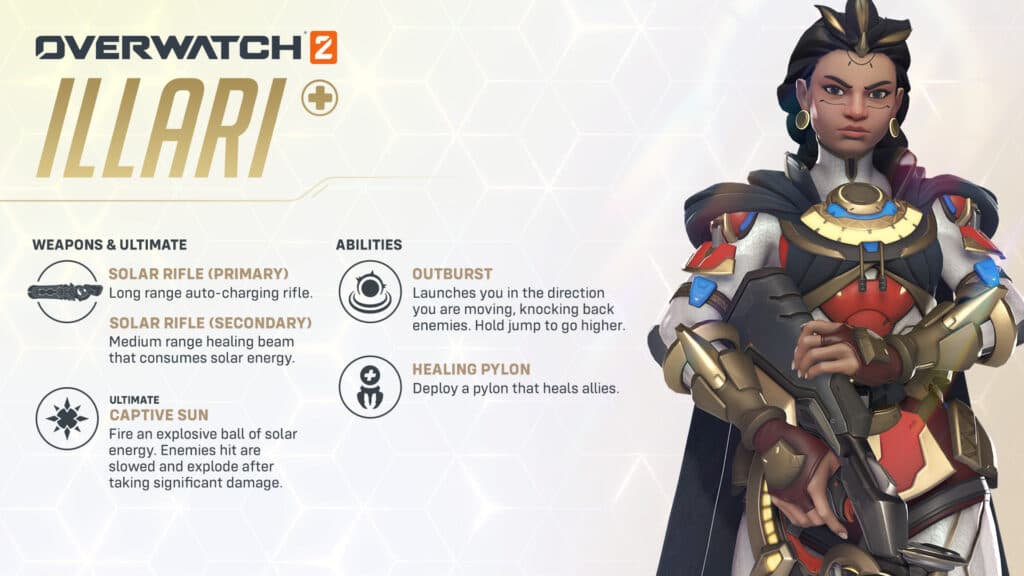 Illari's abilities in Overwatch 2 (Image via Blizzard Entertainment)
Overwatch 2 Illari interview: Creating a Peruvian hero
Hailing from Peru, Illari is a new support hero who has solar powers. While her primary fire is Solar Rifle, her secondary fire is a healing beam. She also has a Healing Pylon to aid her teammates. As for her movement, Outburst launches her into the direction she's moving and knocks back enemies. Outburst allows her to go even higher if jump is held. Illari's ultimate, Captive Sun, fires a ball of solar energy at enemies for crowd control and damage.
Hero designer Piero Herrera played a significant role in Illari's creation since he approached narrative designer Joshi Zhang with the idea of a sun hero from Peru. The concept and the sun's relevance to Peruvian culture meant a lot to Herrera because he's half Peruvian and half Brazilian. Additionally, Illari's hairstyle reminded Herrera of his grandmother.
Illari is a Peruvian hero (Image via Blizzard Entertainment)
"I'm half Brazilian, half Peruvian, and the character actually [started with] one ponytail," Herrera said. "And after we did the research and talked to experts, we just decided that it was more representative to have two ponytails. And then I kind of got curious and I asked my father for more pictures of my grandmother. I was happy to know that she actually had the same hairstyle that Illari has as well. And she's Peruvian as well. That was a really happy moment that we had throughout development."
Zhang and senior character artist Rakan Khamash recalled that Illari initially had one braid, too. However, the Overwatch 2 team collaborated with experts to ensure an accurate representation of her culture. This extended to Illari's voice lines and her use of Peruvian slang.
Additionally, Khamash shared how Illari received a custom sun shader that players should look out for whenever the hero is either in the sun or in the shadows.
Overwatch 2 Illari screenshot (Image via Blizzard Entertainment)
Illari's lore and backstory in Overwatch 2
While the initial concept for Illari was to represent the bright and positive aspects of the sun, that shifted to exploring how the sun can be about life and destruction. Later, this was reflected in Illari's backstory.
"She carries a lot of guilt and she's not done working through it yet," Zhang explained. "She's actually [the] youngest hero we're adding to the roster, so her past events are actually very raw and recent to her because she's so young. And so you get a lot more of that sort of darkness."
Zhang added that a lot of young players might connect with Illari and her circumstances.
Overwatch 2 Illari gameplay and playstyle
In terms of Illari gameplay in Overwatch 2, Herrera said that she offers fast-paced action that appeals to both support and attack-oriented players. The design team wanted to balance attack capabilities with healing abilities to prevent players from feeling like they're missing out on healing potential.
The arrival of Illari's Healing Pylon solved this challenge. While the Healing Pylon aids her teammates, it also requires strategic placement because it's destructible. Meanwhile, Illari's kit involves attacking enemies with a charged rifle as her primary fire and healing teammates with a beam thanks to her secondary fire. Herrera added that her Captive Sun ultimate targets enemies by unleashing the power of the sun and marking them for damage.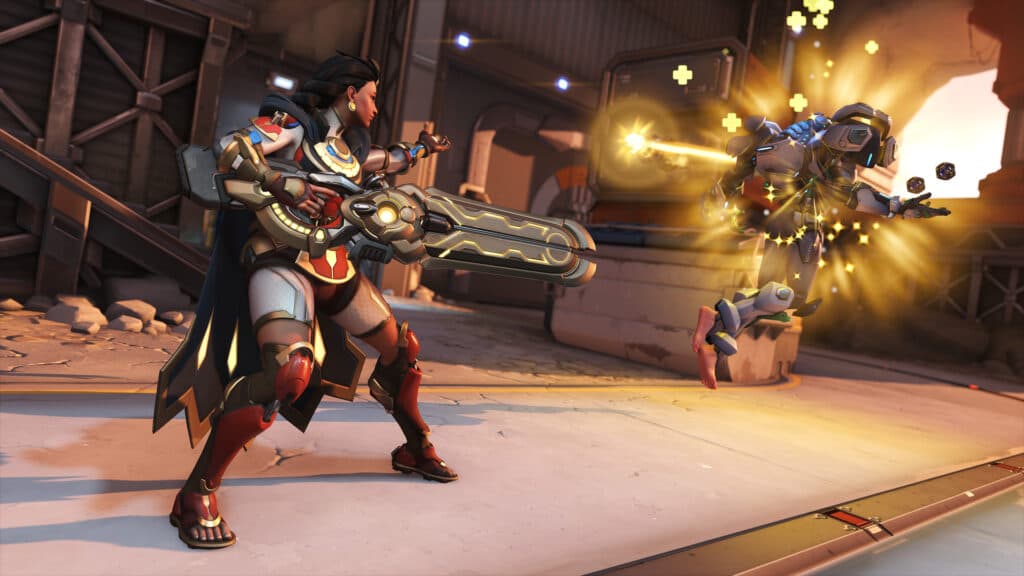 Illari's Healing Pylon in Overwatch 2 (Image via Blizzard Entertainment)
"So you can imagine this being used [in] situations where my team is really in a [good] spot [to] engage," Herrera continued, adding how he then initiated with this ultimate. "And that was a dynamic that we saw in [the] playtest really often — that being used as an anti-initiation tool or an initiation tool as well, which is really unique for support in Overwatch."
"You know those heroes that when you hear them ult, you just want to run away? She's definitely one of them," Khamash added.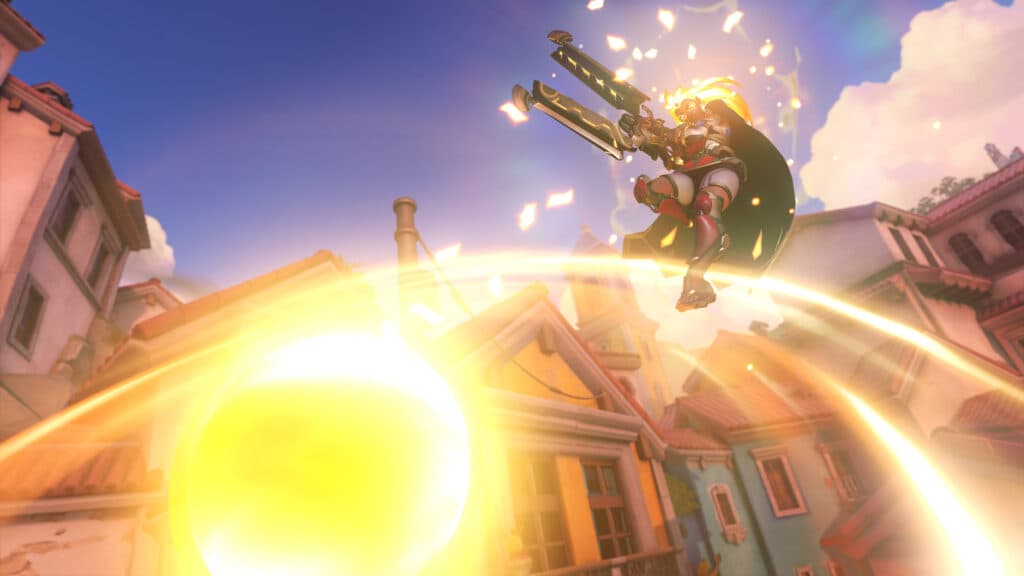 Overwatch 2 Illari gameplay (Image via Blizzard Entertainment)
Overwatch 2 Illari tips
Something that the Overwatch 2 team didn't expect was Illari's flanking potential. Herrera described how the Healing Pylon can be placed strategically so teammates can bunker down and heal. Meanwhile, Illari herself can simply leave the Healing Pylon there and use her Outburst movement ability to reach a higher location. This lets her surprise enemy heroes and take advantage of the high ground. She can also devastate foes by using her ultimate.
Khamash agreed, noting that with Illari, players are not locked into one focus. "With Illari, you can do a combo of three things. You can put the Healing Pylon on a spot, heal with your rifle in one spot, and also do damage while you're doing the healing. So you can switch between the two. So you're doing three things at once, which is super fun to do," he said.
Illari in Overwatch 2 (Image via Blizzard Entertainment)