Alliance broke over 200 points as they dominated the ALGS LAN Group Stage. They advance to tomorrows winner bracket.
Alliance ended the 18-game ALGS LAN marathon in stunning form, earning 92 points in the B vs C matches. They earned over 200 points overall.
Alliance are surely favourites to take the title on home turf if they can maintain this form. Elsewhere, NRG recovered from a slow start to secure top 20 – coming 4th in the final lobby.
ALGS LAN dominated by home team Alliance
This ALGS LAN group stage has truly belonged to Alliance. They pulled off an amazing Pro League comeback against all the odds. When speaking to esports.gg they explained that they fight until they can fight no more. But truthfully, today was a breeze for Alliance.
They mastered aggression – in the B vs D matchup they earned a huge 92 points, but didn't win a single game. Instead, they relied on aggression. Their average of 8.3 kills per game is unbelievable at any level of Apex. But, at the highest level of ALGS LAN – it is unthinkable.
Can Alliance maintain their strong form? They will head into the winners bracket, that starts tomorrow at 11am CEST.
NRG find form to qualify for ALGS LAN winners bracket
NRG had struggled in the first 12 games, and they found themselves 22nd. Only the top 20 teams qualify for the winners bracket. Due to some misfortune, communication issues and sloppy fights, they had work to do.
However, NRG are one of the best teams anywhere in the world. They are known for a slow start, but then finding that extra gear when it matters. They secured 4th in B vs D, and took 17th overall.
Huge Harvester game from NRG
It was a big win at Harvester that really turned their fortunes around. Whether it be online, or at ALGS LAN, NRG excel in Harvester.
They held the same segment of Harvester for almost the whole game. IGL Sweedreams showing that even under extreme pressure, on the biggest stage, he can deliver outstanding calls. They third partied the lower part of the segment, bubbled out, and won the game.
Notably, Rocker had been underperforming in the first 12 games. This is Rockers first ALGS LAN experience. It would not be a surprise if he was struggling with nerves. With the first day out the way, can Rocker and NRG take it up yet another gear in the bracket stage of ALGS LAN?
Overall standings; top 20 advance to winners bracket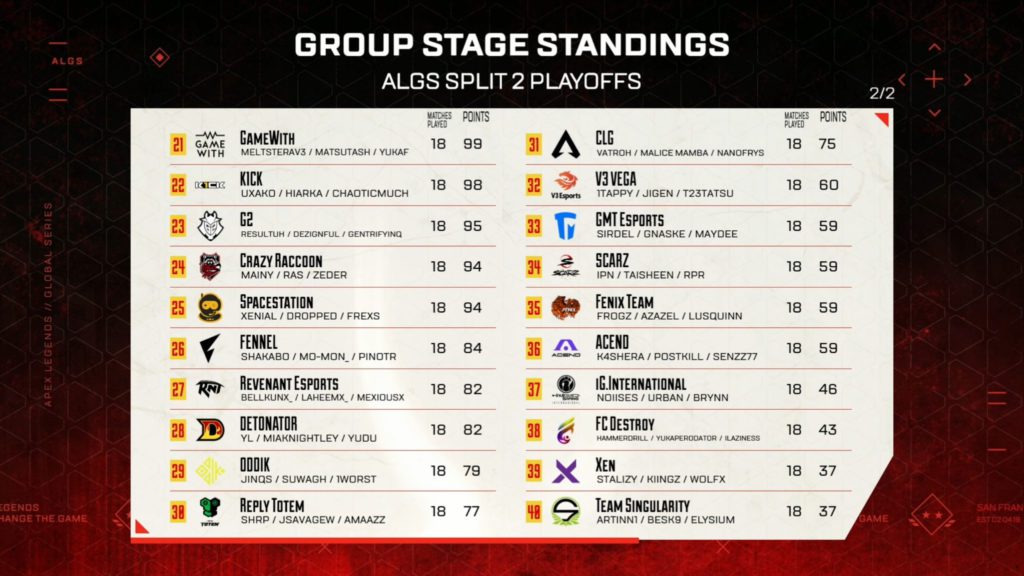 Detailed standings on Battlefy.
Notable teams in the ALGS LAN bottom 20
K1CK
G2
Spacestation Gaming
SCARZ
iG International
Teams will now head to the bracket stage tomorrow, with the top 20 teams battling out for direct entry into the ALGS LAN finals. The bottom 20 teams will fight to meet the losing teams from the winners bracket.
For full coverage of the ALGS LAN bracket stage and finals, stay tuned to esports.gg!