Plan to build Jingliu in Honkai Star Rail? Here's all her Ascension Materials and Traces that you'll need and where to find them.
With the Jingliu banner releasing on October 11, the time has come to begin farming her Ascension and Trace Materials if you're keen on getting your hands on her.
Jingliu will be a limited time 5-star Ice character, and we've already had a taste of what she can do during Yanqing's companion mission in Xianzhou Luofu. The encounter culminated in an animated standoff which definitely wet people's appetite for Jingliu to become a playable character.
If you're planning to stock up on Stellar Jade or Star Rail Passes to Warp the upcoming Jingliu, here's a guide to the Ascension and Trace level-up materials you'll need.
Ascension Materials
| | | | |
| --- | --- | --- | --- |
| Immortal Aeroblossom | Gelid Chitin | Immortal Scionette | Immortal Lumintwig |
These are Jingliu's Ascension Materials according to leaks. Be aware these have not been officially confirmed. However, Jingliu's banner has been confirmed as the Honkai Star Rail next banner.
Jingliu Ascension Materials:
308,000 Credit
15 x Immortal Scionette
15 x Immortal Aeroblossom
65 x Gelid Chitin
15 x Immortal Lumintwig
Locations
Immortal Scionette can be farmed through Assignments (Root Out the Turpitude), killing enemies in the Simulated Universe or even better by killing Abominations of Abundance. These abominations can be found in the Alchemy Commission in Xianzhou Luofu and are marked (see example below).
The Abominations of Abundance in the Alchemy Commission will allow you to farm Immortal Scionette, Immortal Aeroblossom and Immortal Lumintwig all at the same time. If you don't have this area unlocked, try to complete more of the main story.

Gelid Chitin can be farmed at the Stagnant Shadow: Shape of Icicle.
To collect the final piece of Jingliu's Ascension Materials the Gelid Chitin, challenge the Stagnant Shadow: Shape of Icicle. It's located in the east-side of Cloudford in Xianzhou Luofu. You can also find it via the Survival Index. The only other way to get Gelid Chitin is Omni Sythnesizer - Material Exchange.
---
---
Jingliu Trace materials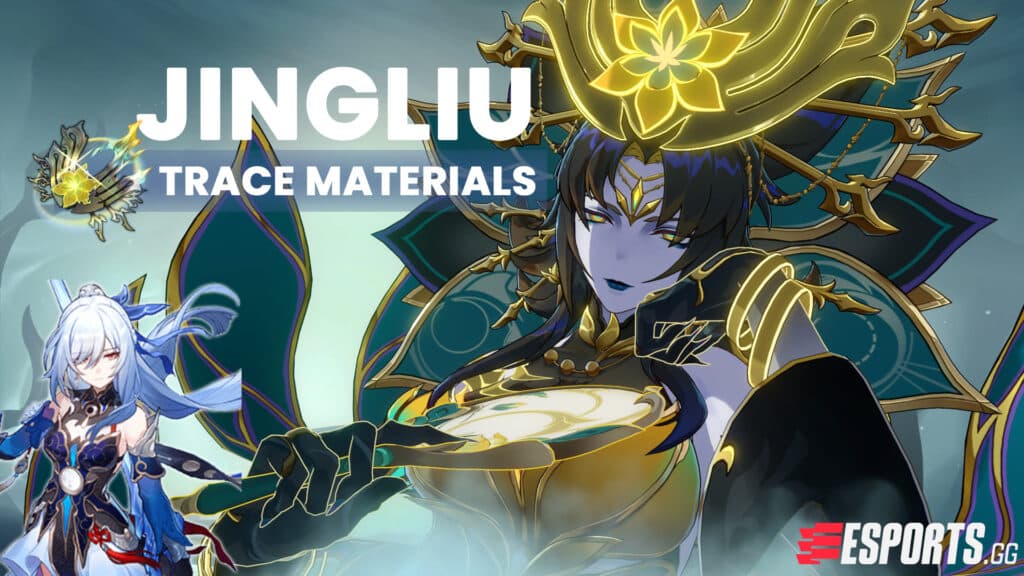 Traces are equally important as Ascension if you want to build up your Jingliu to be a hardcore DPS character. Five of Jingliu's Traces are CRIT DMG Boosts, which you'll want to ensure you have the Trace Materials for.
| | | | | |
| --- | --- | --- | --- | --- |
| Shattered Blade | Lifeless Blade | Worldbreaker Blade | Regret of Infinite Ochema | Tracks of Destiny |
The new Trace Materials you will need in addition to the Ascension Materials
Trace Materials for Jingliu
3,000,000 Credits
18 x Shattered Blade
12 x Regret of Infinite Ochema
69 x Lifeless Blade
8 x Tracks of Destiny
139 x Worldbreaker Blade
41 x Immortal Scionette
58 x Immortal Aeroblossom
58 x Immortal Lumintwig
The trickiest item on this list to obtain will be the Regret of Infinite Ochema, as the only way to obtain this is via the Echo of War: Divine Seed. This is the boss fight with Phantylia the Undying, and you will have to have completed the main quest A Dragon Gallant, Its Ocean Distant to have access to it.
Farm Shattered Blade, Lifeless Blade and Worldbreaker Blade at the Calyx (Storage Zone).
Locations
Shattered Blade can be farmed through Assignments fairly quickly and then upgraded via the Omni Synthesizer. Alternatively can also do some runs of the Calyx (Storage Zone) to gather all three Trace Materials simultaneously (Shattered, Lifeless and Worldbreaker Blade). The final Trace Material you'll need is Tracks of Destiny which is a Simulated Universe Point Reward item.
That's it for Ascension and Traces level-up materials. Jingliu will arrive as part of version 1.4.