How to get Stellar Jade? 15 ways to farm more Stellar Jades
Want to know how to get Stellar Jade in Honkai: Star Rail? We've got a comprehensive guide which includes a few hidden secret methods.
How to get Stellar Jade in Honkai: Star Rail? It's a precious resource that as you progress will become harder to come by. Here's our full list of 15 different ways to get them for free so you can roll for that new character or weapon to spice up your gameplay.
What is Stellar Jade?
Stellar Jade is the most valuable currency in Honkai: Star Rail as it can be used to redeem Star Rail Passes to perform Warps, the main gacha mechanic in the game which can unlock new characters and weapons (Light Cones).
How to get Stellar Jade in Honkai: Star Rail
Trailblaze, Companion and Adventure Missions
The Trailblaze quests are Honkai: Star Rail's main story quests and they yield the biggest reward, typically around 80 Stellar Jades. However, this source of Stellar Jade is limited. Next is companion quests, which are voiced stories centred around specific characters. Companion quests offer around 60 Stellar Jades. Finally are Adventure Missions, Honkai: Star Rail's side-quests. The reward for Adventure Missions range from 30-40 Stellar Jades, and finishing one typically unlocks a follow up quest.
Daily Training via the Interastral Guide
60 Stellar Jades are available per day for completing five of your six Daily Training quests. You can access your Daily Training via the Interastral Guide on your in-game mobile. These quests can vary but are typically extremely quick to complete and include daily challenge such as level up 1 relic, use 1 consumable or completing a specific Calyx. Daily Training also offers up to 1,300 Trailblaze EXP, very handy for quickly levelling up.
Boulder Town Super League
600 Stellar Jades are available for completing all five levels of the Boulder Town Super League. This is another hidden secret when it comes to how to get more Stellar Jades. After completing all five levels - or weight classes if we're being specific - you will be able to attempt them again once they reset.
Step by Step: How to unlock the Boulder Town Super League?
Complete the main story on Jarilo-VI (final quest is: We can't say goodbye)
Reply to the phone message from Dr Dig to unlock Ring and Stage I quest.
Complete Ring and Stage I Adventure mission.
Continue to complete Ring and Stage II Adventure mission.
Finally complete the Gladiator Adventure mission to unlock the Boulder Town Super League
Trailblaze Levels
As you increase in Trailblaze Level, Pom-Pom on the Astral Express will give you a little gift. After Trailblaze Level 3 you will receive Stellar Jades every five levels. (Level 3, 8, 13, 18, 23 etc..) To claim these prizes simply head to the Parlor Car on Herta Space Station. How to get Trailblaze levels in Honkai Star Rail?
Forgotten Hall
200 Stellar Jades are on offer for every 3 stars you gain in the Forgotten Hall game mode. Complete all of the first 15 Memory Stages in the Forgotten Hall and you can earn up to 3,000 Stellar Jades. There are also an additional 10 Memory of Chaos levels which offer 80 Stellar Jades per 3 stars awarded.
If you haven't unlocked this game mode yet it is must. Check out our guide on the Forgotten Hall for more information.
Herta's Simulated Universe
Herta's Simulated Universe resets fairly regularly and can be a source of around 100 Stellar Jades if you collect enough Points. Plus first time completion of each World comes with a clearance reward!
As you progress through the Worlds, you will also unlock Curios, gadgets which offer certain benefits exclusive to Herta's Simulated Universe. Unlocking Curios also rewards you with 30 Stellar Jades, but you need to go to to Curio Menu inside the "Index" section on the world selection screen. There are a total of 45 Curios meaning a maximum of 1,350 Stellar Jades from Curios unlocks.
BIG TIP: If you ever have a choice of the Galactic Big Lotto Curio you must pick it. The Galactic Big Lotto once unlocked grants you a small chance to receive a Curio after destroying and destructive objects. Having the Big Lotto will quickly help you get those unlock Stellar Jades!
How to find Herta's Simulated Universe?
Herta's Simulated Universe can be found on Herta's Space Station in the Storage Zone in the south-west. The Simulated Universe is unlocked in part five of the first Trailblaze main mission Today Is Yesterday's Tomorrow.
Operation Briefing can be a great source of rewards you have previously not claimed
Operation Briefing
This one can easily end up being left unclaimed but in your Interstral Guide, find the Operation Briefing Tab. The Briefings are divided into Parts, each part has five requirements. Most of these requirements you will meet passively just by playing through the game. Completing a part nets you a reward which always includes Stellar Jades. The reward for lower Operation Briefings is 50, but this increases to 100 as you complete more of them.
Aptitude Showcase
Aptitude Showcases are on rotation and essentially allow you to try out one specific character in exchange for 20 Stellar Jades. You can access Aptitude Showcase via the Travel Log.
Opening Chests
The most basic way of farming Stellar Jades is via opening chests. If you want to know the location of all the chests, PushSquare has a comprehensive guide of all their locations for the first three zones in Honkai: Star Rail version 1.0.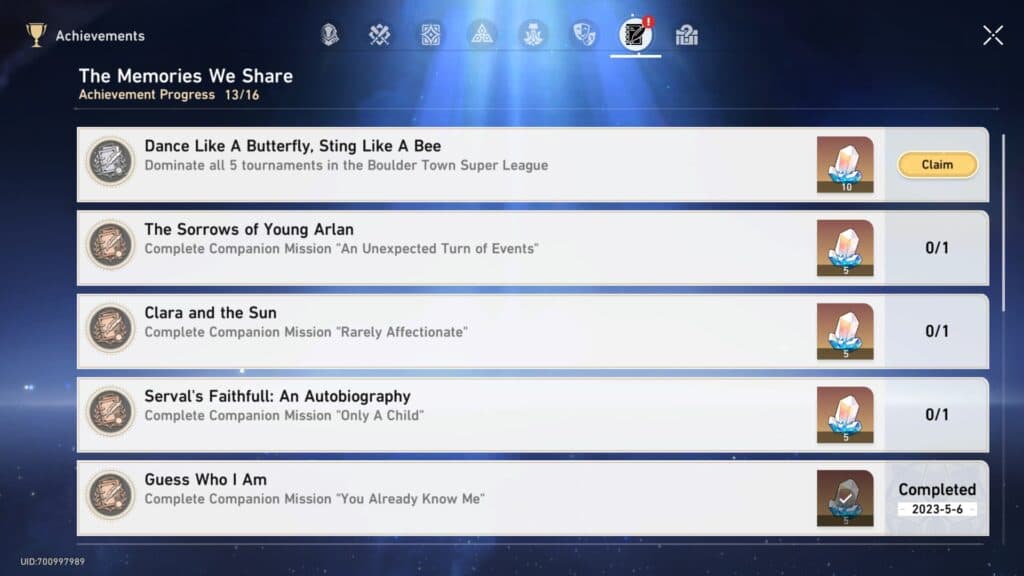 Achievements achieved typically award 5 Stellar Jades, but you can receive 10 for larger achievements
Achievements
Another smaller source of Stellar Jades is achievements. You'll typically unlock them for completing random in-game challenges, milestones or companion missions. There are three levels of achievements; Gold, Silver and Bronze. Gold is worth 20, Silver worth 10 and Bronze - which there are a LOT of - are worth 5.
Redeem Codes or Amazon Prime bundles
Redeem Codes are limited time codes that allow you to receive a reward in-game if redeemed in time. These typically come from the publisher MiHoYo in connection to a special event or announcement. How to Redeem Codes in Honkai: Star Rail?
Tutorials
If you're 5 Stellar Jade away from that next Star Rail Pass, maybe consider checking the Tutorial Menu. You will receive 1 for every page you read, it's not massive, but every little helps.
Still don't have enough?
If you've exhausted all of these options you can also part ways with real-world cash to purchase the Express Supply Pass. This will give you 90 Stellar Jades every time you log in for the next 30 days. Be warned if you don't log in that day, you don't get the 90, so be sure to remember! You also receive 300 Oneric Shards which you can convert.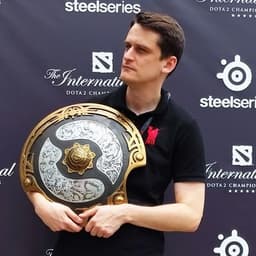 Lawrence "Malystryx" Phillips
Malystryx is Editor-in-Chief/Managing Editor at Esports.gg. and a veteran esports journalist, content creator and personality. He has been involved in the esports scene since 2004 and has worked with many different organizers and portals, including SK Gaming, ESL, Dexerto, GINXTV, Razer and Monster Energy. Malystryx was also a broadcast talent on Valve's Dota 2 Pro Circuit over the last few years, creating on-site video content for PGL and Starladder. In his spare time he streams on Twitch as MalyPlays.