Plan to build Topaz in Honkai Star Rail? Here's all Topaz's Ascension Materials and Traces that you'll need and where to find them.
Topaz is a 5-star Fire element character coming in the Phase 2 banner of version 1.4, meaning you might want to start thinking about Ascension and Trace materials. Thankfully, the majority of Topaz's Ascension Materials are easy to get, except Searing Steel Blade which won't be obtainable until the new version.
Ascension Materials
| | | | |
| --- | --- | --- | --- |
| Silvermane Badge | Silvermane Insignia | Searing Steel Blade | Silvermane Medal |
These are Topaz's Ascension Materials according to leaks. Be aware these have not been officially confirmed, but MiHoYo did confirm Topaz as the headline character in Phase 2 of the Honkai Star Rail next banner.
308,000 Credits
15 x Silvermane Badge
15 x Silvermane Insignia
15 x Silvermane Medal
65 x Searing Steel Blade (coming in version 1.4)
Silvermane Badge can be farmed quickly simply by completing the daily Assignment: Winter Soldiers. 3 Silvermane Badges can then be synthesized into 1 Silvermane Insignia. As for Silvermane Medal they can drop from all types of Silvermane Guards in Belobog and Jarilo-VI, even the basic Silvermane Soldier.
Complete the Winter Soldiers assignment to farm Silvermane Badge to then synthesize into SIlvermane Insignia
Where to find Searing Steel Blade?
If you're confused why you can't find Topaz Ascension Material Searing Steel Blade, it's because it doesn't currently exist in the game. Searing Steel Blade will be obtainable by completing the upcoming Stagnant Shadow: Shape of Scorch, which won't be added to the game until Honkai Star Rail version 1.4.
Shape of Scorch will be a brand new Stagnant Shadow that will be a source of character Ascension materials for Topaz, as well as upcoming 4-star Fire character Guinaifen. The good news is that Searing Steel Blade is not a Trace Material, and also that it might be added at the start of the new version, giving you time to gather them before Topaz comes out in Phase 2 of Honkai's next banner.
---
---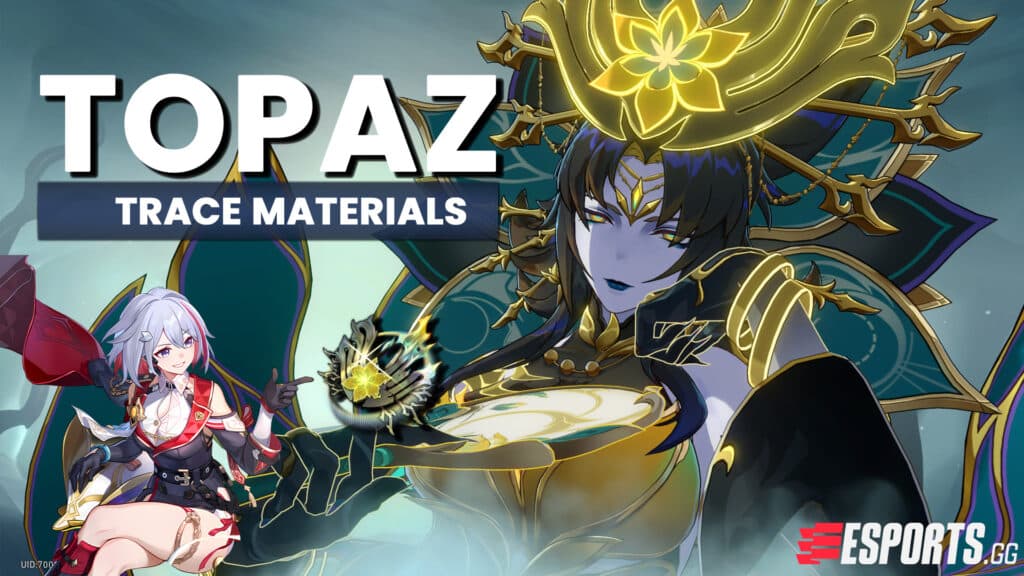 Beating Phantylia the Undying will give you Regret of Infinite Ochema, a Trace Material for Topaz
Topaz Trace materials
Topaz's Trace Materials are the simplest to obtain and will just involve auto-battling runs of the first Calyx you encounter in the game. Topaz's traces according to leaks focus on boosting Fire DMG, Crit and Fire Weakness.
| | | | | |
| --- | --- | --- | --- | --- |
| Arrow of the Beast Hunter | Arrow of the Demon Slayer | Arrow of the Starchaser | Regret of Infinite Ochema | Tracks of Destiny |
The new Trace Materials you will need in addition to the Ascension Materials
Trace Materials for Topaz
3,000,000 Credits
41 x Silvermane Badge
56 x Silvermane Insignia
58 x Silvermane Medal
18 x Arrow of the Beast Hunter
69 x Arrow of the Demon Slayer
139 x Arrow of the Starchaser
12 x Regret of Infinite Ochema
8 x Tracks of Destiny
Arrow of the Beast Hunter, Demon Slayer and Starchaser can all be obtained by one of the easiest Calyx's in the game; Bud of the Hunt located in the Outlying Snow Plains of Jarilo-VI.
Arrow of the Beast Hunter, Demon Slayer, Starchaser are obtainable at the Calyx in the Outlying Snow Plains.
Regret of Infinite Ochema is only acquired from taking down Phantylia the Undying. The final Trace Material you'll need is Tracks of Destiny which is a Simulated Universe Point Reward item.