Best ranked play classes in MW2
Dominate like the pros of the CDL with the best ranked play classes in MW2, from assault rifles to submachine guns.
A ranked play mode is finally in Call of Duty: Modern Warfare 2. In this mode, your team of four will take on another team of four with Call of Duty League rules. This puts heavy restrictions on the weapons, equipment, and perks that you can use. That fact makes it all the more important to know the best ranked play classes in MW2.
The good news is that everything is unlocked when you jump into the mode. If you haven't obtained a weapon in MW2, don't worry. It will be available, along with the allowed attachments, in ranked play. You'll have everything you need to build a class and fight your way through the ranks.
The best classes for each weapon category in MW2 ranked play
The ranked play rules, in line with the CDL rules, allow for four weapon categories. You can select from assault rifles, battle rifles, submachine guns, or sniper rifles. Each has their own usefulness, so you'll want to create a class for each and take them into the right scenarios.
Assault rifles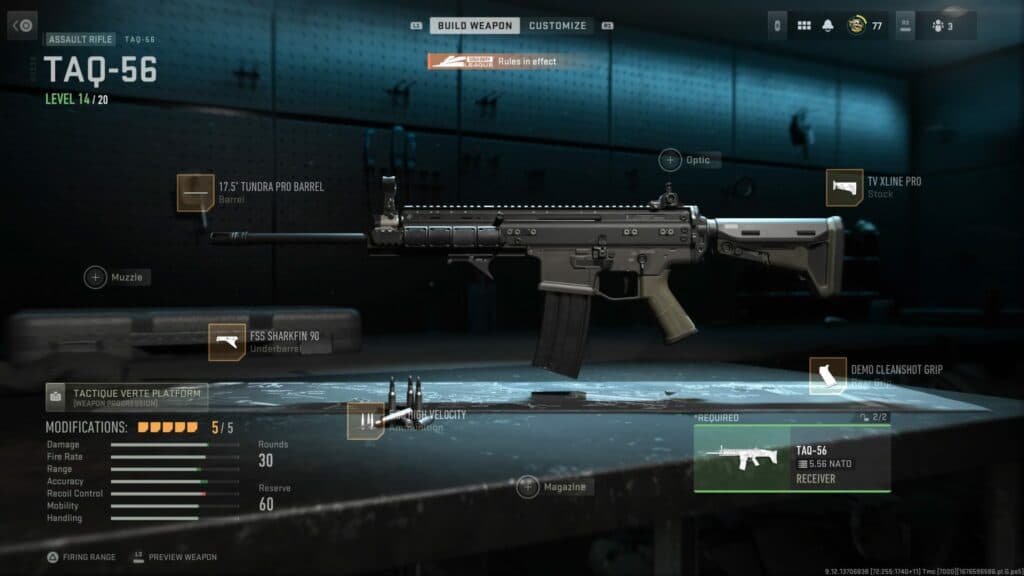 (Image via Esports.gg)
The best assault rifle class you can put together for ranked play in MW2 starts with the TAQ-56. Use the following attachments:
Barrel: 17.5″ Tundra Pro Barrel
Underbarrel: FSS Sharkfin 90
Ammunition: 5.56 High Velocity
Stock: TV Xline Pro
Rear Grip: Demo Cleanshot Grip
This is the AR that's used by CDL pros. It isn't as fast as an SMG, but it is much more powerful. You can utilize it in any mode and lockdown spawns or chokepoints. The only negative is its recoil control, but the accuracy and damage it deals is more than worth the trade.
Battle rifles
(Image via Esports.gg)
The only battle rifle available for MW2 ranked play is the TAQ-V:
Optic: Cronen Mini Red Dot
Barrel: 18″ Precision-6 Barrel
Underbarrel: XTEN Drop Grip
Magazine: 30 Round Mag
Rear Grip: Demo Cleanshot Grip
You won't often use a battle rifle in any of the ranked play modes, but it can work in Search & Destroy. Landing a couple shots with increased damage is an easy kill with the TAQ-V. This a weapon best utilized in long lanes with clear lines of sight.
SMGs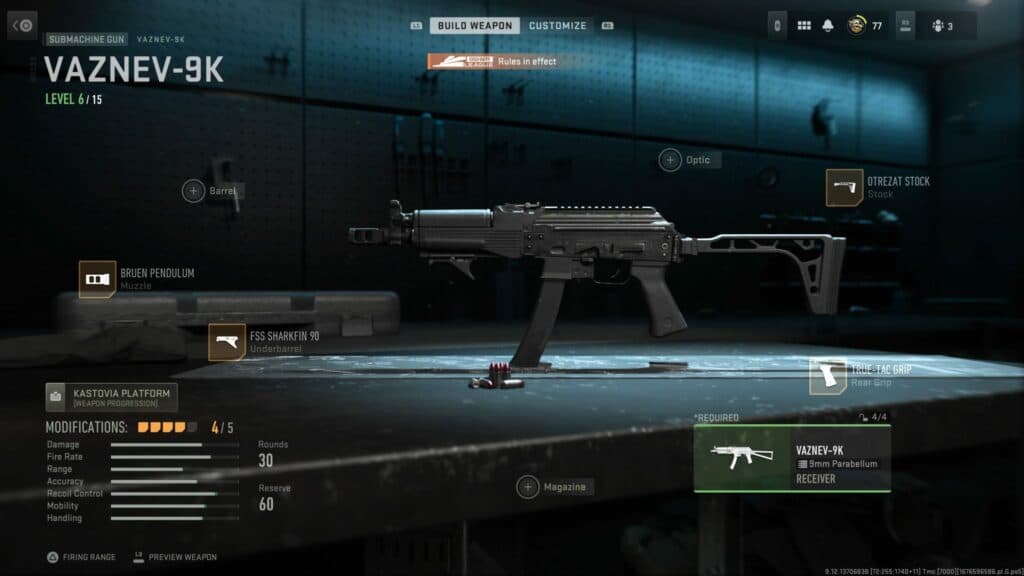 (Image via Esports.gg)
The Vaznez-9K saw an unfavorable update with the start of MW2 Season 2, but that isn't stopping players from taking it into ranked play with the following loadout:
Muzzle: Bruen Pendulum
Underbarrel: FSS Sharkfin 90
Stock: Otrezat Stock
Rear Grip: True-Tac Grip
Four attachments will ensure it doesn't receive any unnecessary nerfs. What you will see is better mobility, recoil control, and handling. It is a quick SMG that will allow you to run and gun in any mode, reaching objectives before the enemy team.
Sniper rifles
(Image via Esports.gg)
The MCPR-300 is arguably the best sniper rifle in all of MW2. Use the following in ranked play:
Rear Grip: Cronen Cheetah Grip
Stock: FSS Merc Stock
Ammunition: .300 Mag High Velocity
Magazine: 5 Round Mag
It gains mobility and handling so you aren't slowed down too much against speedier opponents. Take it into a Search & Destroy match rather than Control or Hardpoint. Sit in one spot and stare down the line. You'll get an easy and quick kill on an unsuspecting opponent.
Secondary weapon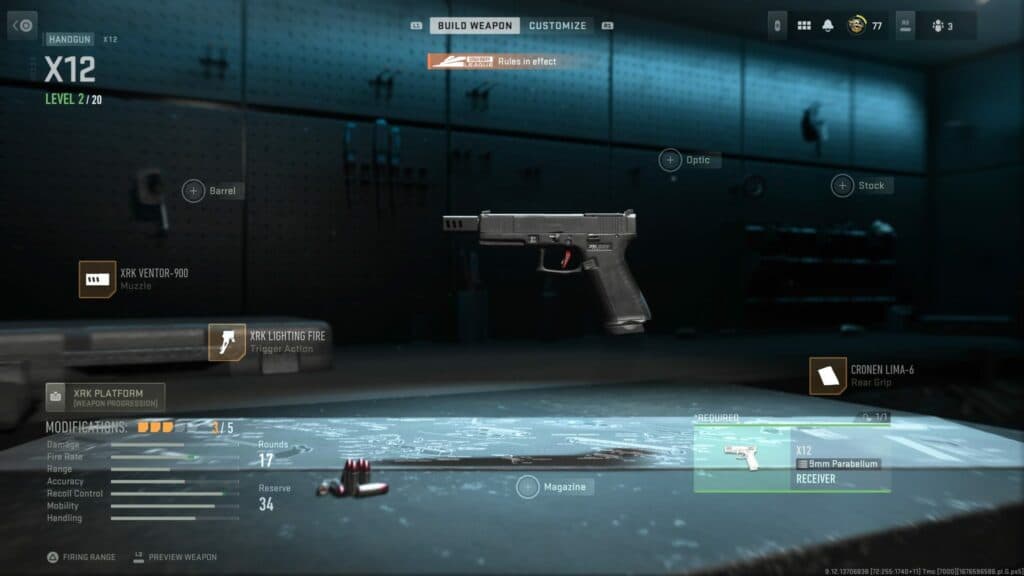 (Image via Esports.gg)
The only secondary weapon worth taking into MW2 ranked play is the X12:
Muzzle: XRK Ventor-900
Trigger Action: XRK Lighting Fire
Rear Grip: Cronen Lima-6
You can take the pistol out with an increased fire rate and boosted recoil control to finish off a kill. It works as the secondary for every weapon mentioned above.
Available killstreaks for MW2 ranked play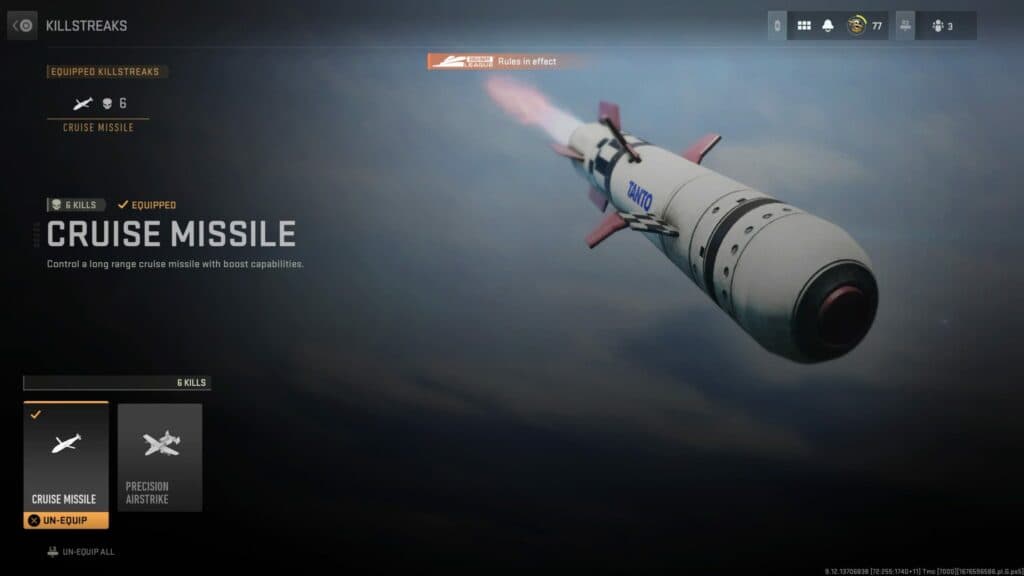 (Image via Esports.gg)
Cruise Missile
Precision Airstrike
You can use either a Cruise Missile or Precision Airstrike as your killstreak in MW2 ranked play. This is completely up to you and makes no difference, as they both pack quite the punch. No matter what, you'll need six kills in a row to access it in a game.
Equipment to choose from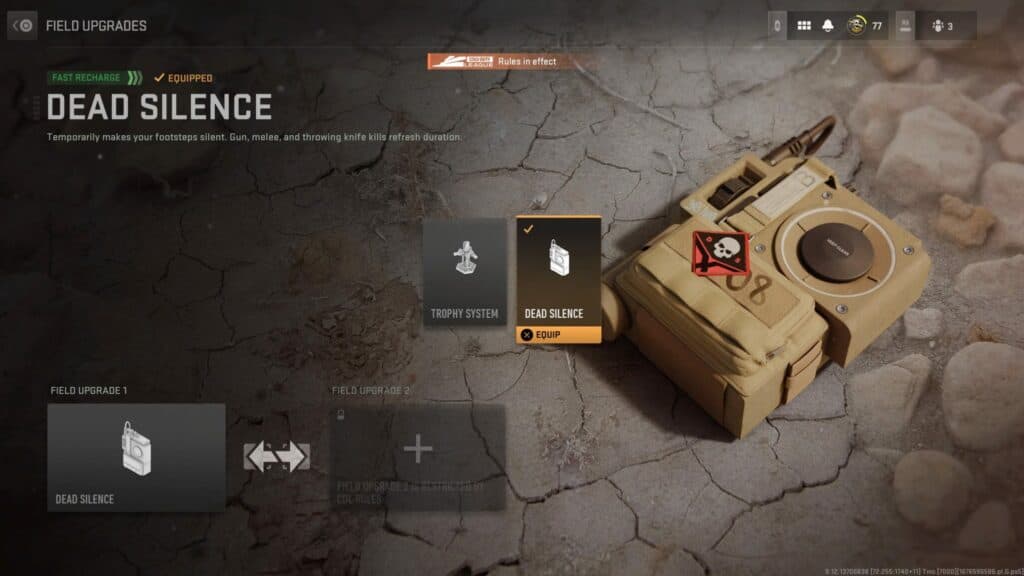 (Image via Esports.gg)
Tactical: Stun Grenade
Lethal: Frag or Semtex Grenade
Field Upgrade: Dead Silence or Trophy System
Stun Grenades are the only tactical equipment available. For lethal, Frag or Semtex are your choices. The Semtex Grenade sticks to surfaces, so lethal equipment is up to preference. Then there's Dead Silence or the Trophy System for a Field Upgrade. You can run silently or take down thrown equipment. They're both great options and every team should have a mix of the two.
Best perks to use in MW2 ranked play
(Image via Esports.gg)
Lastly, you'll want to select your perks for your MW2 ranked play class. Double Time, Battle Hardened, and Bomb Squad are the three you should keep in mind. Double Time extends your sprint, Battle Hardened reduces effects of Stun Grenades, and Bomb Squad reduces damage from non-killstreak explosives.
Mix and match the three of them depending on the mode and weapon you pick. Double Time will be wasted on a battle or sniper rifle class, but works wonders for an SMG or AR. Then always go with Fast Hands for the Bonus Perk to reload, use equipment, and swap weapons faster. That will round out your MW2 ranked play class, as CDL rules completely remove the Ultimate Perk slot.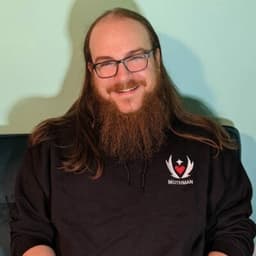 Brandon Moore
Brandon "Mothman" Moore is an esports journalist based in the United States. He has a heavy background in FPS titles, including professional Valorant coverage from day one. Brandon is a family man who loves writing, gaming, and catching a baseball game.