The MCPR-300 is a snappy sniper rifle in MW2 and you'll be quickscoping the competition with ease when you use its best loadout.
Call of Duty: Modern Warfare 2 players will find several sniper rifles to choose from. The majority of them are bulky and will slow you quite a bit. The MCPR-300 is the opposite, as its best loadout upgrades the MW2 sniper's handling, mobility, recoil control, accuracy, and range.
When you're using the MCPR-300, you won't have to pick a rooftop and set up camp there. Instead, you can move throughout the map with your team and easily pickoff enemies as they come into your line of sight.
How to unlock the MCPR-300 in MW2
(Image via Esports.gg)
Weapons belong to a Weapon Platform in MW2. Similar guns are found together in a progression tree. More often than not, you'll have to level up one weapon in order to unlock another in the Weapon Platform. You can go to your loadouts and view just how far along you've come in a Weapon Platform.
The good news about the MCPR-300 is that it stands alone in its Weapon Platform. You don't have to do anything special to unlock it other than simply buy the game. You will have access to it immediately and can start to work on its best build.
Attachments for the best MCPR-300 loadout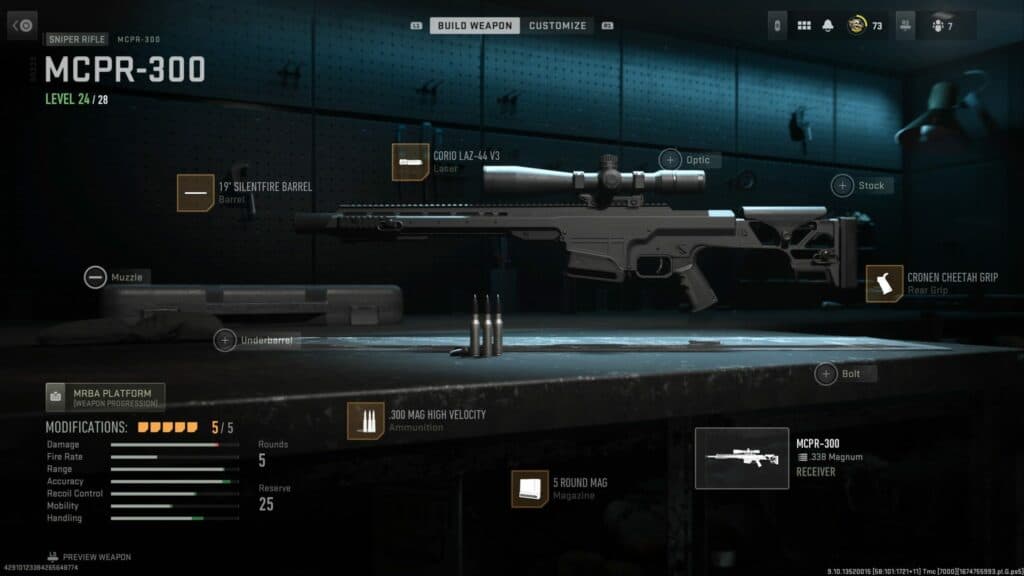 (Image via Esports.gg)
The following attachments will give you the best MCPR-300 loadout in MW2:
Barrel: 19" Silentfire Barrel
Laser: Corio Laz-44 V3
Rear Grip: Cronen Cheetah Grip
Magazine: 5 Round Mag
Ammunition: .300 Mag High Velocity
You'll notice that the damage output is slightly lowered, but that is of no concern. It already does massive damage, making the tradeoff for increases elsewhere more than worth it. With the best loadout in place, the MCPR-300 becomes a deadly accurate sniper rifle that won't bog you down.
Stay tuned to Esports.gg for more Call of Duty news and other loadouts you'll want to use in MW2.