You'll want to put together this Lockwood MK2 marksman rifle loadout in MW2 for the best chance against the opposition.
Marksman rifles are a quickscopers best friend in Call of Duty: Modern Warfare 2. They don't have the immense power that comes with a sniper rifle, but are faster and more versatile. This saw weapons like the Lockwood MK2 become extremely popular. It can rack up killstreaks or hold angles around an objective with ease. The best loadout for the Lockwood MK2 in MW2 makes it all possible.
How to unlock the Lockwood MK2
The Lockwood MK2 has no other weapons on its Weapon Platform (Image via esports.gg)
First and foremost, you'll need to unlock the Lockwood MK2 in MW2 to create its best loadout. While it does belong to the Mark 2 Weapon Platform, there is no need to grind a couple of weapons prior to obtaining this marksman rifle.
As the only gun on its Weapon Platform, you can level it up as soon as you earn it. To do so, you just need to gain Player XP in Modern Warfare 2. You will acquire the Lockwood MK2 at Military Rank 28. From there, you can start to grind out the attachments needed to make it dominant.
The best attachments for the Lockwood MK2 in MW2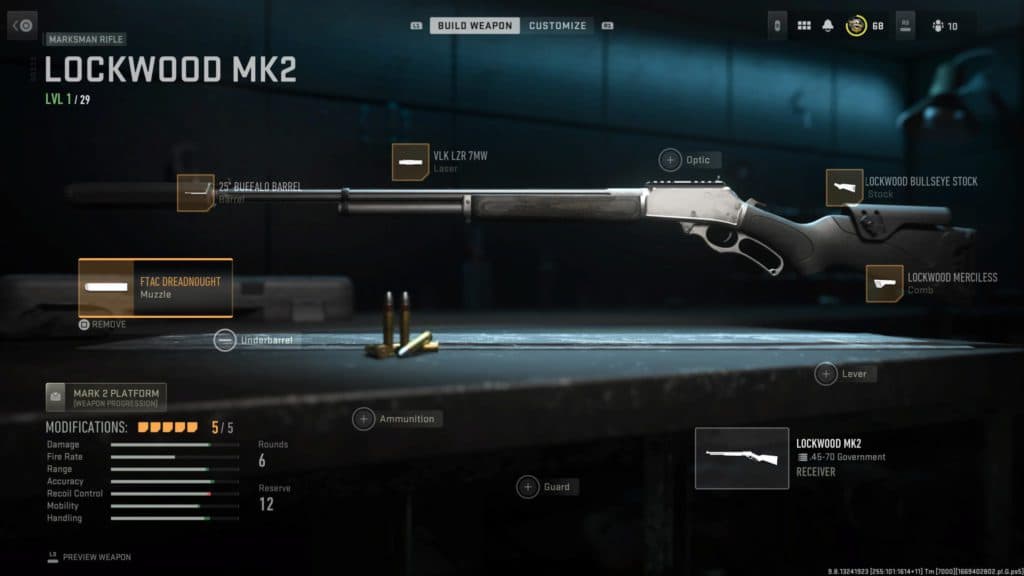 These attachments are best ones for the Lockwood MK2 (Image via esports.gg)
Use the following attachments to create the best Lockwood MK2 loadout in MW2:
Muzzle: FTAC Dreadnought
Barrel: 25" Buffalo Barrel
Laser: VLK LZR 7MW
Stock: Lockwood Bullseye Stock
Comb: Lockwood Merciless
The only negative effect of the above attachments is the rifle's recoil control. Its starting point is high, so seeing it take a slight hit to improve in other areas is of no consequence. You'll still be able to reset after each shot to make the next one land.
In terms of improvements, just about everything in this Lockwood MK2 loadout provides a boost. Its damage, range, accuracy, mobility, and handling increase with its fire rate going unchanged. This will allow you to pop shot after shot at the enemy team in any game mode you find yourself in.