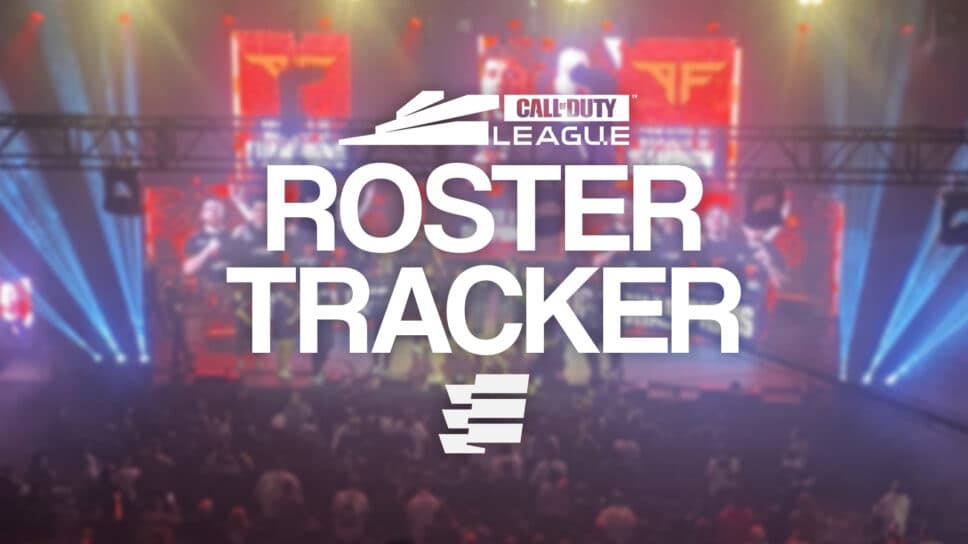 Call of Duty League (CDL) 2023 season roster tracker
Stay updated on all of the latest changes in Call of Duty esports.
Call of Duty esports has more roster changes than most other esports, with teams desperate to win immediately. Teams can change six or seven times a season in some instances. We'll keep you up-to-date with all of the latest changes in this article. Here is our CDL roster tracker.
CDL 2023 roster changes overview
February 9: Ghosty signs for OpTic Texas.
February 8: iLLeY becomes a restricted Free Agent.
February 7: Brack becomes a starter for Florida Mutineers.
February 7: Vikul drops to Mutineers bench.
February 5: Methodz retires.
January 24: Davpadie moves to Mutineers starting roster, Brack moves to bench.
January 20: PaulEhx returns to Royal Ravens roster, Zer0 moves to bench.
January 17: Scump retires, Dashy moves back to starting roster.
January 11: Skrapz moves to Royal Ravens starting roster.
January 8: Huke joins OpTic Texas.
January 3: Assault, Exceed and JoeDeceives move to LA Guerrillas starting roster.
January 3: Spart and Neptune move to LA Guerillas bench.
January 3: Huke leaves LA Guerrillas.
December 29: PaulEhx benched for Royal Ravens.
December 28: Dashy dropped from OpTic Texas.
Latest roster news
February 9: Ghosty signs for OpTic
OpTic have quickly found their replacement for iLLeY and it's coming in the form of current Challengers Open champion Dan "Ghosty" Rothe.
Currently studying a degree in law, Ghosty has been one of the most consistent top performers in Challengers this season.
He will enter the team for the Major 3 qualifiers and beyond. His first LAN event with OpTic will be at their home Major in Texas.
February 8: iLLeY becomes a Free Agent
The latest twist in the 2023 OpTic Texas story. Indervir "iLLeY" Dhaliwal is now a restricted Free Agent after being dropped from the OpTic roster.
iLLeY is part of the XEO trio alongside Huke and Shotzzy. Many were excited to see them play together in the CDL but the combination has lasted just one event. Esports.gg sources believe that iLLeY has been dropped because of IGL issues, with OpTic looking for someone to be able to lead the team as well as provide more slaying ability.
February 7: Florida Mutineers roster changes
Something had to give in the Mutineers camp. Sporting the worst Hardpoint win % of any team in the league, they needed to shuffle around their roster.
They have started their changes with Vikul, Davpadie and MajorManiak all dropping out of the team. Brack will rejoin the team from the bench to join Havok and two others, yet to be confirmed.
Current CDL 2023 rosters
All 12 teams in the Call of Duty League are required to have four players on their team, ready to compete in online and LAN matches.
Atlanta FaZe
SlasheR (Austin Liddicoat, USA)
Simp (Chris Lehr, USA)
aBeZy (Tyler Pharris, USA)
Cellium (McArthur Jovel, USA)
SUB: Classic (Nicky DiCostanzo, USA)
Boston Breach
Nero (Dylan Koch, USA)
Vivid (Reece Drost, USA)
Owakening (Joseph Conley, USA)
TBD
SUB: Beans (Ben McMellon, ENG)
Florida Mutineers
Havok (Colt McLendon, USA)
Brack (Carson Newberry, USA)
TBD
TBD
SUB: Vikul (Javi Milagro, SPA)
Las Vegas Legion
Clayster (James Eubanks, USA)
Prolute (Byron Vera, USA)
TJHaLy (Thomas Haly, USA)
Temp (Donovan Laroda, USA)
London Royal Ravens
Nastie (Byron Plumridge, ENG)
Asim (Obaid Asim, CAN)
Skrapz (Matt Marshall, ENG)
PaulEhx (Paul Avila, ENG)
SUB: Zer0 (Trei Morris, ENG)
Los Angeles Guerrillas
Arcitys (Alec Sanderson, USA)
Assault (Adam Garcia, USA)
Exceed (Kaden Stockdale, USA)
JoeDeceives (Joe Romero, USA)
SUB: Neptune (Travis McCloud, USA)
SUB: Spart (Kris Cervantez, USA)
Los Angeles Thieves
Drazah (Zach Jordan, USA)
Kenny (Kenny Williams, USA)
Octane (Sam Larew, USA)
Envoy (Dylan Hannon, USA)
Minnesota ROKKR
Attach (Dillon Price, USA)
Bance (Ben Bance, ENG)
Cammy (Cameron McKilligan, SCO)
Afro (Marcus Reid, ENG)
New York Subliners
HyDra (Paco Rusiewicz, FRA)
KiSMET (Matt Tinsley, USA)
Skyz (Cesar Bueno, USA)
Priestahh (Preston Greiner, USA)
OpTic Texas
Dashy (Brandon Otell, CAN)
Huke (Cuyler Garland, USA)
Shotzzy (Ant Cuevas-Castro, USA)
TBD
Seattle Surge
Accuracy (Lamar Abedi, AFG)
Mack (Makenzie Kelley, USA)
Sib (Duante Gray, USA)
Pred (Amer Zulbeari, AUS)
Toronto Ultra
CleanX (Tobias Jonsson, DEN)
Insight (Jamie Craven, ENG)
Scrappy (Thomas Ernst, USA)
Standy (Eli Bentz, USA)
SUB: Hicksy (Charlie Hicks, ENG)
---
Stay tuned to Esports.gg for our CDL roster tracker and all of the latest Call of Duty esports news.