With the IEM Cologne Play-Ins ending yesterday, the teams moving on to Groups have been decided. Here are our predictions on how the Group Stage will go
The Play-Ins for IEM Cologne 2021 concluded yesterday finalizing the teams for the group stage. The event went mainly as expected with OG's loss to Renegades being the only major upset in the event. 14 out of the top 15 teams in the world will be participating in the group stage making this event one of the most stacked events of the year.
The Group Stage for IEM Cologne will be two Double-Elimination GSL groups, where the top 3 teams will move into the playoffs. The teams that top their groups will get a direct berth in the Semi-Finals locking a top 4 placing at the first LAN since 2020.
Group A Opening Matches
Gambit VS Mousesports
Group A starts with the No.1 team in the world Gambit facing off against Mousesports. Mousesports in the play-ins stage had ups and downs as they won their games against Bad News Bears and Evil Geniuses but were unable to repeat their victory over NIP in the Flashpoint 3 Finals rematch. David "frozen" Čerňanský has been putting up big numbers when facing teams ranked lower than them, but he went missing in their game against the Ninjas which led to their 2-0 loss.
Mousesports will need both frozen and Frederik "acoR" Gyldstrand to join Robin "ropz" Kool at the top of the scoreboard if they want to put up a fight against the CIS giants. For Gambit, going off of online form there should be no way for them to lose this game but LAN jitters might lead to an upset.
Liquid VS Ninjas In Pyjamas
2019 Cologne champions Liquid will return to official games after over a month of break ever since they won the NA RMR at CS Summit 8 and will face the Ninjas in Pyjamas for the first time since the addition of Nicolai "device" Reedtz. The Swedes will be the favorites for this match but the new look Liquid under Eric "adreN" Hoag has the potential to cause upsets based on their preparation and skill. The IGL question for Liquid still looms as Jake "Stewie2k" Yip has recently taken the role over veteran IGL and AWPer Gabriel "Fallen" Toledo.
Virtus.Pro VS BIG
In the lower half of the bracket Virtus.Pro takes on the home team BIG. Both teams have had very high peaks in the online era and are now trying to get back to the top. They will have to rely on their X-factor players to pop off if they want to make a deep run at this event. For VP, Mareks "YEKINDAR" Gaļinskis' entry impact will determine the game and for the side of BIG, Florian "syrsoN" Rische will have to be the difference-maker with the AWP.
Complexity VS G2
Finally for Group A, Complexity will take on G2. G2 has been a consistent top 4 team in the world, whereas Complexity has struggled to find consistency and was handed defeat at the hands of a rejuvenated Faze Clan in the play-ins. This series is should be a layup for G2 in their journey to face Gambit and Complexity will have to rely on hitting more headshots which is difficult when you're up against Nikola "NiKo" Kovač.
Group A Predictions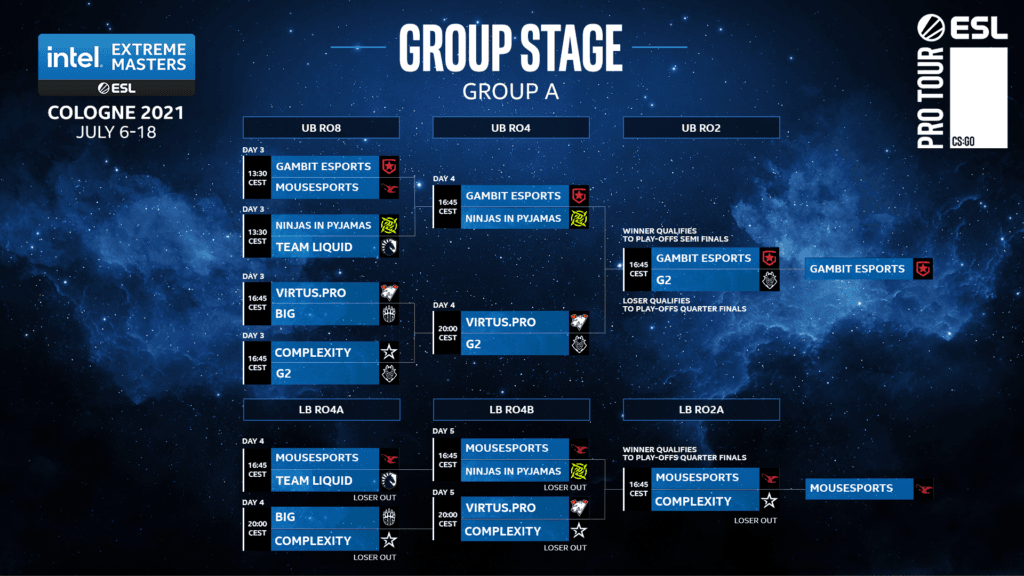 Predictions for Group A
Gambit should be by far the best team not just in this group stage but in the whole event and they should be going straight into the semi-finals by winning the group. Anything less than that would be a disappointing result for the team considering the opposition in their group.
The other spots for the playoffs are a closer battle but G2 has consistently beat every team in their top 4 runs in the past few months, for them the target should be to beat Gambit or at least giving them a close game. With roster changes being speculated on regularly, going out in the group stage might spell trouble for G2 going into the player break.
The final spot has the most competition with Mousesports, Complexity, NIP, and Virtus.Pro all being in contention for the spot. From what we've seen in the play-ins NIP should be the favorites but we think Mousesports can bounce back from their NIP loss and take the third playoffs spot.
Group B Opening Games
In contrast to Group A, this group will put up some very spicy matches with a good chance for upsets.
Natus Vincere VS Renegades
The first game will see the Aussies in Renegades taking on NaVi in a David vs Goliath battle. Aleksandr "s1mple" Kostyliev has looked like the best player in the world by far this year and against weak opposition like this, he will farm kills and should be able to win this game almost single-handedly. For Renegades, a tactical outplay will be the only chance for them to pick up rounds but with s1mple, Denis "electronic" Sharipov, Valeriy "B1T" Vakhovskiy all coming in with a strong form, this team looks very dangerous.
Vitality VS Furia
Speaking of the best players in the world, Mathieu "Zyw0o" Herbaut's Vitality will be taking on Furia in their opening game. Furia haven't improved much since the benching of Paytyn "Junior" Johnson and still lack the clutch factor that Henrique "HEN1" Teles provided them in 2020. Vitality on the other hand has looked hot in the play-ins and has just come off a playoffs run at IEM Summer. Jayson "Kyojin" Nguyen Van and Kévin "misutaaa" Rabier have been stepping up consistently and Zyw0o is still putting up insane numbers. For the Frenchmen, this is an easy setup for a match against NaVi where the titans S1mple and Zyw0o will clash again.
Astralis VS Faze
The most exciting opening game has to be the game between Astralis and Faze. Finn "karrigan" Andersen has historically out-called and beat Astralis with both Faze and Mousesports and with the Danes' recent troubles after the loss of device, things look dire for them in this game. Faze have found their old chemistry again with the addition of Olof "Olofmeister" Kajbjerand look in strong form coming into this game, but as anyone who watched the Starladder Berlin Major will tell you, never count Astralis out of a game.
Heroic VS Team Spirit
The final game is Heroic taking on Team Spirit. Unfortunately, both teams have been forced to play from their hotel rooms as one of Heroic's players tested positive for Covid-19 in the routine tests recently and Spirit has to undergo a longer quarantine due to restrictions on traveling from Russia. Despite this, both teams are ready to compete and show their best at the event. The game will depend a lot on Heroic's form as they had a dip at IEM Summer where they went out in the group stage. If we get Heroic at their highest level they should be able to pick this game up but if they falter then Spirit and Abdul "degster" Gasanov will be right there to take advantage of it.
Group B Predictions
Predictions for Group A
Similar to Group A, NaVi should be the favorites here but unlike Gambit, they tend to lose games randomly, which for both Vitality and Faze could mean a Semi-Finals spot if NaVi slips. Astralis will have to hope that LAN brings back their peak form but it's unlikely that they'll be able to perform at a top-level. Heroic and Spirit have a chance to upset Vitality but given their current form and their insane talent, the French Squad should be taking the spot with ease.
For Faze, this bracket has set them up for a relatively easy playoffs spot as they only have the beat the two Danish teams to proceed to the playoffs. It is unlikely that they can beat NaVi but they should give them a close game as they did the last time they played.
This event has kept the essence of ESL One Cologne alive as it continues to be an event as stacked as the majors. As always this event is set to deliver fireworks and LAN has already been giving fans added excitement as the viewership is massively up compared to IEM Summer, already hitting 250k peaks in the play-ins stage.