From stream clips, to leaked skins, more and more signs suggest that FaZe Apex will soon be reality.
Could we finally be set to get a FaZe apex team? One of the most iconic brands in esports, FaZe are in almost all of the most popular esports titles. Yet, they have never ventured into the Apex Legends scene.
However, there are several hints that this is set to change ahead of ALGS year 3.
With Apex set to enter it's biggest year of competition yet, it seems the perfect opportunity for FaZe to add an Apex roster.
Snipedown's accidentally "leaks" FaZe Apex?
Of all the signs that FaZe were set to join Apex, the first is the most obvious. Snip3down, a Halo player already signed to FaZe, seems to let FaZe Apex out the bag on stream.
Before the FFL tournament, Snip3down joined a party with Albralelie. Snip3 and Alb compete with SlurpeeG in Apex Legends. They have recently united to form 'Team ASS'.
It has always been an interesting choice for Snip3down to compete in both Halo and Apex at the same time. Clearly, after his loan to eUnited and spending more and more time in Apex his future lies away from the FaZe Halo team. Yet, he was kept with FaZe and not simply transferred to eUnited.
In the clip, you can hear "I did talk to FaZe. Everything's totally fine with FaZe," Snip3down revealed. "They're totally down to get everyone—". He was swiftly cut off by Albralelie who reminded the Halo veteran he was streaming. "Oh, Jesus Christ" Snip3down then says, before laughter takes hold.
It is easy to infer that by get everyone, Snip3down was referring to fellow Team ASS members, Albralelie and Slurpee. Furthermore, the team has been playing together consistently for some time, and the immediate cut off and awkwardness let's the cat out the bag somewhat. If this wasn't a leak, it wouldn't have created such a state of awkwardness
Only FaZe Apex could tempt Albralelie
Albralelie has been signed to TSM as a content creator for several years. He's competed with other organisations, such as Cloud9 and Team Liquid. However, this was always as a stand in, not as a signed player with either org. TSM are massive, and you'd be a fool to be in a hurry to depart such a prestigious organisation. But, the idea of Albralelie leaving TSM is feasible if it was to found a FaZe Apex roster.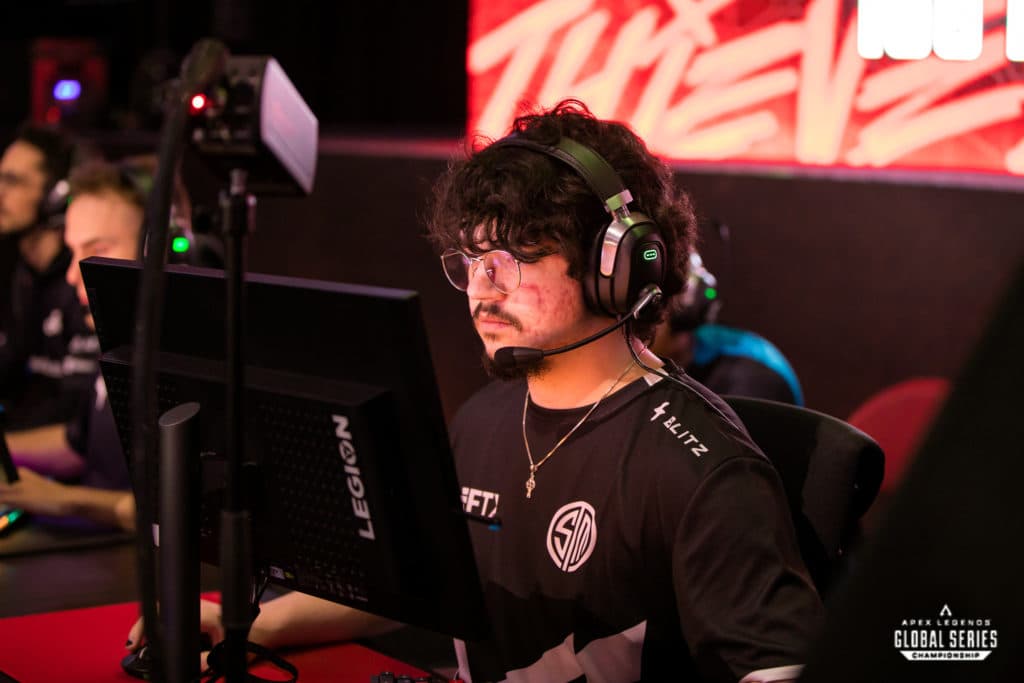 Albralelie at the ALGS Championship LAN (Photo: Joe Brady/EA)
It would also make sense for Snipe3down to be happy to leave Halo for the opportunity join a FaZe Apex roster. While his roots are clearly Halo through and through, one of the biggest reasons he left TSM and returned to Halo was the opportunity to become part of the legendary FaZe clan. With Apex having the more attractive game, this is a great opportunity for the esports veteran to get the best of both worlds.
Leaked Faze Apex skin
Another major hint that FaZe are headed into the Apex scene has been revealed by leakers on Twitter. Apex has been working on a series of 'org skins' featuring major teams that have a presence in the Apex scene. TSM, NRG, Alliance, SCARZ, FNATIC, if you can think of a major Apex team - they have a skin in the files following the latest update.
However, one skin in the game is branded FaZe, despite them not having a team in the game. Unless the skin is there because of NickMercs, this FaZe Apex skin is the only one in the files (that we know about) belonging to an organisation without a signed competitive Apex Legends roster.
This would seem to imply that a future FaZe Apex ALGS roster is essentially a done deal. Furthermore, respectfully this skin isn't really as detailed as other skins in the collection. It's essentially a FaZe logo slapped onto an R301. Why so simple? Likely because this deal is recent and Respawn wanted to generate revenue from the inevitable attention around the FaZe Apex team's arrival in ALGS.
The mystery Pro League team
As part of the ALGS year 3 announcement EA unveiled the 22 invited teams per region. Across the 5 different regions, EA listed exactly which teams had been invited. Except in North America. In this region, only 21 teams were announced - with one slot being left as "TBA" on the announcement graphic.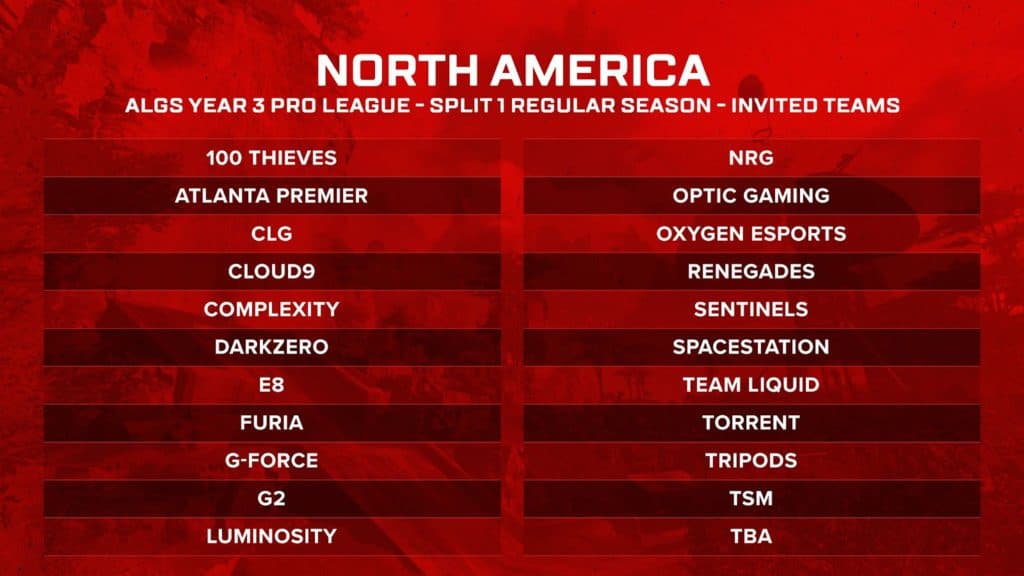 Some pretty major teams were overlooked in the North American region, such as team esports Arena and X-Set. But, why not invite either of those teams if that is the plan? They exist, they have solid results and have competed before. There is not a logical reason to keep this 22nd spot a secret if it is going to a team that are already in the scene, established and known to fans.
Instead, this spot seems set to go to the new FaZe Apex roster. It is unthinkable that EA would force both an org of the magnitude of FaZe into the Challenger Circuit. Further more, players with the talent and reputations of Snip3down, SlurpeeG and Albralelie are several rungs above that level of gameplay.
Almost certain?
Combined, these signs seem to point pretty heavily towards a FaZe Apex roster being announced before the Pro League starts in November. This is a pretty monumental moment for Apex esports. One of the premium esports brands joining the ALGS Circuit ahead of the biggest year of competition yet. Not only that, but picking up a team that both seems set to perform on the big stage, but also have sizable individual followings and a very watchable team chemistry.