Team Liquid won the FFL Global Challenge, thanks to some inspirational solo-play from FunFPS. They pipped NRG to the post by a single point.
A dramatic mistake from FunFPS helped Team Liquid sneak out a win over NRG in the FFL Global Challenge. This came just days after it was announced that the roster was free to negotiate a move away from the org.
20 teams battled it out for the almost $14,000 (¥2,000,000) prize pool. The tournament featured 12 games, all of which were on Worlds Edge. 6 games were played on Friday, and then 6 more on Saturday.
16 teams were invited from North America. They were joined by 4 teams from Japan, 3 qualifiers and 1 invited. Those 4 non North American teams were flown to New York from Japan to compete locally.
FunFPS accidentally drops into outstanding position
There could not have been a more dramatic end to the FFL tournament for FunFPS and Team Liquid. Just 6 points separated Team Liquid from NRG heading into the final game. NRG left the door open for Liquid, only putting down 5 points in the final game.
However, FunFPS and Team Liquid still had plenty to do - they characteristically had a powerful position in zone, but kills eluded them heading into the final circles. It seemed Team Liquid's game to win. This was until FunFPS fell through an object onto the map, landing into an unclimbable crevice.
It seemed like all hope was lost. The team was divided and they needed to rack up some kills and placement to secure victory. Yet, FunFPS pulled out the impossible. He collected a crucial kill on the lowground, After that, a mesmerising combination of Newcastle abilities and shield swaps saw FunFPS somehow manage to secure a 2nd place. Anything less than 2nd wouldn't have secured the win.
At the same time, Sikezz also managed to sneak a kill before he was taken down. Both of these clutch kills made up the two points that took them the victory.
FunFPS couldn't quite complete the masterclass with a win, but he did just enough to pip NRG to first by a single point.
Team Liquid perform strongly on "weaker map"
This was a very strong result for Liquid. Putting the uncertainty around their roster firmly to one side, they proved to themselves that they can compete on Worlds Edge. They have traditionally been stronger on Storm Point. But, across these 12 games they found a successful formula with Newcastle, Wattson and Valkyrie.
FunFPS (Image: EA/Joe Brady)
In a meta of aggression and teams dropping 10+ kills, they found consistency. They made the top two in five of the twelve games, and averaged a healthy 4 kills per game. This was without running Horizon or Seer.
Crucially, their performance across the weekend will send a huge message in the wake of Team Liquid readying to release the roster. This is a top roster, and they are here to play ahead of ALGS Year 3. It seems that Nocturnal, FunFPS and Sikezz have set out to prove a point to the Apex scene.
FunFPS and Team Liquid lead top 5
| | | | | |
| --- | --- | --- | --- | --- |
| 1 | Team Liquid | 110 | $8,368.43 | ¥1,200,000 |
| 2 | NRG | 109 | $3,486.84 | ¥500,000 |
| 3 | 100 Thieves | 101 | $1,743.42 | ¥250,000 |
| 4 | OpTic Gaming | 96 | | |
| 5 | TSM | 95 | | |
Japanese teams struggle
It was a very rough time for the 4 teams from Japan. They propped up the leaderboard, finishing in the bottom 4 places. UNLQO did manage to sneak a game win in game 7, but then finished 20th in almost all of the remaining games.
Frustration for FURIA
It was a very frustrating tournament for FURIA, who struggled to a middle of the pack finish. HisWattson, Xeratricky and Pandxrz have lost some momentum after their period of domination following the ALGS Championship LAN.
They seem to be suffering from a common occurrence in Apex esports over the years. Teams that innovate and drive a new meta eventually cause their own downfall. They pioneered Seer, and since then teams such as NRG and TSM have adopted similar aggressive edge playstyles - this means more teams are competing to have a 'big' game. At LAN FURIA were one of very few edge teams. In addition, they were one of far fewer teams running Seer. Legends like Seer are stronger when there are less of them in the lobby.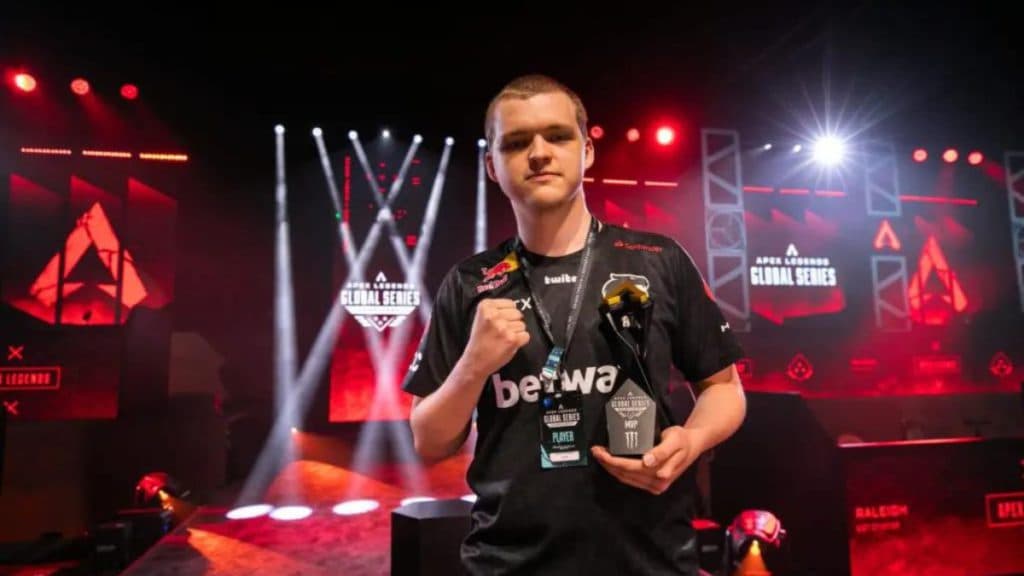 FURIA's HisWattson at the ALGS Championship, Raleigh. (Image: EA/Joe Brady)
FURIA didn't make it into the top 5 of any of the 12 games.
However, the aggressive roster are also far better suited to Storm Point, and this tournament was unusually Worlds Edge only. For instance, FURIA's fighting style just cannot thrive on Worlds Edge. This is in par due to the prevalence of third parties and tight buildings.
Motivation an issue for HisWattson
Star man HisWattson also appears to be completely lacking in motivation to compete. He tweeted between the two gamedays that he was done competing beyond ALGS. Additionally, he complained that rival teams weren't playing seriously, and were "trolling".
He appears to be not enjoying recent tournaments, how much of this is down to FURIA's poor performances and how much is down to the quality of gameplay is up for debate.
Above all, it is clear that FURIA cannot expect to perform at the level they reached in Raleigh without HisWattson being motivated. This tweet has since been deleted, and eyes will be on upcoming tournaments to see if he has changed his mind. Nonetheless, FURIA are still one of the most dangerous teams in North America on their day.