ALGS Year 3 is here! Both the Pro League and Challenger Circuit return. There are 3 Global LAN events planned, with a $5 million total circuit prize pool.
ALGS Year 3 is finally upon us, after several months of waiting for official details. The announcement was initially planned for late July, but was pushed back several times.
The 3rd year of the ALGS will be featuring two tiers of competition – the ALGS Pro League and Challenger Circuit. Included in this are three global LAN tournaments, and a $5 million USD total prize pool.
Registration for Year 3 is now open with ALGS competition officially kicking off in early October with the Preseason Qualifiers.
ALGS Year 3 to feature 30 Pro League teams
30 Teams in Pro League
22 teams invited per region, with 8 to qualify
New match point regional finals
The format is very similar to the successful second year of ALGS. The return to in person competition saw the ALGS Championship watched for nearly 11 million hours across all platforms.
There are two significant and notable changes to the format for ALGS Year 3.
Instead of the 40 teams that each regions Pro League featured last year, each Pro League will now have 30 teams. 22 of these have been invited, with 8 coming through the Pre Season qualifiers. EA say this is "to ensure the highest level of competition in this division."
Reducing the size of Pro League was one of the most requested changes by competitors.
New Match Point regional finals
Pro League will no longer be the qualifier for LAN either. Previously the top 10/5 teams from each region would qualify for LAN. Instead, ALGS Year 3 introduces new regional finals that will adopt the controversial match point format. EA have also added the match point format to the Last Chance Qualifiers.
This will be one of the biggest changes to the circuit. The match point format divides players and fans. For the players, it can be painful to be on the receiving end of the format. In the Split 1 EMEA playoffs, Alliance were miles ahead of their rivals. However it was NEW Esports who snuck a win – Alliance couldn't close it out.
This is contrasted with the viewer experience. Match Point format is one of the best viewing experiences that esports has to offer. The immense energy that comes from a team winning a game to take the title was electric in person. The true benefit is a tournament is never a foregone conclusion, everyone still has a chance. This keeps engagement and viewership high.
Improvements to Challenger Circuit
There are also some adjustments to the Challenger Circuit. The ALGS year 3 format takes some steps to address the issues with last years challenger format. Primarily, there was no incentive to win. Winning a qualifier earned you only points, there was no prize money or any real notable bonus to win.
This time, while Challenger Circuit prize money does not seem to be on the cards, there is a new incentive during qualifiers. In ALGS Year 3, the winning team from each Challenger Circuit tournament will automatically qualify for the Split 2 Pro League Qualifier or the Last Chance Qualifier, depending on the Split.
3 Global LAN's in ALGS Year 3
3 Global LAN events in Year 3
Playoffs set to be in Winter 2023 and Spring 2023
ALGS Championships set for Summer 2023
Additionally, ALGS Year 3 aims to have 3 global LAN events. The split one playoffs are scheduled for Winter 2023, the split 2 playoffs Spring 2023 and the ALGS Championship set for Summer 2023. There are no specific dates or locations confirmed, but EA has previously stated that they want events across multiple continents. Could we see the first ever ALGS LAN outside of America and Europe?
Who has qualified for Pro League?
EA has also revealed the 22 invited teams per region for the first split of Pro League in ALGS year 3. These teams will be joined by 8 qualifiers to make up the new 30 team league.
In North America, the most notable inclusion is Dark Zero. The reigning back to back Champions revealed that they were set to relocate from Australia, to North America. There was a bit of speculation about where they'd compete in Split 1, and if EA would invite them in this region or they'd have to qualify – however it is now officially confirmed they will be competing against the likes of TSM, NRG and Furia.
There is also an invite for team 'Bosh' in the EMEA region, and the reformed team Nessy. Recently signed Team Burger also feature among the APAC South invitees.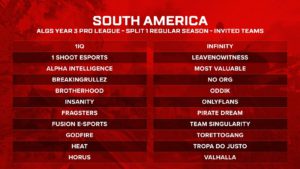 When does ALGS Year 3 start?
PC only for Pro League players in ALGS Year 3
Registration available to anyone Silver 4 and above
Pro League returns on November 6th
The open registration for ALGS Year 3's Pre Season Qualifiers are now open. The four online Preseason Qualifier tournaments will take place on October 8-10, October 15-17, October 22-24, and October 29-31, 2022.
The Pro League will return on Sunday November 6th. Teams will compete in a triple round robin format, resulting in a total of 36 games for each team. Alongside this, the Split 1 of the Challenger Circuit will start on Saturday November 19th.
Who can play?
ALGS still retains the open entry that it had in previous years. Although there have been some changes to the entry requirements.
The ranked requirement has dropped from Gold 4, to Silver 4. This is likely to reflect the change in ranked system. The Challenger level of ALGS is open to Console and PC players. However there has been a change for Pro League.
All Pro League players must now compete through Steam on PC. No console players can play, and you can't play on EA's own Origin platform either. This is due to a new Steam only Competitive build.
The removal of console players from ALGS will make a small impact. One team of console players did manage to qualify for Pro League. However, they promptly indicated they wished to transfer over to PC. It's unclear what would happen if a console team qualified but did not have access to a PC.
For full details and rule sets check out the Year 3 announcement blog post on the official ALGS website. As always, esports.gg will have you covered with complete coverage of ALGS year 3.