Ready to watch eight of the biggest creators in the world battle it out?
The Creator League is putting eight of the biggest creators from across the world against each other. These eight creators will all compete across four splits and will be playing alongside players from their own individual communities. Here's how to watch the Creator League.
What is the Creator League?
The power of choice is now in the hands of the gaming community. Creators each have their own communities as part of the Creator League, which fans can be part of by becoming a Community Passholder.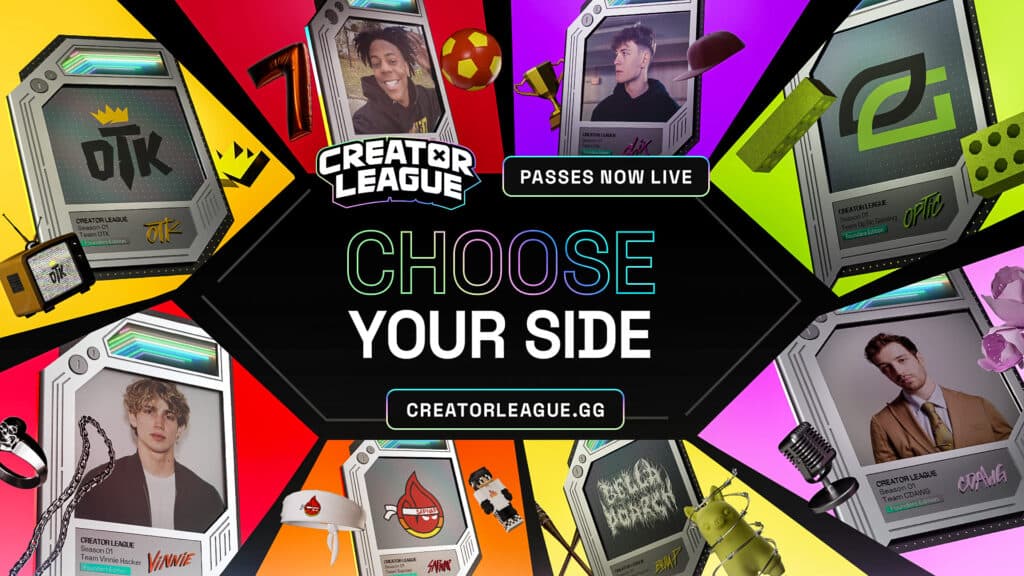 Creator League community passes are available for all eight creators.
These $19.99 passes grant users access to all sorts of perks, including a free box of MrBeast-branded Feastibles up until September 8. Passes are available to be bought here.
The Creator League will take place across four splits, starting with Fortnite in Split 1. A bespoke, never-before-seen map has been made for the teams to compete. Teams will compete in Hardpoint, Oddball and Capture the Flag on this new map to decide who is the top creator.
Passholders will also have the opportunity to compete in the Creator League on their chosen team if they are the highest-placed finisher in the $50k Open Qualifier from that team.
Who is in the Creator League?
Eight of the world's biggest creators are all taking part in the Creator League. These creators span across different platforms and various game titles. The eight creators in the Creator League are:
OpTic Gaming
Bella Poarch
iShowSpeed
Sapnap
OTK
Vinnie Hacker
CDawgVA
Clix
Where to watch the Creator League
Creator League will be officially broadcast on the erena Twitch channel at twitch.tv/erena. The live broadcast will have all of the action from the Creator League, including the draft process that teams go through to select their players for each event.
Creators will also stream to their individual communities, so fans can choose exactly how and where they would like to watch the Creator League.
How to follow the Creator League
Following along with the Creator League is easy. Passholders will get all updates through their Creator Hub. If that's not enough information for you, then you can follow each of the individual creators on all of their social platforms, where they will regularly be sharing updates on the Creator League.
There is also the official Creator League X (formerly, Twitter) account to follow, where there will be all of the information and exclusive giveaways tied into the Creator League.