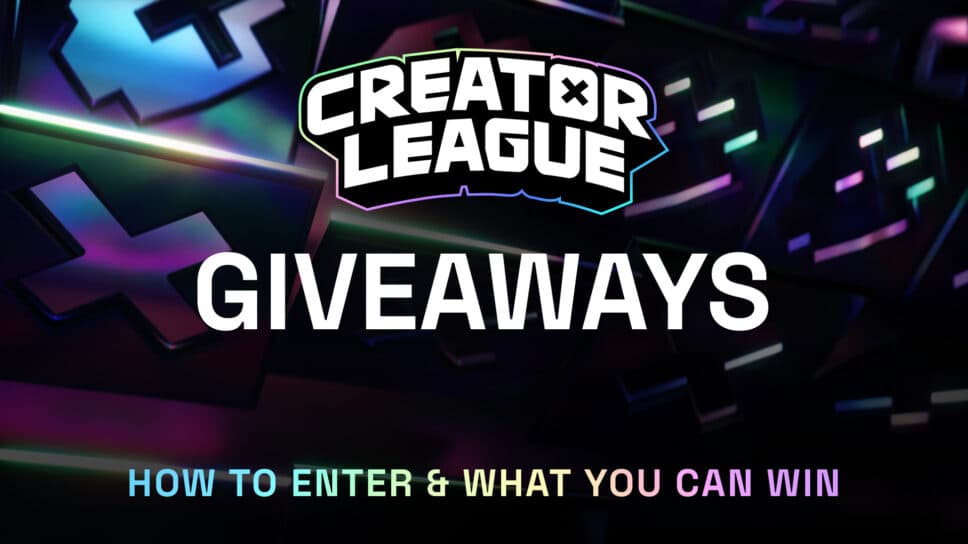 Creator League Giveaway: How to enter and what can I win?
Creator League is offering gamers a chance to win a selection of gaming peripherals from Corsair and Scuf.
Alongside the thrilling competition across the Creator League, is the chance for you to win a range of industry leading peripherals, with more giveaways to come in the future.
Some of the Creator League giveaways are available to the public. Others are only open to Creator League Passholders.

What can I win in the Creator League Giveaway?
There are a range of exciting peripherals and prizes available to win.
Corsair Bundle
The Corsair Bundle comes with a Headset, Mouse, Keyboard and Mousepad. With a total value of over $400 your setup can get a complete overhaul with a whole new set of Corsair peripherals.
| | |
| --- | --- |
| Hs80 MAX WIRELESS Gaming Headset | A headset is the key to your setup, bad audio can cripple your gaming experience. Dolby Atmos gives you clear audio. Your teammates will also be happy, as the clear omnidirectional microphone will mean they can hear you loud and clear during your next play session! |
| NIGHTSABRE WIRELESS RGB Gaming Mouse | The Nightsabre wireless RGB gaming mouse is perfect for gaming grinds with a 100hr battery life. In addition it looks the part in your setup. With 6 zone RGB lighting. The 11 programmable buttons means you can map whatever keybinds your favorite game needs. |
| K65 PRO MINI RGB 65% Optical-Mechanical Gaming Keyboard | A 65% Keyboard gives you more space on your desk, without losing any performance. Corsair switches give a nice balance between performance and that satisfying clicking sound. |
| MM300 PRO Premium Spill-Proof Cloth Gaming Mouse Pad — Extended | Finally, the last piece of your new set up is the roomy extended Corsair MM300 Mousepad. We've all been there and knocked over a drink, but the MM300 is Spill Proof - helping you clean up quickly and get back in the game quickly. |
Creator League Corsair giveaway bundle
Scuf Reflex FPS
The Scuf Reflex FPS is a leading controller with insane customizability. Each controller has Four removable, remappable rear paddles, three on-board profiles, instant triggers and interchangeable thumbsticks.
There are no vibration modules, to help keep your aim steady and there is a high quality performance grip. The Reflex comes standard with a black universal protection case, a 6-foot USB-C cable, 4 extra thumbsticks.
This fantastic controller is valued at $249.99!
How do the Creator League Giveaways work?
The Creator League giveaways are split between the public and those who have a Community Pass.
PUBLIC: 1x Scuf Controller & 1x CORSAIR bundle. To enter click here.
Creator Pass Holders: 1x Scuf Controller, 1x Corsair Bundle. To enter visit the Community Hub.
Bonus Giveaway: 2x Scuf Controllers and 2x Corsair Bundles given out to Creator Pass Holders who participate in community nights.
Giveaway Schedule
1x Scuf Controller & Corsair Bundle - September 2 - October 5.
There will be more giveaways as the Creator League continues into splits two, three and four later in the year.
So, what are you waiting for? Check out more details on the Creator League here. Then, pick up your Creator Pass here.