Creator League Season 1: Your Creator. Your Community. Your Call.
The Creator League is a first of its kind league where community passholders can directly impact rules, format, drafts and rosters.
Disclaimer: Esports.gg is owned by eFuse, the company behind the Creator League event.
What is the Creator League
The Creator League is a first-of-its-kind series where you, the gaming community, will be able to play alongside world-renowned creators and have the power to help influence the outcome of matches.
The inaugural season of the Creator League will have 8 Creator Teams and contain four splits, each potentially featuring a different game.
To get more involved, a limited number of digital Community Passes are available which unlock a whole host of perks and benefits. These perks include the ability to win a spot in your chosen creator's roster, participate in giveaways or vote on tournament rule sets.
Creator League Team Captains
The Creator League will feature eight teams in Season 1, each led by one or more high profile creators in the space. These creators will act as the captains and faces of their team; streaming every match, making decisions on strategy, and rallying and engaging with their Community Pass holders.
The line-up for the first season of the Creator League is an eclectic star-studded mix and features iconic creators from a variety of games and backgrounds.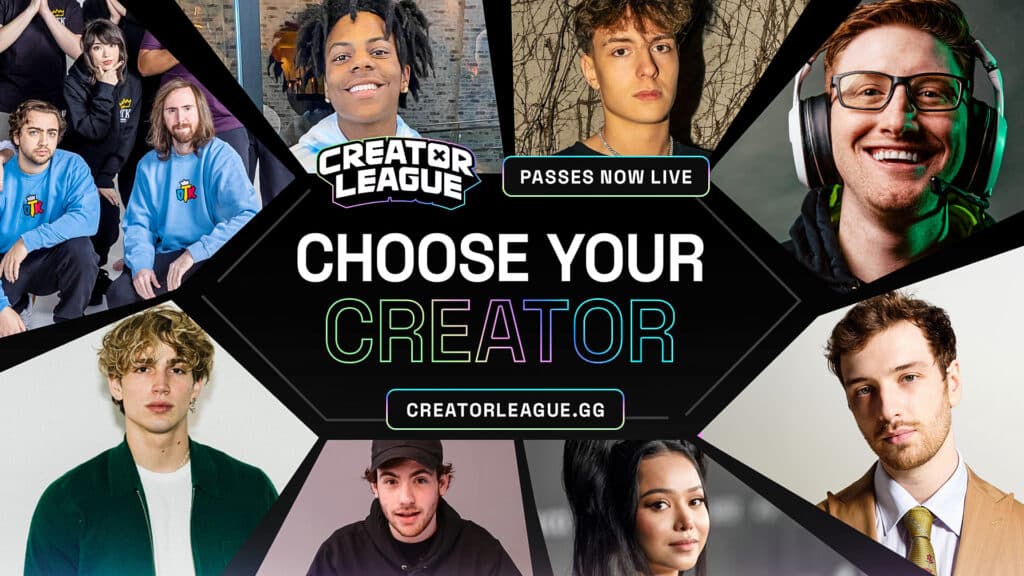 The Creator Teams
IShowSpeed
Sapnap
Bella Poarch
Scump & Hecz from OpTic Gaming
Cdawg
Asmongold, Emiru, Mizkif and Sodapoppin from OTK
Clix
Vinnie Hacker
Each Creator Team will have their own Open Qualifier held every split for all their Community Pass holders. The Split 1 qualifier will have a $50,000 prize pool. These qualifiers will be open to the general public, but Creator League Community passholders who enter will have two additional perks.
Community Passholder Qualifier Perks
If you are a Community Pass passholder, you will get bonus score added onto your tally at the end of Qualifier event. This number of points will scale based on the number of passes that you currently own.
1 Community Pass: 1.05x multiplier
2 Community Passes: 1.10x multiplier
3+ Community Passes: 1.15x multiplier
The second qualifier perk for pass holders is the opportunity to be drafted onto their chosen Creator Team's starting roster. To qualify, you must be the highest placed pass holder for your Creator Team in the qualifier, after multiplier bonuses (above) have been applied.
That means a total of eight pass holders will compete in Creator League Split 1, one for each creator. The eight pass holders will automatically start for their Creator Team plus earn a share of the player prize pool depending on final standings.

Creator League Community Pass
The Creator League aims to put the power in the hands of you, the community. Instead of simply watching you can now get some skin in the game by purchasing a Community Pass for your favourite creator team.
The Community Pass will unlock new ways to enjoy, influence and benefit from the competition. Only a limited number of Creator Passes will be available at launch, so grab yours while you can.
With a Community Pass you will be able to:
Compete in the Qualifier and be eligible to win a spot in your Creator's roster
Vote on Rule Sets
Vote and influence the roster draft for your chosen Creator
Earn Prize Money from Winning teams
Access exclusive giveaways from partnered vendors including CashApp, SCUF and Corsair
There is no limit on how many Community Passes you can own for your chosen Creator Team. Owning multiple passes will increase your influence on the Creator League, and your chance of winning sweepstakes and giveaways.
Free Box of MrBeast's Feastables
In addition, if you purchase a Community Pass before September 9, you will also receive a free box of Feastables courtesy of MrBeast himself.
Creator League schedule and format
Each Creator League season consists of 4 splits. Each split will feature a different game and last for one month. Following each split there will be a one month break. The total prize pool for Creator League Split 1 will be $250,000, $50,000 for Qualifiers and $200,000 for Finals.
The first season of the Creator League will kick off with Fortnite Zero Build 3v3 on a custom never-before-seen map built especially for Split 1, the Creator Coliseum.
For full details on rules head to the official Creator League Rule Book.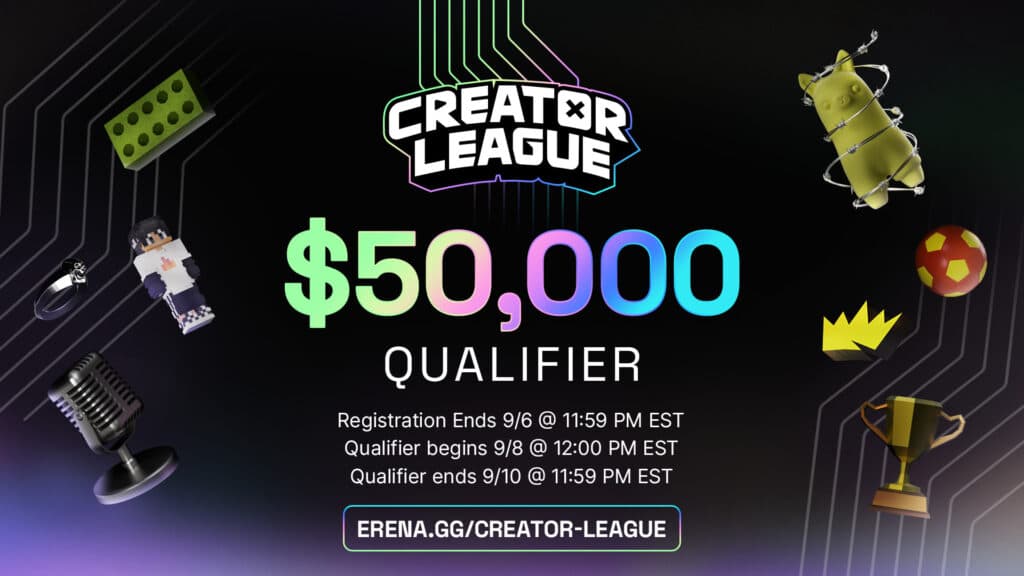 Creator League Split 1 schedule
September 3 to 6 - Open Qualifiers registration
September 8 to 10 - Open Qualifiers
September 19-20, 26-28 - Match Days
October 3 to 5 - Finals of Split 1
Creator League Split 2-4 schedule