Here's what you get with the Creator League community Pass!
The Creator League brings some of the biggest names and their communities in a battle across multiple games. To show your loyalty to your community, you can purchase Creator League Passes which give you some key benefits. The Community Pass also gives you access to all four splits in Season 1, with the first Split featuring Fortnite.
Disclaimer: Esports.gg is affiliated with eFuse, and eFuse is the company behind the Creator League event.
What are the benefits of the Community Pass?
The Creator League Community pass gives you a host of benefits that far outweigh its price.
Free box of feastables
Each community pass equals one vote
A multiplier effect for qualifiers
The Pass gives you access to all four Splits in Season 1.
You can vote on all votes that pertain to your community. (So if you own an OpTic Community Pass, you can vote on all OpTic-based votes)
Compete for the roster in one of the Creator League teams
Exclusive Giveaways and Discord
You can vote on setting new League rulesets, gameplay match selections, and more. For fans to show their loyalty to their community, one user can only hold community passes of one community. So if you own an iShowSpeed community pass, you cannot also buy an OpTic Community pass.
To protect the competitive integrity of the League, fans of one community cannot vote in another community. So Team iShowSpeed pass holders cannot vote for the Team Clix votes.
---
---
But wait, you are not limited to just one Creator League community pass. You can buy multiple passes even for the same community (for example - OpTic Gaming). Each pass entitles you to a vote. To increase the impact of your vote, you can buy as many passes for your chosen Creator Team as you wish, up to a maximum of 50.
To keep things fair, if you own multiple passes you will not be able to split your votes between choices. So when you've made your decision, it's all in!
Free box of Feastables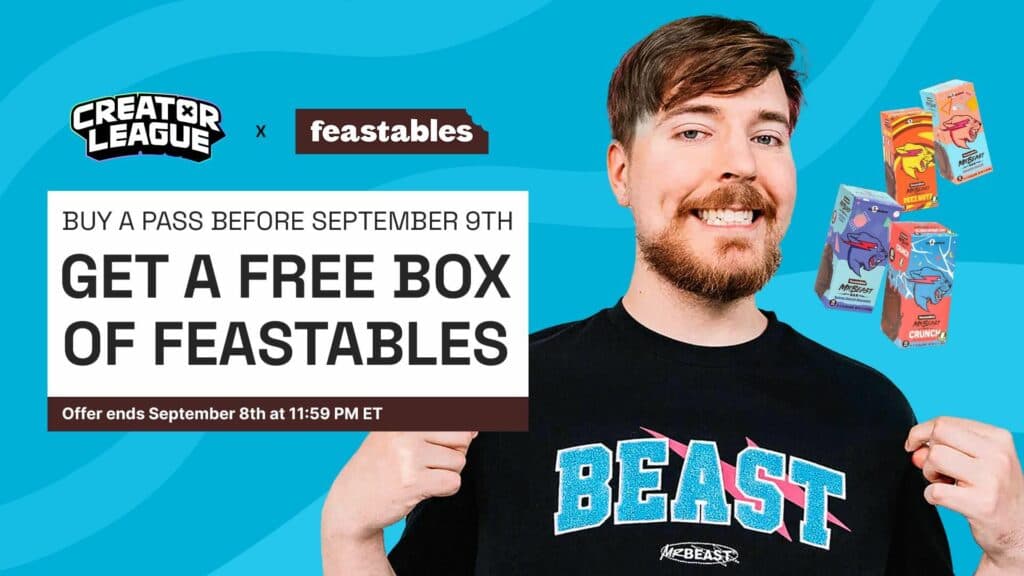 If you buy a Creator League community pass before September 9, you will get a free box of feastables.
Mr. Beast's feastables is one of the most popular chocolate bar. Buying a Community pass before 11.59 PM ET on September 8, 2023, will give you a free bar of feastables
Drafting Team Rights
The Drafts will help the Creators select their teams to compete in the Creator League Split. A Community pass holder is eligible to vote for all these drafts as long as they pertain to their chosen community.
For eg., an OpTic Gaming Community pass holder can only vote for Team OpTic-related votes. To have a bigger say in the community votes, users can purchase more than one pass - each pass counting as an additional vote.
Each community pass equates to one vote

There will be four 'Drafts' where teams are selected to compete on behalf of the Creator Team

You are eligible to cast your vote for all of these Drafts. (Ex: If you own the Optic Community Pass, you can vote on who Optic drafts to compete on their team)

You can own multiple passes for the same community, with each pass accounting for one vote. (ex: if you own 10 Optic Community Passes, you have 10 votes you can cast on Optic-based drafts.)

If you own multiple passes, you cannot split the votes. (ex: if you have 10 Optic Community Passes, which means you have 10 votes, all 10 must be cast to one outcome. You cannot split votes.)

You cannot own passes from multiple communities in order to protect the competitive integrity of the league. (Ex: If you own an Optic Community Pass, you cannot own an iShowSpeed Community Pass)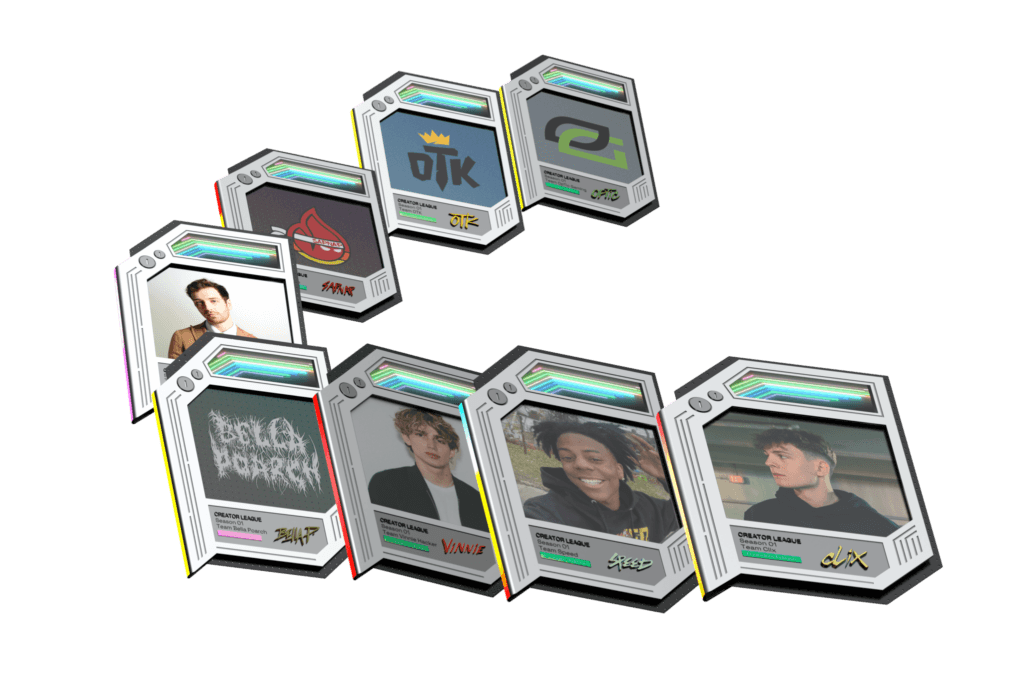 Compete on one of the teams
The Creator League is all about allowing fans and viewers to compete and represent their favorite communities. The Community Pass provides you with a unique opportunity to team up with your favorite content creators and influencers. There's really nothing much more you would want than to compete alongside your favorite player.
Time for you to shine and showcase your skill and ability for the world to take notice.
There are four play-in, qualifier events where pass holders can try for a Creator League team roster spot. It will require a bit of ingenuity and skill for you to be noticed, but if you are - you get the opportunity to play alongside the likes of Sapnap, Bella Poarch, H3cz, and many more.
Share the winnings
If you win a qualifier event, you will be guaranteed a spot on the team. The community will draft the finale rosters. If you are on the team, you will also have a share in the team's winnings.
This is the prize pool distribution for Creator League Split 1. The prize pool amount and distribution may change in future splits.
| | | | | |
| --- | --- | --- | --- | --- |
| 1 | $75,000 | $30,000 | $105,000 | $7,500 |
| 2 | $40,000 | $15,000 | $55,000 | $3,750 |
| 3 | $0 | $12,000 | $12,000 | $3,000 |
| 4 | $0 | $8,000 | $8,000 | $2,000 |
| 5 | $0 | $6,000 | $6,000 | $1,500 |
| 6 | $0 | $6,000 | $6,000 | $1,500 |
| 7 | $0 | $4,000 | $4,000 | $1,000 |
| 8 | $0 | $4,000 | $4,000 | $1,000 |
| Total | $115,000 | $85,000 | $200,000 | |
Prize pool distribution for Creator League Split 1
The best way to support your team is to cheer for their success. And now the Community pass provides you with an additional reason to cheer for your community. Each community pass is tied to one team that will compete on behalf of the community.
Exclusive Giveaways
The Community pass will also give owners access to exclusive giveaways. With a multitude of brand partners, there will be a variety of giveaways including PC giveaways, cash prizes, and more.
Multiple passes will give multiple entries into the giveaways. The Discord community will also have community nights and other fun activations allowing you to get to know other pass holders.
Entries close on September 13th at 3 pm EST and the winner will be announced on our first broadcast on September 13, 2023.