While Fnatic have been the most consistent team in the region, rosters both new and old are now hot on their heels.
Europe was being touted as the best region in the world ahead of Masters Reykjavik. Post-Iceland, we know that while they may be deeper than North America, no one can touch Sentinels. But Europe isn't done yet, and plenty of rosters have been assembled for their shot at taking on the world in VCT Stage 3.
Fnatic have been the most consistent team in the region, but Team Heretics, G2 Esports, Acend, and others are all sporting new rosters and are hot on their heels. Europe gets four slots at the next Masters in Berlin, Germany; who will be taking those spots?
The favourites to win VCT Stage 3 EMEA
Fnatic
Fnatic meet on stage ahead of the Masters Reykjavik grand final. Image credit: Colin Young-Wolff/Riot Games.
The European favourites for VCT Stage 3 have to be Fnatic. Ever since making roster moves before the last step of Stage 2, they've been on a tear. They won Challengers 2, placed second at Challengers Finals to Team Liquid, and were clearly the best EU team at Masters, playing Sentinels close in the finals. They're the team to beat right now, and if any of these new rosters want to be the best, they have to go through Fnatic.
Nikita "Derke" Sirmitev has become one of the world's best Jett players, with only Sentinels capable of shutting him down. Jake "Boaster" Howlett brings the team's characteristic creativity and flair to the server. It will take a big effort to shut this team down, and they're seemingly a lock for Masters Berlin.
Team Liquid
Team Liquid and Fnatic stare each other down ahead of their Masters Reykjavik lower bracket match. Image credit: Photo by Colin Young-Wolff/Riot Games.
Team Liquid had a great run up to Reykjavik. Everyone was firing on all cylinders. The big run through Europe culminated with a win over Fnatic to be the region's #1 seed going into Iceland.
However, once there, Liquid looked lackluster. The firepower that they'd displayed in their own region was completely missing. There are some serious improvements to be made here, but with a new meta courtesy of Patch 3.0, maybe they'll find their footing again.
Gambit Esports
Behind closed doors, there's the scrim gods. The teams that seem to have everything going for them. They can beat the best, but when it comes to a stage match, they falter. In Europe, that team is Gambit.
Gambit looked good during the EMEA playoffs. They had possibly the best Icebox in the region, and made the top four in the event, eventually falling to Fnatic. The Russian side will be back hungrier than ever, and look good for an appearance at Berlin.
Contenders: Can they, can't they?
FunPlus Phoenix
FunPlus Phoenix have always been oh-so-close. At First Strike, they looked like Europe's best team before they were upset by SUMN FC in the semifinals. At Masters 1, they again looked unstoppable before Acend shut them down. And finally, in the qualification for Reykjavik, they came in as Europe's #1. But a few upsets and one final loss to Gambit meant the team was out in the group stage.
This could be the time that everything finally comes together for FPX. When they're on, they're clearly the class of the region. But they've fallen short so many times. Either they break the curse here, or we may need to see more shifts to bring them back to the top.
Acend
Like Gambit, the scrimbucks are high with Acend. Ahead of VCT Stage 3, they added ex-G2 player Aleksander "zeek" Zygmunt to replace their departed IGL, Jose Luis "koldamenta" Aranguren. The move has already paid off, as Acend won the LVP Rising Series.
This wasn't a small tournament - G2 participated in the qualifiers, and teams like Vodafone Giants and Team Finest were playing. But Acend won in dominant fashion, not dropping a map and only allowing their opponents 9 rounds over 2 maps in the grand final. This is still the four-man core of the team that won Stage 1, and it seems that with their new signing, they've brought themselves back to the top level.
Guild Esports
I liked what Guild showed in Stage 2. Their innovation of putting William "draken" Sundin on Yoru was creative: they were one of the only teams regularly playing the agent, and showed that it can actually be viable with some time put into it. But their offseason moves are a head-scratcher.
On June 12th, Guild announced that they were parting ways with draken. It was reported that Benjamin "vicious" Guillote would be joining. But it seems trials didn't work, and on June 26th, Guild went back to draken and announced his re-signing.
It's just a strange situation. While they're now running back the same 5-stack as last stage, I worry that the missed practice and internal situations will hamper the team's potential.
VCT Stage 3 dark horses
Team BDS
The French 5-stack of Team BDS has been dangerous for a long time. While Logan "logaN" Corti has been shouted out even since First Strike as one of Europe's best, the entire team has been together for a long time (in VALORANT terms anyway) and are looking for a big breakthrough.
Stage 2 was solid for this team, finishing top four in both Challengers events. They'll be looking to break past that threshold here.
G2 Esports
It feels odd to label G2 as a dark horse. They're one of the biggest organizations in Europe, and dominated the early stages of EU VALORANT. But the fact is they're not the powerhouse they once were. Their reconstructed roster has stumbled early, prompting another roster move. Things are just a mess.
G2 participated in the qualifiers for the LVP Rising Series, the one that was eventually won by Acend. But they failed to even make the main event, with a loss to Israeli side Team Finest in the qualifiers. It was a bad sign for the new squad, and they've since replaced Jacob "pyth" Mourujärvi with Cista "keloqz" Wassim.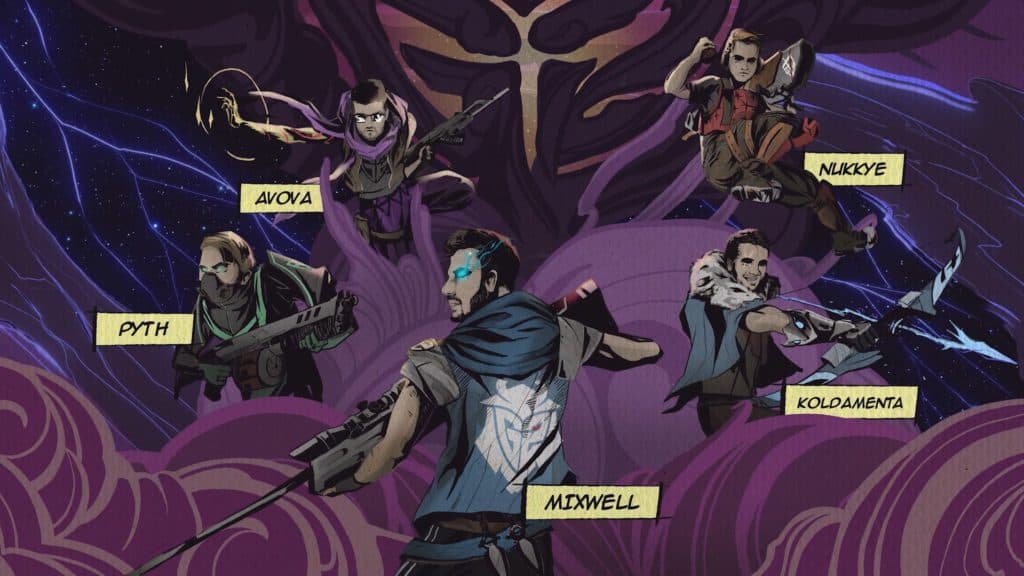 G2's graphic for their revamped roster. They'd replace pyth with keloqz a few weeks later. Image credit:
G2 Esports.
G2 have potential. All of these players had great results on their previous teams. But it's yet to come together under the G2 banner.
Ninjas in Pyjamas
Finally, NIP warrant a mention. Their direction has turned starkly ever since the addition of Kévin "akukhoS" Droolans (previously known as Ex6TenZ) earlier this year. There's been a notable improvement in their strategy and tactics. However, a big win has still eluded them. With rumours of roster changes swirling, it seems VCT Stage 3 is the last chance for this NIP core to conquer Europe.
VCT Stage 3 Open Qualifiers start on June 28th
The first open qualifiers for VCT Stage 2 in Europe begin on June 28th. 8 teams from each subregion (Europe, the CIS, and Turkey) have been granted a bye to a later starting point. In Europe, those teams are Fnatic, Team Liquid, FunPlus Phoenix, Acend, Guild Esports, NIP, Team BDS, and Team Vitality. With details revealed a few weeks ago and broadcast talent a few days ago, everything is shaping up.