North America has format tweaks while Europe is getting an overhaul. EU begins play on June 28, while North America starts on July 1st.
Ever since the end of Masters Reykjavik, competitive VALORANT has been on a bit of a hiatus. However, we've finally got start dates for VCT Stage 3 around the world. The action begins next week, with spots at the next international LAN, Masters Berlin, up for grabs.
North America
VCT Stage 3 in North America follows nearly the exact same format that Stage 2 did. The stage will have two Challengers events, with open qualifiers seeding teams into them. In Challengers 1, 8 teams will do battle. The top four progress to Challengers Finals, while the bottom four get a bye to Challengers 2.
The top 4 will then be joined by another 4 open qualifier teams to put together an 8-team field for Challengers Finals. That last event determines North America's representatives for Masters Berlin, and awards VCT Points for qualification to Champions, the big year-end world championship.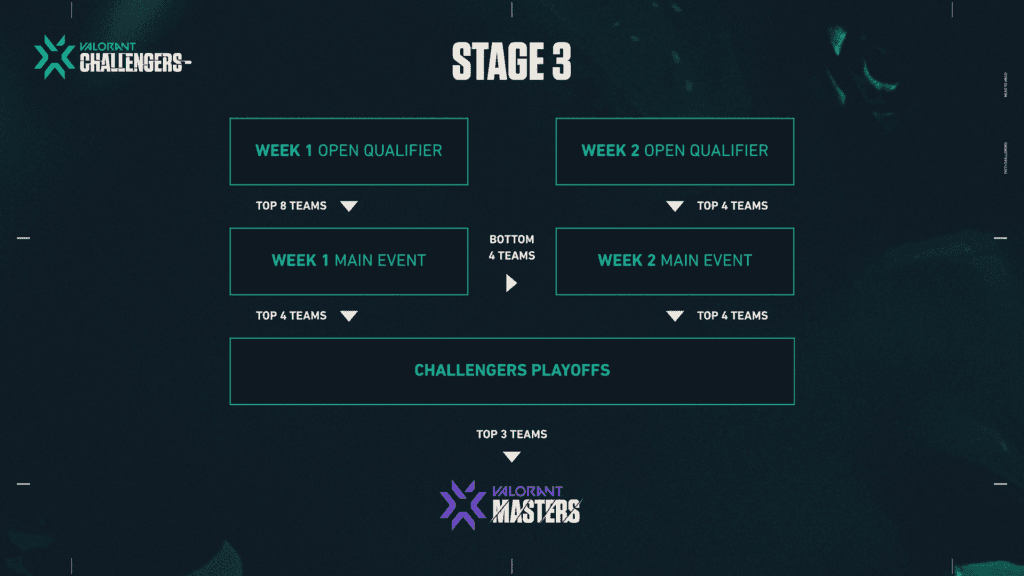 Image credit: Riot Games.
There is a slight tweak in the plans, though. Unlike previous stages, the top two teams have been given byes. Sentinels and Version1, NA's Masters Reykjavik representatives, will be seeded directly into the round of 32 in the first Open Qualifiers. Note that V1 will be without Jordan "Zellsis" Montemurro for this first open qualifier, and Challengers 1 should they make it there, due to his suspension.
The new map, Breeze, will be available to play throughout the entire stage. KAY/O, the new agent, will be available beginning with Challengers 2. Those availability dates are the same for all regions. The first open qualifiers begin on July 1st, with Challengers 1 taking place from July 8th-11th. Broadcast talent and signup instructions will be announced at a later date.
Europe
VCT Stage 3 details for Europe were announced earlier last week, and bring some major format changes. Generally, the event follows the same format as North America. Open qualifiers will lead into Challengers events, qualifying teams for the EMEA Challengers Finals. However, for the first time, Europe's Challengers events will be double-elimination. The much-requested change brings it in line with North America in that regard.
Unlike NA, though, EMEA's Challengers Finals brings together Europe, Turkey, and the CIS, all of whom are playing their own separate VCT Stages. While that's nothing new, the slot distribution for Challengers Finals is. Europe will get 6 teams, Turkey 3, and the CIS 3. This is up from the 4 EU/3 TR/1 CIS from last stage.
Image credit: Riot Games.
Prize money was also revealed. The winners of each challengers stage in Europe recieve €15,000, while it is €8,000 in Turkey and the CIS. The winner of Challengers Finals gets €32,500.
Along with these changes, Europe's announcement hints as a revamped VCT points system, with more details to be released soon. Their first open qualifier begins on June 28th.
Rest of the world
Korea
Again, Korea marks the only region to have offline regional play. The groups and playoffs of Korea's VCT Stage 3 competition will be held in the AfreecaTV Studios in Seoul. There is also a possibility that the playoffs stage would have spectators in attendance, another VCT first.
Korea's also getting a small format change. They're only running a single Challengers event, structured with a GSL group stage and playoffs, just as they did in Stage 2. However, there will now be a small seeding bracket in between the open qualifiers and the GSL group stage. They begin play in July 3rd.
Brazil
There will be no changes to Brazil's Stage format for Stage 3. This again makes them the only region to play 3 Challengers events, in the same structure North America had during the fully-online Stage 1. Brazil kicks off on June 28th.
Japan
Similarly to Brazil, Japan will have no format changes for Stage 3. Their setup is similar to North America, however, their Challengers events consist of two groups instead of a double-elim bracket. They begin play on July 4th.