Here's the Week 4 preview for VALORANT and Rocket League.
Week 4 of the Esports Collegiate Conference (ESC) Fall Season will kick off soon. While VALORANT will take the main stage on Sept. 26, Rocket League will follow on Sept. 27.
We have prepared the updated standings and schedules for this week's entertaining matches. Let's take a look at some of the notable storylines heading into Week 4.
ESC Week 4 preview
There will be two broadcasts this week on the official ESC Twitch account. Three matches in total will be streamed out from the channel. The streams will be live at 8 p.m EST on Sept. 26 and 27.
ESC VALORANT standings after Week 3 (Image via eFuse)
ESC Rocket League standings after Week 3 (Image via eFuse)
Streamed ESC matches of the week
University at Buffalo versus Akron University (VALORANT): Sept. 26 at 8 p.m. EST*
This will be a rematch of last year's ESC VALORANT Championship! The Buffalo Bulls will meet back up with the Akron Zips this season and hope for repeated results. After taking an incredible Map 5 win in last year's championship, the Buffalo Bulls earned a 3-1 record so far this season. The team's Week 2 loss against Northeastern University will make this week's match even more important for them.
As for the Akron Zips, the roster continues to change week by week. With the Akron Zips now being ineligible means that the players must fill that position that once was solidified by a veteran player. FERAL being the only remaining veteran from that finals roster has some uncertainty raised on how this team will perform this year. Last week, Akron substituted in five new players and showed up against Eastern Michigan. Duelist player DTin and sentinel player Roggle were the highlights.
Keep an eye on the Akron Zips roster this week. The team will be a tough opponent for the Buffalo Bulls. If you are in the local area, then the Akron Zips will host an in-person watch party at the InfoCision Stadium. Who will bring the energy? Will the Buffalo Bulls bounce back and continue their hot streak? Or will the Akron Zips get revenge from last year's finals?
ESC VALORANT Week 4 schedule (Image via eFuse)
Central Michigan University versus Eastern Michigan University (Rocket League): Sept. 27 at 8 p.m. EST*
For the second ESC official broadcast this week, we have a major rivalry spotlight. The Chippewas of Central Michigan will face off against the Eagles of Eastern Michigan in Rocket League. Last week, we saw these schools duke it out in VALORANT with Eastern Michigan taking the series 2-1 and recording their first win of the year. Eastern Michigan's Rocket League team will have the same opportunity this week to grab their first win of the year against their biggest rival.
Central Michigan is sitting on the cusp of top eight in the standings with a record of 2-4. They're tied with two other universities. The Chippewas need to continue picking up wins if they want a chance to make it into post-season play. This is because Week 4 marks the halfway point of the season, and any match could determine if you make it to the top eight or falter. Facing up against a rival school who currently is winless is a recipe for an upset. Therefore, Central Michigan must be prepared.
ESC Rocket League Week 4 Round 7 schedule (Image via eFuse)
Ball State University versus Northern Kentucky University (Rocket League): Sept. 27 at 9 p.m. EST*
For the final ESC broadcasted match of Week 4, Ball State will want to continue their undefeated season against Northern Kentucky. The Cardinals remained dominant across both ESC titles with both rosters undefeated so far heading into Week 4. Kent State and Ball State are the only Rocket League teams that remain undefeated after Ball State shut down Northeastern's undefeated streak last week. Wovah, Oath, and Guh will want to impress on the official ESC stream against their opponents.
Northern Kentucky players currently sit at a record of 3-3 and look good in their 3-0 win against Miami University last week. Toastie returned to the roster for the Miami match. Alongside Rickles and pig, the roster looked formidable. Whether or not Toastie or Jayeden will play for the Norse in this streamed match of the week, Ball State should not look down upon these players who know how to fight back.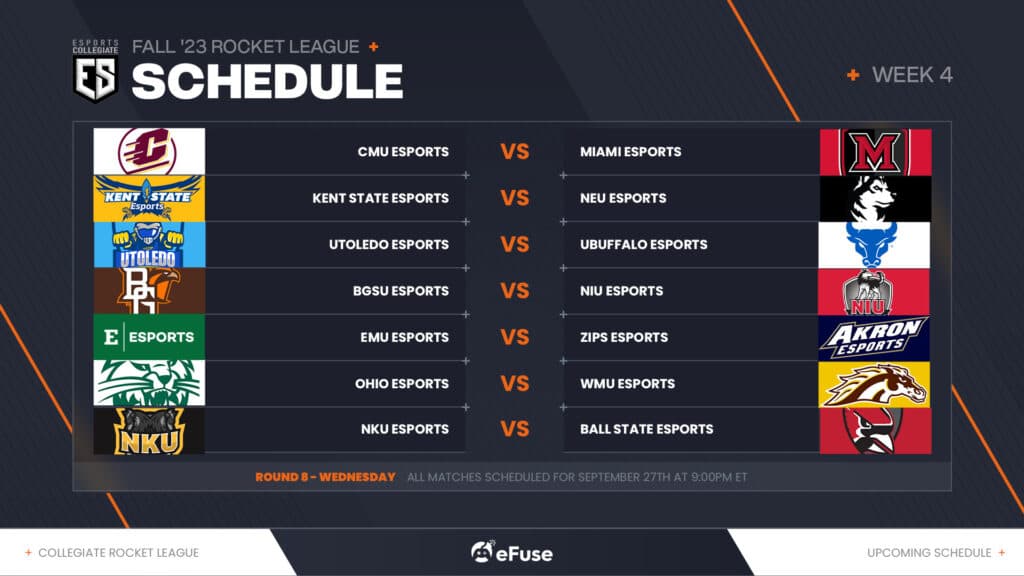 ESC Rocket League Week 4 Round 8 schedule (Image via eFuse)
ESC Week 4: Honorable mentions
Kent State University versus Ball State University (VALORANT): Sept. 26 at 8 p.m. EST*
The third seed will play the first seed in the standings this week outside the official ESC stream. The Golden Flashes proved to be just as dominant across both ESC Fall titles just like their opponent Ball State. With a record of 3-1, Kent State will need to put an end to Ball State's undefeated record. Kent State's only loss this season came last week with another 3-1 team from Northeastern University. Veterans, shaK, and LiteralChad, will need to help the team bounce back this week against the Cardinals.
University of Toledo versus Miami University (Rocket League): Sept. 27 at 8 p.m. EST*
With the midseason already here, the Toledo Rockets with a score of 2-4 and the Miami RedHawks with a score of 1-3 will battle it out towards the bottom of the standings. This match might turn a team's season upside down. A win may bring some momentum that is much needed for either roster.
Toledo's SaucyScythe, Yugen, and LandoBBB had a quiet season so far, but also had very close losses to Northern Illinois and Kent State. With many of the ESC games being one-goal losses, the Toledo defense looks solid.
Miami's fresh roster of Fira, oWam, and yeesh showed signs of promise through their last couple of matches, but also showed signs of frustration when they were down. Which team's roster will reach for the sky this week and possibly fly up the rankings in hopes for a playoff spot at the end of the season?
Kent State University versus Northeastern University (Rocket League): Sept. 27 at 9 p.m. EST*
The final match to look out for will be the one between the second and third seed in the standings for Rocket League. Kent State, with a score of 6-0, will want to remain undefeated after this week. However they will have to fight against the Huskies of Northeastern, who have a score of 5-1.
Veteran player garythesnail leads Kent State's roster this year alongside IMMO and smevdoe. On the other side of the pitch, Northeastern's roster of shotguy, yellow, and angebro line up for the kickoff.
*Match times are subject to change.