Tinowns, the mid laner of LOUD, said the team achieved their goal of making the CBLoL scene proud with their opening win at Worlds 2023.
With a perfect start to Worlds 2023 after 3-0ing the VCS, we sat down with LOUD's mid-laner Thiago 'Tinowns' Sartori to ask about being on the international stage again, his spirit animal and his long-standing friendship with his top-laner Robo.
LOUD at Worlds 2023 following their first perfect series - image via Colin Young-Wolff/Riot Games
Playing on the international stage and the LOUD fanbase
esports.gg: You have obviously been on the international stage quite a lot recently, how do you feel being here once again on the Worlds stage?
tinowns: It feels different every time I go onto the international stage, the meta really affects how it feels to be at an international event – even more so when you factor in different regions and time zones. The first time being on the international stage to now is also different because I have a lot more experience now than I did back then, and that experience has made us more stable in our performances.
esports.gg: How do you feel playing in Korea as you are obviously quite far from home and the majority of the LOUD fanbase?
tinowns: It is great to have so many Brazilian fans here, they're always so loud and they make such a scene that Korean fans may have never seen – such as them partying, doing a human train and just being super fun! We didn't really expect so many Loud fans to be here but having them here makes it so special.
Making the CBLoL proud and showing up in their first series
esports.gg: You were behind at the beginning of game 1 [though not unusual for your playstyle] – was this a worry for you or the team as you are at Worlds as opposed to playing in your home region?
tinowns: We knew Robo's Renekton would be strong and that GAM can't be underestimated. The early game was hard against them as GAM is always ready for objectives, so we knew to wait for a little while before we can scale. We gave up a few drakes and then strengthened our lanes.
The perfect start to LOUD's Worlds run for 2023 - image via Colin Young-Wolff/Riot Games
esports.gg: GAM hit back incredibly hard in Game 2, especially with some of their picks onto you in mid and team fighting – what were your thoughts of this?
tinowns: GAM's composition is always based on building and scaling early on, whereas we are more late game so we know we can wait and don't need to worry too soon, we need to take our time instead of rushing in. If we are calm and controlled we can win that way. We achieved what we set out to do - make the CBLoL proud and win the series to kick off our Worlds run.
Robo, spirit animals and being 'that guy'
esports.gg: When we met Robo at MSI we asked him what it is like to stay on teams with his mid laner – so the same question to you, what is it like to have played with Robo for so many years? What is your relationship with him like? And how does it feel to stay on the same team with your top-laner?
tinowns: It is great to have the same team from MSI to now, and we have a great opportunity to train in other regions which is great for us as play, it helps consistency. Even more so to have a top laner like Robo who knows my playstyle as much as I know his, we can really bounce off each other.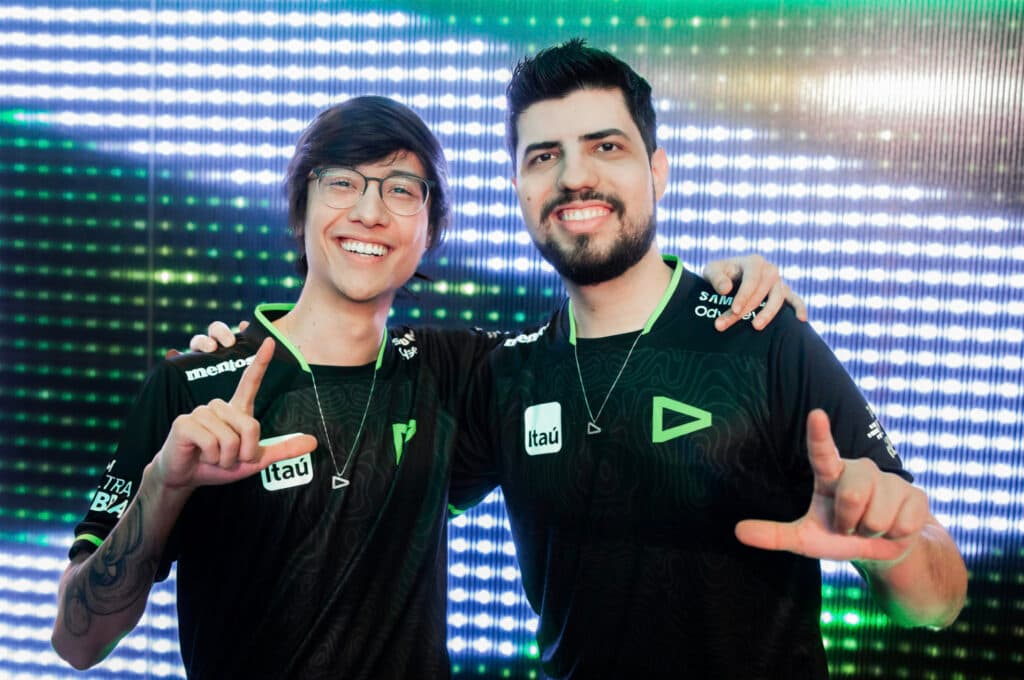 Robo and Tinowns backstage - image via official LOUD Twitter account
esports.gg: On the broadcast, the desk described you as 'that guy' do you think you are 'that guy' not only for LOUD but as a player in general?
tinowns: I'm so happy to be considered 'that guy' especially as I haven't been with LOUD for that long, I really appreciate our team and being a part of it. It's not just me, I have Robo, and all my teammates and everyone else – it is so easy to be 'that guy' with them.
esports.gg: We've been asking some of the pros we missed chatting with at MSI this question, so as we're getting to talk to you now - what animal do you think you are and why?
tinowns: An animal? Hmm let me think... I would be a fox because they're stealthy and they're also super beautiful and majestic.