C9 Fudge is beginning to find his own stride apart of C9. What is his next goal?
There is just one week left in the 2021 LCS Summer Split as teams fight for playoff seeding. As TSM and 100 Thieves have their own battle for first place, Cloud9 are fighting their own battle to maintain their third place seeding. After winning the 2021 LCS Spring Split, Summer was not as kind. The team lost their first place position from Spring and are now looking to bounce back in playoffs. As the season comes to an end, Cloud9 are beginning to pick up form. While Cloud9 were inconsistent, rookie top laner Fudge put forth a great showing in Summer. In this interview, we speak to C9 Fudge on his preference towards being away from the studio and his own career trajectory.
---
Throughout this weekend, what is the adjustment to no longer playing the LCS stage right now?
C9 Fudge: It felt really weird because the game is more calm now. People are in a different mood when you are not in the LCS studio. Right before the game, my mic stopped working so we needed to swap pc's causing that delay. There is less energy playing at home, but I prefer it that way. People are yelling less and I can concentrate more. When people are yelling less, it feels like I can think a bit easier. I enjoy playing at home, it is really nice for my own concentration.
That is interesting, I feel most pro players enjoy playing on the LCS stage more. In general, are you more of a mellow person?
C9 Fudge: Yeah, absolutely. I am a very calm person. I am not very energetic. It only really comes out during board games, but I am usually just chilling out and enjoy the light noise. During board games, I usually get really energetic. We play Codenames and Secret Hitler
What is the energy in C9 like during comms? Is it more chilled out or is it louder?
C9 Fudge: Generally, Blaber and Perkz are very energetic. I would say Zven is more chilled out in-game and then Vulcan is like a switch. He can switch how he talks depending on the style he is trying to play. Blaber is usually energetic and very chaotic. He yells a lot during the LCS games and sometimes it annoys people. I actually prefer when people are more quiet during games because it helps me think. Sometimes when people yell it is hard for me to concentrate on the game instead of what they are saying. You sometimes forget about what is on your monitor because you are listening to your teammates.
Was that similar energy back when you were on Mammoth? What was the environment back then?
C9 Fudge: On Mammoth, it is really chill. Babip, King and Destiny are pretty quiet players. Triple is also relatively quiet, but he is energetic sometimes. Usually, everyone is quiet. I made adaptations when I joined C9. They tend to talk more and say things that are not useful in games sometimes. It is something I actually do myself which is not the best. Laughs It is still enjoyable though. If I do not talk a lot, it is cool and can actually be fun. It is not a negative thing. It is nice they talk a lot because it helps me understand the game better. However, it can be a bit overwhelming sometimes.
I remember you were originally not a part of the C9 Academy roster, what was that process like?
C9 Fudge: Originally in 2020 before Spring Split started in Academy, I was going to join an OCE team. Six hours before I was going to sign the contract, I got a message from Jack to join C9. They originally had a top laner, but they decided to remove him. From here, King made a recommendation for me to join Cloud9 and connected me to Jack. I was able to speak with Jack and within 12 hours of speaking to him, I was offered a contract.
Immediately, two days after, I flew out from Australia to Korea for a bootcamp. Zven and Vulcan were already there doing a bootcamp. It is extremely awesome looking back at Korea because everything is so much fancier than Oceania. The practice environment is amazing and there are so many more resources to improve as a player. Everything you need is taken care of for you. Meanwhile, in Oceania, you need to do everything on your own.
---
Read also:
---
When you first joined Mammoth Academy, was North America always your end goal. When you became a pro player, what was the ultimate goal driving you to become better?
C9 Fudge: When I first joined Mammoth, I was very oblivious. I never had the goal of playing NA when I was in OCE. The only OCE players at that time were Lost and FBI in NA. So at the time, my goal was to win in OCE and make it to worlds. I wanted to make it far there and showcase the talent this region has.
In the offseason, Oceanic players started to get contacted from other regions. This inspired me to do better things because it finally felt possible. These were the realization I had moving forward into 2020. I expected a lot of my friends to move to North America, but I thought I would stay in Oceania.
While I did get contacted by some North American teams, I never was offered a contract so I brushed it all aside. I got really lucky getting that call from Jack honestly. My career would be completely different if not for that call.
Do you feel like it is surreal how fast paced your career has been? In your first split, you win a split in Oceania. You then go to Worlds and put up a decent showing to then move to North American and win LCS.
C9 Fudge: Yeah, I thought about it before. It is weird because I progress fast in my career. My career is treating me extremely well in terms of trajectory. Still, you don't really think about it until somebody tells you. Every split I play, I am winning and it makes me feel so grateful for my teammates. I am ending up in lucky spots to where my teammates are always amazing.
On Mammoth, I found my way onto an Oceanic super team. I am very lucky in my career honestly and I just want to focus on playing better in my upcoming weeks. I don't really get an opportunity to look back at my career. When I do, it is a nice way to pick myself up and continue working hard.
---
Moving forward into the LCS, what are some of the adjustments you made playing in Spring versus Summer?
C9 Fudge: I would say, during Lock-In, I was not good. Back then, I did not understand certain positions and fundamentals around waves. I would fall behind in cs to my enemy laner because they understood how to play with their mid and jungle. I would never call to punish the enemy top laner for these things. They would play Renekton and Camille and I would just lose.
In Spring, I played a lot of tanks. I played Gragas and Sion a lot. I got a lot better at calling waves and cs'ing. That is something I feel the nerves really kicked in for. During lock-in, I was missing so much cs and getting distracted by trades. I would fall behind by 15 cs because I struggled with it under the tower. Even now, I still miss a lot of cs so that is something I am really trying to improve. In spring, I feel I got better at pulling waves, tracking the enemy jungler and mapping out plays with Blaber that help me. I played a lot of tanks in spring so I could make more mistakes. That helped me a lot. Even if I made mistakes during the learning process, they would not lose us games.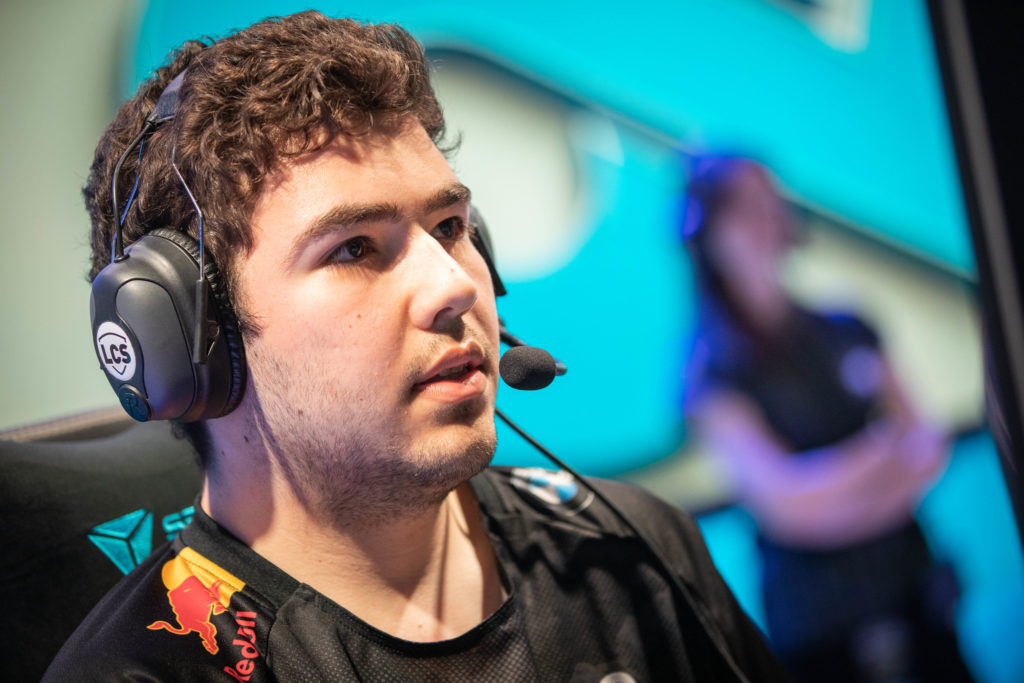 However, once I got to MSI, that is where things changed. I improved a lot playing against them because of the talent pool. All of them are really gifted mechanically. They play a lot better than North America. That helped me understand more about the mechanics of certain champions. During trades, I now realize there is so much more I can do. There is a lot of room to improve mechanically, so I am really focusing on my fundamentals and mechanics.
International top lakers are really good at punishing top laner. For example, I was against Xaiohu in a Malphite Lucian matchup. Usually, I would just push the second wave and go up 10 cs and it would be fine. Then I played RNG and they tower dove me in the third wave as a Malphite. Playing internationally makes you realize there is so much more room to improve. Now in Summer, I apply those learnings to my own games. I am improving a lot compared to spring. Top lane in NA feels so much easier to me now which also gives me confidence to make more plays.
---
What is your next step?
C9 Fudge: I think for my career, I just want to be a lot better every single week. It is really easy to see my own mistakes when I watch it, but it is so much harder to apply it. I am learning to take notes during my own reviews and practice my own mistakes.
Overall goal, I just want to be the best top laner in the world. That is it. I do not think it is an impossible goal. International teams make a lot of mistakes themselves, so I know I can catch up if I continue to work on mine.
These are my overarching goals.
---
Stay tuned to Esports.gg for the latest League of Legends news and highlights.
Photos courtesy of espat.ai.