Evil Geniuses head coach sits down to talk about a multitude of various topics in esports talent development and the risks of entering esports at a young age.
After a tough 0-3 filled with very close games, the Evil Geniuses are no longer winless in Summer. After going 2-1 in week 2, the Evil Geniuses believe that their season starts now.
In this interview, we speak to Evil Geniuses head coach Peter Dun to discuss the team infrastructure, coaching young players as well as watching former Mad Lions jungler shad0w play in the LPL.
After the first week in LCS, what did you do to help get this team in a 2-1 position.
EG Peter Dun: To be honest, our performance last weekend was actually pretty good. I don't think we should have gone 0-3 last weekend. We could've won all three of those games. In two of these games against Flyquest and Dignitas, we should have won those games comfortably. We were in positions to win and we just chose not to win the game. I was actually happy with our performance that weekend. We came from that weekend and I talked to the players individually on how they can play with a lead. This week was difficult because Danny's final exams were on Wednesday and Thursday. This led to us only having one day of scrims with him. This affected us a lot on stage. Danny had played over a day of scrims with no soloqueue at all. He was a bit rusty on Friday, but he got back into it pretty quickly.
This is something we knew about long-term so we knew that this week and a little bit of the next week would be difficult. Our season properly starts next week. I believe we had a longer offseason than most as well. This was a balance we felt was worth it. I had to take a lot of responsibility in putting us on things we were not comfortable on, but things will be better moving forward.
With League of Legends esports evolving, we don't really see many players joining at 17 or 18. Most at that age spend a lot more time playing in academy or amateur to develop.
EG Peter Dun: I will be honest, in Danny's case, normally I am not 100 percent comfortable as a coach to promote someone that early on. School is extremely important. We talked to Danny's parents and made it really clear that we want him to finish school, do his exams and as an organization, we will accommodate to that.
In scrims, we put in our coach Mash for scrims. It is really important that school is important when you are bringing them in at a very young age. In North America, while players make their LCS debut at older ages, in other regions a lot of care needs to be taken. When a 17 year old enters esports, you need to make sure they do not give up everything else in their life. It is our job as coaches to make sure esports is not everything at that age.
Did you develop this mentality from first hand experience watching players fail and have nothing to grasp onto?
EG Peter Dun: I have not seen it first hand. Before esports, I was a teacher. Education is extremely important to me and no org I have been on will never promote a player or sign somebody really young. I would expect other orgs to have that same approach to education as well. I can only talk for Evil Geniuses though. As a career, being in esports is very high risk.
We only see the players who make it onto the LCS stage, but we do not see the tens and thousands of people that fail. While there are many people out there who will say drop everything to chase your dreams, I think that can be a reckless approach. There is no real reason why you cannot delay your debut one or two years if you have the talent. Make sure you have a strong foundation for when your esports career is over. That is a strong belief I always hold for myself.
In Mad Lions, how did your role change when you moved away from the stage?
EG Peter Dun: I was always head coach, but sometimes I was on stage and sometimes I was not. I learned esports coaching in China and there, you normally have a head coach and a strategic coach. Sometimes in the west, we do not understand the difference between the strategic and head coach.
The role of a strategic coach is to prepare everything for being on stage and lead scrims. The head coach is about looking over the infrastructure of the entire esports org and division. With Evil Geniuses I am keeping tabs on all LoL rosters. I have a role in scouting new players. I have an understanding of how the game is to be played so I can assist the strategic coach.
When I gave up my onstage duties, I was there for every scrim. I was doing 1 on 1 coaching. The coaching staff all meets to talk about various things they want to cover. There may be 10 things you want to review, but you do not want to spend 45 minutes with your players standing like a school teacher in front of a white board. That is just a waste of time.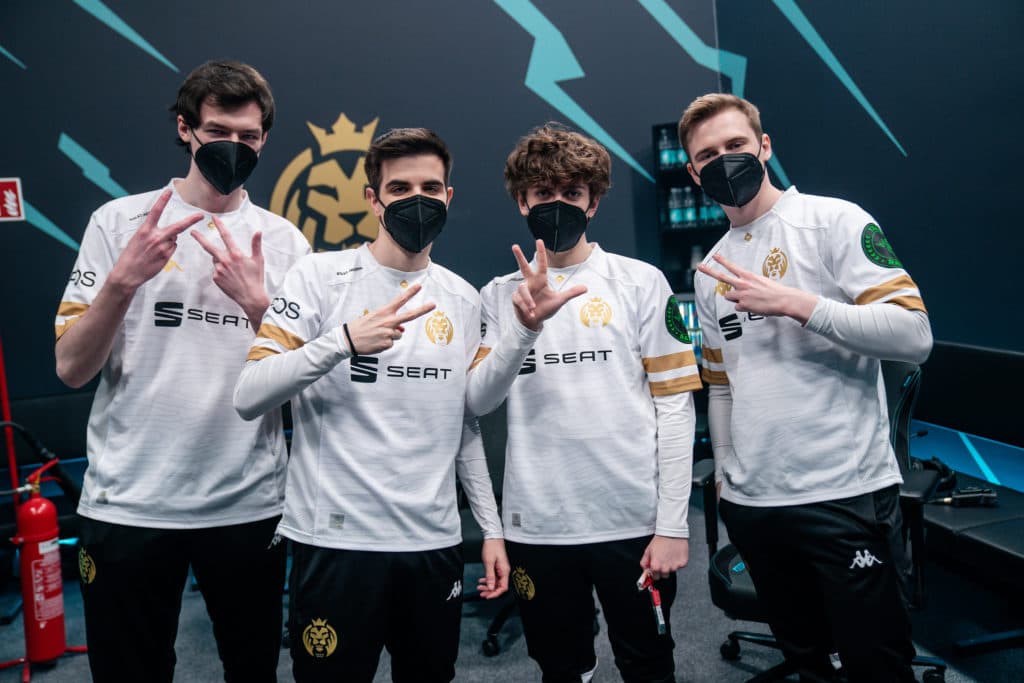 Mad Lions became LEC Champions in 2021 Spring Split.
Prioritization. We will pick five things and then we will cover the rest in 1 to 1's. That is what I was primarily doing on Mad Lions. While I am filling both a strategic and head coach role at Evil Geniuses, I lean on the rest of the coaching staff to fill those gaps in our discussions.
I won't draft in scrims sometimes or somebody else will lead review so I can do individual coaching with another player. I lead around 70-80 percent of scrims, but in that 20 percent I lean on Artemis Turtle and Mash to fill in those gaps.
It seems like you are in charge of the whole infrastructure of the League of Legends division and making sure everything is working. You are delegating multiple different tasks to continue growing.
EG Peter Dun: Absolutely, I think coaching goes far past just the game. There are plenty of people with in-game understanding, but coaching is about getting people to play on the same page. It is about setting the culture and the philosophy of how you want to play the game.
You can see on EG, the way we play the game is very loose. We are very aggressive, but there are some boundaries we set. You can also have more rigid structures as well that can work with different teams. This is something you need to work with in different coaching staffs. There are often multiple ways you can play the game. I think that is a lot of the responsibility for the head coach. Overall it is a group effort.
I want to talk about one of your former players, shad0w. What is it like watching him in LPL and how did you find out being in the LPL was his end goal?
EG Peter Dun: I can talk a bit about shad0w. Both of his parents are chinese and he was born in Italy. He spent a lot of his childhood between Europe and China. shad0w is somebody who is incredibly mechanically gifted and is actually a midlaner. Reason nobody knew who shad0w was when he joined Mad Lions was because he solo queues as a midlaner. He's Riven and Yasuo two trick. laughs However, he just happens to play jungle and that is why he loves Lee Sin so much.
When shad0w was joining Mad Lions, he made it very clear that he wanted one day to join LPL. He was 18 at the time and I was persuading him to join Mad Lions. I was the one who told him that he should take LPL residency if he wanted to play LPL in the future. On the Mad Lions, it did not matter because we were not going to import anybody anyways. He is somebody who has followed League of Legends in China at a very young age and has many friends there as well. I think his older brother or cousin is there and knows a lot of people in the scene.
I am very glad he got his opportunity to do so. I think it is sooner than even he expected. I think he was expecting to stay on Mad Lions for three years and then he would go to China. He has been by far the best player on LGD which is awesome.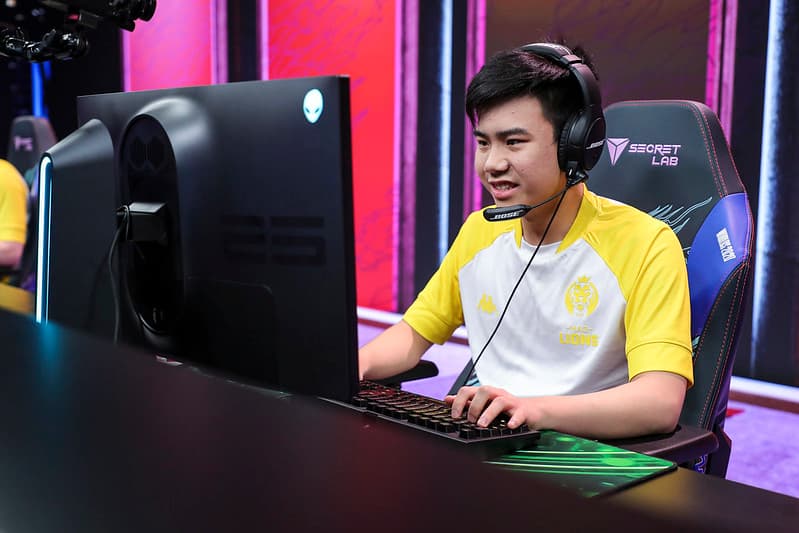 shad0w played under Peter Dun with the Mad Lions in 2020 and is now playing for LGD in the LPL. Image via
lolesports flickr
.
What I would say about shad0w is that Western Fans don't truly appreciate the obstacles shad0w needed to overcome. He had a rough showing at Worlds and did not perform as well in his playoff series against Rogue. People may have a negative perception after that entire experience.
However, imagine that your life's dream is to play in China and the LPL. You have the opportunity to play at Worlds in China in your very first season and you are the only native Chinese jungler at the tournament. The amount of scrutiny and attention he got was something that a lot of western fans don't understand.
Esports and especially League of Legends is a lot more mainstream in China. Maybe as a head coach, I did not protect him in the right way that we could have. From scrims, he had exceptionally good performances. He was dominating every game in scrims. When I saw he joined LGD, it made a lot of sense because during scrims he was really good against them. Fingers crossed it goes really well for him there.
It is interesting you say that Mad Lions would never be a forever thing.
EG Peter Dun: At the time, I was really hoping we would be able to persuade him to stay, but he was very clear that LPL was his dream. I appreciate that players care a lot about these kinds of things. I would never ask a player to give up their dream for my own gain. I thought that we could do a lot of good things with him and I think we had a good year with him. We helped him get to Worlds in China and eventually LPL and he… got us to play-ins. laughs
I want to talk about Evil Geniuses. Being a previous teacher, what is it like being a part of an organization that shares those same values towards developing younger players and placing priority on education?
EG Peter Dun: It is great. It is a bit off brand. laughs A team named Evil Geniuses looking after kids and making sure they prioritize school. Joking aside, I feel really glad to be a part of this and anything I can do to help Evil Geniuses in this area, I will always volunteer if there is time.
Scratch that, I will always find a way to make time for this because it is something I am extremely passionate about. Evil Geniuses is actually doing a summer camp this year where I will have a lot of involvement in. I will speak to a lot of younger kids about esports and if they need help getting into the industry, I will do that.
I am grateful to also have people like Kelsey Moser who is very involved in the collegiate side. We do a lot of collegiate outreach as well. That is one of the reasons we picked up SkyTec for EG prodigies. He is somebody we saw from college and chose to sign him. I am glad to be a part of Evil Geniuses because they put a lot of effort into education. I am glad they encourage me to do more in this area and it makes me want to do these types of activities more. This kind of thing is really important to me.
Same time, Evil Geniuses gain a lot of benefits from this. They get to see players coming up and we talk to a lot of people at the start of their careers. You can always see something in people at the start of their careers.
Maybe if you do not have a position for them at the moment, it sits in your mind. You think about them in the future of how they stood out before and you reach out to them in the future. It is a win-win situation for both of us.
EG Peter Dun: I just want to say thank you to all of the fans of Evil Geniuses. To all the support they give to our team through social media, discord and through everything they do, I appreciate all of the support. Even through bad times, I really appreciate the support from fans.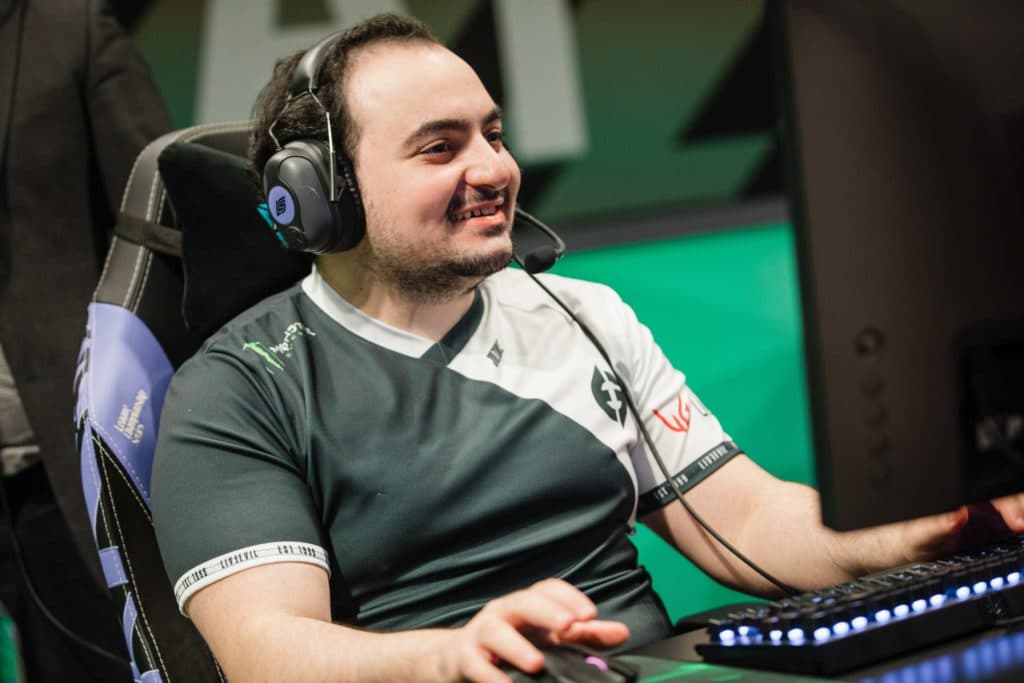 Last thing, give this team some patience. We have had a few foreseen issues, but the season starts next week for us and hopefully we can show some good performances there. Continue to expect aggression from us. We will never play slow.
Peter Dun and the Evil Geniuses will move forward into week 3 with a 12-12 record for 2021. With Danny now finished with school, the Evil Geniuses season officially begins in week 3. Will the Evil Geniuses be able to climb their way out of the sixth seed? Or will more practice not help them at all. Let us know.