Flyquest Aphromoo talks about the team's performance in the group stage and his road back to the international stage in an exclusive interview with Esports.gg
The longest-standing player in the LCS, Zaqueri "aphromoo" Black and Flyquest have had a rough few weeks in the League. But they are still in contention for the title and will start the playoffs in the lower bracket. Esports.gg's Piratechnics caught up with Zaqueri "aphromoo" Black after their loss to Immortals in the final week of group play.
Q: It was a rough loss today but you guys are still very much in the running for playoffs. Way more likely than you not making it. How does it feel in the Flyquest Camp after a bit of a disappointing game?
Flyquest Aphromoo: So, I think the loss is just a showcase of our problems. I do think right now we were just talking about roam timers, making sure we are contesting on vision, being decisive when to do something, making sure everybody's on the same page so it's natural issues for most teams.
I do think most of the time, I think we need just one solid good win-condition. I think the last few games we didn't really pick anything like that. I think it was a lot more versatile. You know I picked Bard today, I wasn't really able to go on anybody today. They were just outranging us, beating us in fights, stuff like that.
Then the EG Game, I played Rakan. We definitely went down in the laning phase. So we played the [early] game very poorly, I would say. And just definitely been rough. We have a shot for the playoffs. I think scrims have been going well but losses on stage feel different than what's been happening in scrims. So, it's obviously weird but we just have to figure it out.
Q: It seems like you have a pretty good handle on the myriad small issues that have been happening. In your experience as such a veteran player, what is the best way to fix all those small issues in a small period of time. Is it just a bit of practice, or team exercises together, is there an easy fix?
Flyquest Aphromoo: Easy fix. No. It's a grind, grueling. I think it all comes down to talking to your teammates. What kind of style do you want to play, what do you think is good. How do you want to play this match-up? When do you want to fight, all that stuff. We just got to sit through it.
The meta changed a little bit, people are dropping Hecarim in other regions. Our priority is kind of going down, kind of not. TF is becoming super meta, Bot lane meta is changing a bit. People picking Xayahand stuff like that. Definitely happens, when a new patch hits, you can see which teams are on top of there, which teams are not. Unfortunately, for us, it's rough right now. But we can get there.
Q: It does seem like, for yourself, you've been in this situation multiple times. You've been on top of the league, on the bottom of the league and you've been around for so long. Would you say with a crop of players, many of them far younger than you, you can be the calming presence for them and keep their heads level going into the playoffs?
Flyquest Aphromoo: Ah yea, going into the playoffs, I have a lot of experience. It's important to keep your head down and stay in the grind so we can figure things out. We had it figured out a couple of weeks ago, as I said patch changes and all priorities change, how matchups are played, items, stuff like that. We just got to work through it.
Q: Fair enough. Now for you as a player, personally, we were talking before we started this interview, you've been around for the very start of it. You've been in almost every LCS Split. But looking at how tight the competition is in the middle. We have a potential four-way tie towards the bottom of the playoff stack. What's your assessment of how close the skill is for all of these teams in the middle of the pack of the LCS.
Flyquest Aphromoo: It's the second half of the spring split. You know, teams are improving at a good rate, some teams decline, usually a hot start and then a slow finish. I think a lot of teams are pretty close in skill. Everybody's beating everybody.
You know TSM, turn it around finally, stuff like that. It always changes from meta to meta. We play against C9 tomorrow [Flyquest beat C9 the next day].They did lose to 100T and a stomp today. So we'll be back for vengeance for sure. But I'm confident we'll have a good matchup.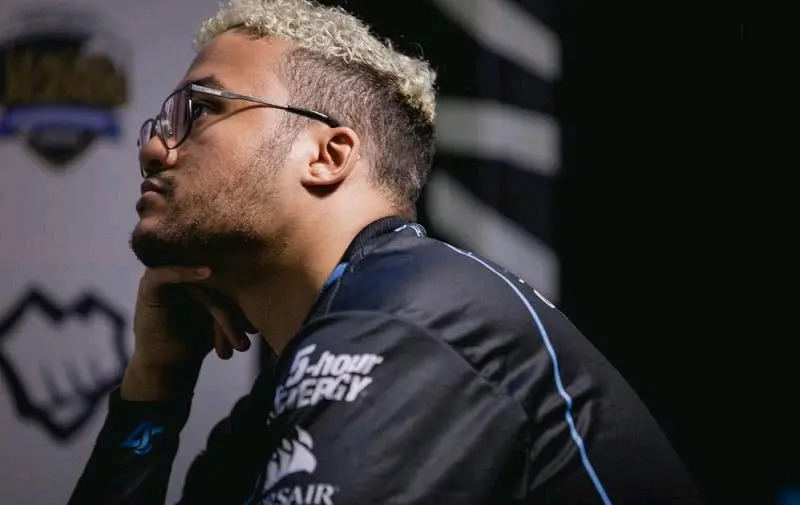 Q: It seems like 100Thieves showed you guys a strategy potential to win. Camp Summit certainly worked out. Feel confident you can pull that one off?
Flyquest Aphromoo: Camp Summit, the guy is good. Definitely I think he will shore up on where he made mistakes today for tomorrow. But, I'm looking further.
Q: For you, it's been a number of years since we got to see Aprhomoo on the international stage. You've been in either just out of playoffs range or just kind of at the bottom of couple different teams. For you, how important is it to try and get another title under your belt, for the first time in years. To get on to that international stage, do you think you can do it with this Flyquest side if you get it together in time.
Flyquest Aphromoo: International stage would be fun. I definitely miss playing there. I think I've been on one of the only two teams to make it to the finals of the MSI. So we got that under my belt.
We just got to bring it together. I have full confidence in my guys. Lot of young guys on the team. Obviously, these patches hurt more than usual. But everything goes like that and you got to get through it. We doubled the wins of Flyquest last split, so that's not too bad. That's an improvement. And right now, our goal is making playoffs. Just got to do well against Cloud9 tomorrow. If we don't then it's RNG based on who wins or who loses.
Q: Even if you don't make it to the playoffs, Flyquest has a lot better record than they already had from before when you were on other teams. Looking ahead to Summer as well, it feels like this is something you can build off of. Do you feel pretty confident at the chances down the line for Worlds, or is that not on the radar just yet?
Flyquest Aphromoo: For Worlds, I'm not really thinking about it. Right now, we have our problems that we got to solve. Obviously aspirations for me are to get back on the international stage and play again. But obviously, right now, we're not really there yet. So it's going to take some time but that's the ultimate goal for sure.
Stay tuned to esports.gg for the latest League of Legends news and updates.