Flyquest top laner Licorice discusses some of the challenges he is facing for the first time in his career.
Flyquest are currently on a 9 game losing streak in the 2021 LCS Summer Split and are currently fighting to keep their playoff spot. And for FLY Licorice, one of veteran players on this lineup, it is a tough growing period for himself.
Following their loss against 100 Thieves, we had the opportunity to quickly speak to FLY Licorice to talk about the 2021 season and how he is handling unfamiliar territory.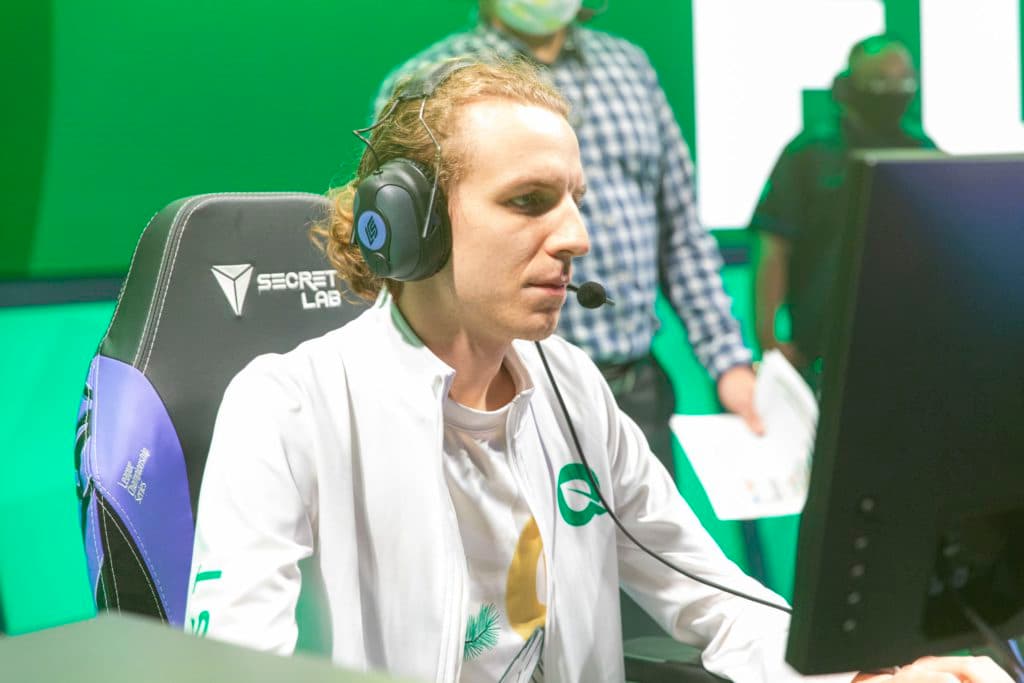 FLY Licorice on stage in Week 5 of the 2021 LCS Summer Split. Image via espat.ai.
Hi Licorice, thank you for sitting down with me. I wanted to give you the floor to talk about this split or anything on your mind.
FLY Licorice: We are not having the results we would want on stage and we are running into a bunch of problems that seem to be difficult to fix. Pause I don't know. We scrim every week. We are practicing really hard. Everybody on this team is doing their best to be a better team. Hopefully we will get there eventually. All we need is 8th place to get to the playoffs which I do not think is out of the question at all. Pause I am hopeful we can have a resurgence in the later parts of the split.
This is really the first time in your career where you are not in a position at the top. How have you been handling this all?
FLY Licorice: Yeah, it has been hard. From my time in challenger, I have always been on top teams. I finished top 2 twice and went straight to Cloud9 and found a lot of success there. It is definitely not something I am used to and that has been a learning experience for me. Pause Honestly, learning how to do my job when I am not winning is a learning process. It is harder to do this when you are constantly losing. People are happier when you are winning and that is the bottom line. When you win a lot, it raises morale and everyone likes to win.
Unfortunately, some people have to lose in order for this to happen and I seem to be on the other side of the equation right now. It is all a learning experience figuring out what to do and what is going to help. It seems like my current conclusion is to continue remaining level headed. We have not been able to show anything different on stage yet. I feel like you never know what the final problem is. We scrim and solve so many problems every week and think to ourselves, this is it. This is the missing piece.
You do not know until you test it out on stage. So far it has not worked out laughs But you know, maybe the next time will be the one that works. Maybe that will be the piece and then Flyquest is going to takeover the LCS.
---
---
What is the shotcalling system like? As the veteran, are you the one making most of the calls?
FLY Licorice: We don't really go for the solo shotcaller system. I am taking more of a back seat in shotcalling at times and it switches around a lot. It has been on my mind as something that I would want to try differently at some point. For me to be the main shotcaller, the team would need to play around me a lot more. That is something that the team is not set on yet. In general, we still lack team identity and that is one of the biggest things I am trying to push personally. We need to pick something.
CLG picked teamfighting for a while. They picked beefy AoE champions like Galio and Lissandra and teamfight whatever chance they got. I think that is one approach. You can play a split push strategy. We need to pick something and perfect it instead of just being mediocre at everything.
Even though you are a veteran, you are only 23 years old. What is it like being in a position where you are thrust into a leadership role and the one looked up to help team morale.
FLY Licorice: I feel like anyone on the outside can look at us and realize things aren't going great. It is just about showing what I can do. I am leading as much as I can and I continue to work on that. That seems to be the most important thing I can do to help this team. Each day I am learning how to be a better leader and step up into that role. I have been trying to do that as much as possible. I have been doing a lot of stuff out-of-game. The in-game is a little harder for me because it is hard for me to focus on so many different things. All of these are things I am continuing to work on. I want to do what I can to help this team win while I am here. That is the bottomline. If someone could tell me what to do to improve, I would do it. I just want to be a successful team.
Honestly, I would like to do it for the fans. There are still some fans who reach out to me occasionally and I am terrible at responding to my fans. I just want to do it for the people who continue to cheer for me. I just really want to win and make my teammates happy. I want my fans to be happy as well.
---
Flyquest are still in posession of the 8th playoff seed in 2021 Summer with Counter Logic Gaming and Golden Guardians hot on their heels. The team will look towards finding their playstyle and identity to move up in the rankings come playoff time.
FLY Licorice will look to break their current losing streak against Team Liquid today July 4th and avoid another 0-3 weekend.