100 Thieves general manager Papasmithy talks about his philosophies towards developing young talent.
100 Thieves General manager Papasmithy experienced an entire career as one of the premier casters in LoL. After spending years developing storylines for players in League of Legends, curiosity began to brew. And after experiencing everything he could from the broadcast side, he wanted change. For him, that curiosity and change was about seeing what actually goes on behind the scenes. Now, Papasmithy is apart of 100 Thieves and he is doing what he can to ensure all these ideas he has towards proper player treatment go through in his new venture.
In this interview we speak to general manager 100 Papasmithy to talk about his transition from casting to team management as well as his philosophies towards developing North American talent.
---
I wanted to talk to you about the process of being 100 Thieves general manager. I wanted to talk about the transition from shoutcasting to LCS General Manager?
100 Papasmithy: If you spend so much time narrating League of Legends, it is natural to wonder what the other side of esports looks like. Curiosity grows as a caster when you constantly wonder what could be happening behind the scenes. Using my experience as a previous school counselor, I gained a lot of intimate knowledge of how the team works. It all felt like a timeful transition from casting to general manager.
I felt like I had achieved everything I could as a caster three years ago. Being able to take this different direction through 100 Thieves is a really fun experience. There are definitely both highs and lows being in this position, but I would not trade it for the world. It is all an exhilarating ride.
---
In an interview with Peter Dun, he states, "it is important to make sure League of Legends is not a 17 year olds entire life." As a former school counselor, what is your stance on that topic and how do you navigate that conversation with younger players?
100 Papasmithy: When we came into the amateur scene last year, there was not a Riot contract database for amateur players. There was no understanding of how to bring up younger players. When we started our amateur scene, Tenacity was 16, Kenvi 17. We had a really young lineup all the way through amateur. We put together a plan on what the contract would look like and one of the things I put focus on was this.
"Let's practice a responsible amount of time so that you will be able to prioritize your studies. It is very important to finish your high school diploma in North America. If you talk to different regions, they can take time away from school and take that risk, but North America is different. School is of high importance in the states and I put a lot of weight into making sure 100 Thieves believe in that. I talked to all of their parents to make sure they were comfortable with their kid pursuing a career in esports.
I think that permeates all throughout LCS. It is important at that young age to allow people to develop in ways that are not just about the game. Once you hit the LCS stage, it is always going to be harder. That being said, it is not fair to put LCS demands on amateur players. Then you are setting up a scenario to stunt growth into one direction.
---
What are the demands and expectations that you place on younger players? How do you create this positive environment?
100 Papasmithy: For amateur players, I want to understand their own goals with esports and navigate a timeline for them to achieve these goals. I think every player is built differently. You have a young player like Danny who is ready to jump into LCS early. At the same time, you have other young players who may need more time to develop other facets about their game. I do not think you need to rush anybody in an org like ours. We are targeting championships and have the resources available to make this happen. We do not plan on rushing a young player's growth. I think from my perspective, we speak to every player before we bring them onto the amateur squad.
Ryoma is the midlaner for 100 Thieves Academy. A teammate of academy jungler Kenvi.
---
I want to understand their history with the game. Are they a long-tenured player or are they new to the game? I really enjoy talking to these players to understand their goals. From there, I aim to look at things that are important in their lives and accommodate that. Whether that is figuring out a school calendar or building around social events they have. We want to make sure that their exposure and expectations at the amateur level are realistic with what they can balance. We do not want to place LCS level demands on amateur players. I want to make the onboarding process as smooth as possible.
The rest is just making sure I continue to maintain my relationship with these younger players as well. Every now and then, I will check in with all of my players on what could be better. Asking a lot of questions and letting people grow in their own way while supporting how they grow is a high priority for me. It is always nice to see so many players who come through our amateur program blossom.
---
I can tell 100 Thieves is developing future LCS stars. Specifically, I want to talk about Kenvi. Many people have eyes on him to become this top level LCS jungler. What do you feel like his timeline for LCS is like?
100 Papasmithy: Kenvi is actually the first player that I looked at. When we first developed the idea to create an amateur team, Kenvi was the first player the scouts recommended me to. Kelsey Moser, Joseph Jang and previously Zikz all had this idea to create a third team. For us, we wanted to target high school players who could not commit full time to esports, but could in the future.
For people who do not know Kenvi, he is filipino born and moved to Canada a couple of years ago. He is very soft spoken and unsure of himself. However, his gameplay is just cerebral. You could see from his gameplay that he is a very mechanical and talented jungler. He is a confirmed killer on Kindred laughs He is so mechanically blessed that investing in him was a no brainer. It is obvious this kid is going to be the next star of the LCS.
He played remotely last year and is now adjusting to being in Los Angeles. It is definitely an adjustment period for him. He is a very soft spoken player by nature. Confidence is not something that comes to him naturally so that is something he is learning about as a pro player. Right now, we are working with him to develop these leadership qualities you need to be an LCS level jungler. I see him daily and am seeing him open up more. His teammates are supporting him which is really nice.
His gameplay is undeniable. The growing up part, whether that is finishing school or building confidence are the things that we knew would take time. That being said, time is being very kind to him so we are happy to facilitate that growth. When it comes to the excitement around Kenvi, you definitely should be. The kid is a superstar jungler in the making. When this will take place, I am unsure. Roster building will be a pain moving forward into 2022. He is going to light up the LCS in the future, that is no doubt.
---
It is interesting to hear that perspective on a player with mechanical talent. Do you feel like external things outside of League really benefit him specifically?
100 Papamithy: For him, it definitely does. People were looking at his games back when he was an amateur and they already wanted him in the LCS. That is where I need to understand my own read on a very talented player like him.
While talented, he is a young kid who never lived away from home before and is finishing high school. You are seeing a player who, gameplay wise, is ready for the LCS. However, there is so much more to that.
We have three League of Legends teams so we do not need to rush a player's growth. This organization has a past of rushing players who are not yet ready for the LCS. I think Soligo before my time is an obvious example. After his first stint, he really needed more time to develop as a player. I think if we build our roster well and have a direction towards championships, there is no need to put a rookie in to compete for championships.
Those are competing goals. If you see potential in a player, you diagnose their strengths and weaknesses. You start with their gameplay and then transition to a lifestyle fit for the team. From there, you make them improve each day. You help them navigate through these challenges. When that time comes for him to make that jump as an LCS starter, he will definitely be ready for the opportunity rather than being rushed.
---
It seems like you really care about these players. You do not want them to rush into something that could potentially damage their careers when they might not be ready for such a big shift like solo queue to LCS.
100 Papasmithy: I think in North America, the LEC approach of throwing five rookies and exchanging them for other players while keeping the good ones does not work in NA. We do not have a rich tier of competition past LCS nor do we have an ERL replacement. We have academy, but it is not the same. It is so much more undeveloped compared to Europe. That and the population size.
100 Thieves Poome played in the LCS briefly in Summer 2020.
We do not have 20 players slamming on the doors every three months to be scouted. If there is a player you see who has potential, the correct way is to focus on treating them as an investment. Really help them develop them as a player and person so that they can make that jump to LCS ready for success. There are not five Kenvi's out there, there is only one. It is important we set up Kenvi, Tenacity, Busio, Ryoma and Poome for success. The LCS needs players like them to break through.
---
It seems like NA needs to prioritize quality over creating more quantity.
100 Papasmithy: There is superstar potential in North America. A lot of that has not hit LCS yet. There are more players like Danny who are LCS ready. I am hoping that NA fans can celebrate those players when they enter the LCS. I hope that also gets more 14 and 15 year olds to climb the LCS ladder. It is cool to see 700 Viper brothers laughs climb to Challenger. That is where I see LCS long-term moving forward.
We ended a crop of 10-15 players each year who are hitting a high rank. That is the sign of a developing esports scene that can replenish itself each year. It is really sad to see people think NA is dead without Doublelift and Bjergsen. I think if you stop to listen, there are great players. The problem is that the process did not start three years ago like it needed to.
We are two years behind on the replenishment plan. Still, I can tell you that the next wave of talent is going to come which is really cool to see develop.
---
It seems like you understand a way for the LCS to grow.
100 Papasmithy: Absolutely. I do not want to use an equation for NA when we just do not have as many players like the LEC or LCK. It is harder to do that here. Still, there is talent in North America and they are high quality. There is this meme that NA talent does not exist and that is not true. It is just people trying to start a fight, but players exist in NA. As a region, we have not been great at giving that attention to younger players, but I believe that can change overtime. There are people in the LCS who deserved so much better when they were starting two years ago.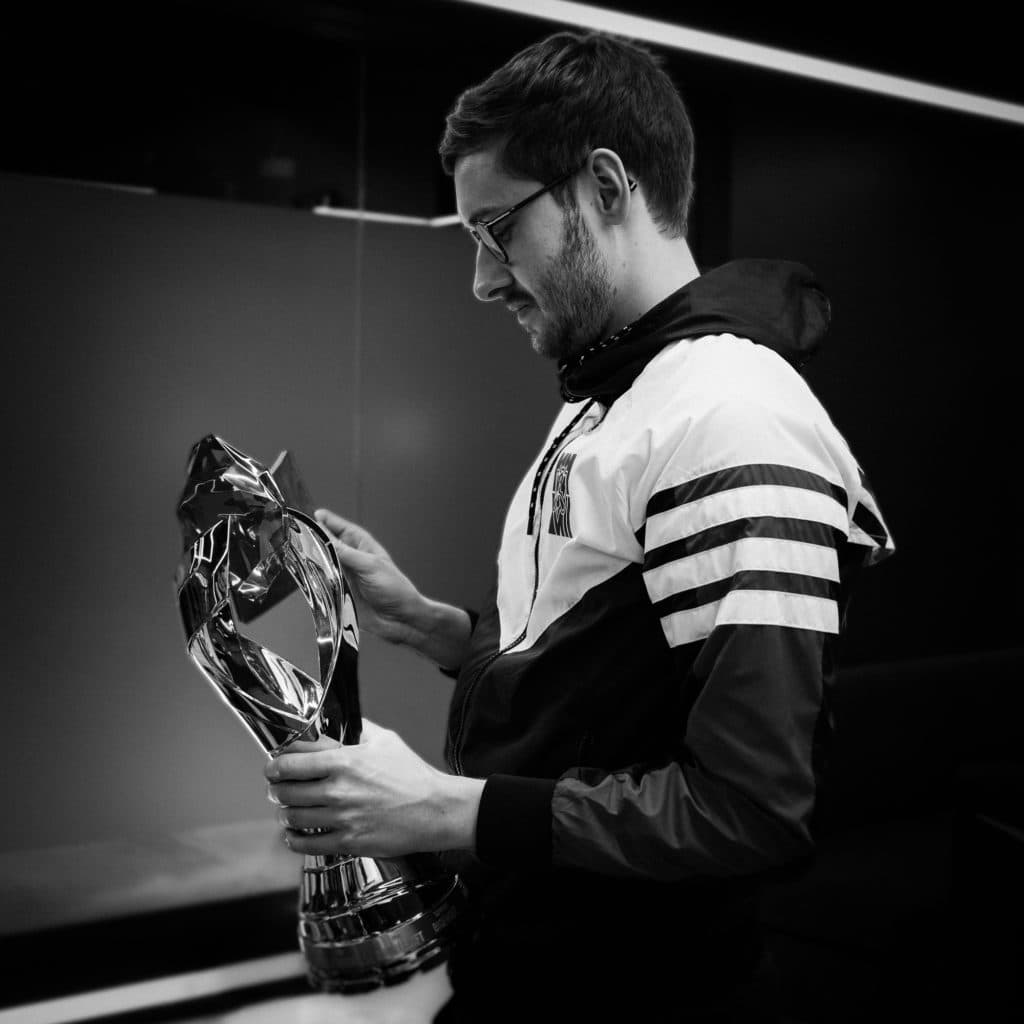 Prior to his retirement, Bjergsen was one of the faces of the LCS.
All I want to do is give a quality experience to players that we have been working with for a couple of years. If you are looking for immediate results, then sadly there is not much right now. The instant gratification approach is not something I am fond of. However, delayed gratification is something that I am an advocate for. I think there are things to look forward to. People who watch amateur tournaments are starting to see that. Hopefully, the crop of LCS talent in two years can be the start of this cycle of new talent coming in always.
---
Do you also feel like letting these players develop will help? People also feel as if there are not many storylines in the LCS anymore. Do you feel like that problem can be solved with this method of developing new talent to enter LCS?
100 Papasmithy: I think so. North American narratives are very top heavy. The story of Doublelift and Bjergsen is the summation of the past five years. Two players who put in a lot of work for North America acting as competitors and teammates. Not a lot stuck below that storyline. I understand the scramble to look for new things in 2021. In two years time, talking about Danny as the young player around four veterans may look different. I can see him eventually being the veteran of Evil Geniuses leading a young team of players and that can be a new narrative. That is the nice thing about bringing in new players through amateur and academy. You have in-house narratives that can be enriched by who they played under and who they played with.
I am hoping we begin to see more of these franchise players who stay tied to one organization as well.
---
It would be cool to see situations where an LCS players brand is tied to a team.
100 Papasmithy: In the future, I want six or seven teams that have franchised players. If there are only two players in the league who have that franchise player quality, then we have work to do. It is an undertaking all ten teams need to do.
For myself, it is always good to see a former player like NXI do well on the LCS stage with Flyquest. We were the ones who gave him a shot at esports bringing him in as a replacement for Kenvi on 100 Next. When we get Kenvi vs NXI in the future, there will be that shared history of two players who started from the same spot.
The future is bright, but that does not mean that the present is grim.
---
You definitely care about franchised players, especially given that Ssumday has been with 100 Thieves for almost four years now.
100 Papasmithy: Absolutely, he is the only player who was still on the same team when franchising began as well. That is crazy to think he is the only one right now. That is something people probably would not have been able to predict before. It is always nice to have legacies. As a caster, I always talked about Score's legacy on KT as something that is amazing.
We are a player based sport. People want to find something to relate to these players. We want to share personalities and players do their best on social media.
---
100 Papasmithy: At the end of the day, we got into the amateur scene because we saw a need for more talent to develop. We saw talented players who could not commit full time to the LCS, but had potential. We wanted to give them resources to develop into future LCS stars. I understand that we will not be developing all of those players for ourselves. We are happy that we will have players who go around the League and develop into LCS caliber players. That is the approach we entered with and that is what we will continue to stick with. It is really exciting to give people opportunities.
It is a fun ride and I am watching other orgs develop this mindset as well. That is all I want. I hope there is a future where the top 100 players are all attached to a team and have clan tags. If I am a 14 or 15 year old thinking about League as a career, I want to see that there are 100 players being paid for their game talents. That will make me fight harder to break that top 100. That is something people should pay attention to. North American talent is out there and you should pay attention to them.
---