Hanya's sister, Xueyi, will likely be coming in version 1.6 release. Recent leaks revealed the Xueyi Kit that has got a lot of fans excited.
Xueyi will likely be coming to Honkai Star Rail as a playable character in version 1.6, leading to a new surge of curiosity around Xueyi kit and abilities.
MiHoYo have confirmed that Xueyi will be a 4-star Quantum character on the Path of Destruction. Meanwhile, leaks about her kit (below) have got fans excited for her future release.
While Xueyi's sister Hanya - releasing in version 1.5 - is in charge of interrogation in the Ten-Lords Commission, Xueyi handles punishment. Xueyi "tirelessly tracks down wanted criminals and subdues them", according to MiHoYo's official post about the upcoming character. Quite the pair of siblings.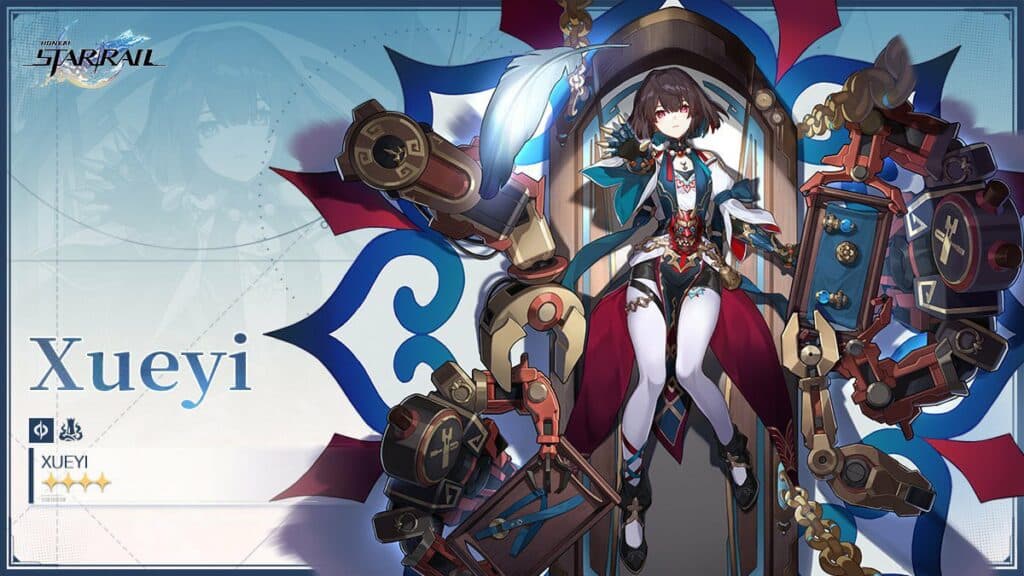 Xueyi Abilities
Xueyi's expected kit in Honkai Star Rail were leaked back in May 2023 by prolific leaker Mero on Reddit. The leaked abilities to match up with the lore MiHoYo shared for Xueyi, that she is responsible for punishment.
Xueyi's talent lets her build up charges of "Vendetta". After she has six charges she will launch a bonus attack that deals three instances of DMG, which is increased if the enemy's weakness is Quantum. Xueyi's Skill DMG scales with her ATK stat and deals AoE damage making her, on paper, a very exciting prospect for Honkai Star Rail players.
Xueyi Kit in Honkai Star Rail [leaked]
Xueyi has been officially confirmed as a 4-star Quantum character by MiHoYo. The Xueyi kit below is based on leaks and could still change:
Xueyi's Skill: Xueyi deals Quantum DMG to a specific enemy equal to 150% of her ATK, and to nearby enemies equal to 60% of her ATK.
Xueyi's Talent: When Xueyi deals tenacity [Weakness Break] damage to an enemy, she gains up to 6 layers of "Vendetta." When it reaches the maximum, Xueyi immediately launches an additional attack against the enemy, dealing three instances of Quantum damage to a random enemy equal to 93% of her attack. If the target's weak point is Quantum damage, the damage dealt by this attack will be increased by 28%.
Xueyi's Ultimate: Xueyi deals Quantum DMG equal to 342% of her attack to a specific enemy, which can ignore the enemy's weak points and reduce their tenacity [Weakness Break]. Each layer of Vendetta [talent] obtained during the attack increases the DMG dealt by 19%, up to a maximum increase of 76%.
Xueyi's Technique: Xueyi immediately attacks a random enemy, dealing Quantum damage equal to 80% of her attack to all enemies after entering battle.
When will Xueyi be released?
Xueyi will likely be released at some point during Honkai Star Rail Version 1.6. MiHoYo typically reveal upcoming characters two updates ahead of their release as a playable character. This has been the case for Lynx, Jingliu, Guinaifen, Topaz and many other characters. She is expected to be released alongside Ruan Mei.
Xueyi is Hanya's sister
As we covered in more detail in our piece on Hanya, Xueyi is her younger sister. Xueyi already appears both in-game as an NPC and on two different Light Cones. As we predicted in version 1.4 with the announcement of Hanya, Xueyi's intricate character design and involvement in the main story made it inevitable she would be an upcoming character.