The respective kings of Ultimate and Melee retained their crowns at Genesis 8, the largest open-bracket tournament of 2022 so far.
The best in the world aren't going anywhere. The entire Smash community were reminded who the top dogs are for both games. Ultimate GOAT Leonardo Lopez "MkLeo" Perez and Melee's new god Zain "Zain" Naghmi emerged victorious at Genesis 8.
The latest installment of San Jose's prestigious tournament series saw the two favorites to win actually pull it off in the end. But make no mistake, absolutely nothing was handed to them on their path to glory.
The brackets for Ultimate and Melee were as stacked as they come, featuring top players from across the globe. Even while faced with the toughest of competition, neither Leo or Zain dropped a set during their runs.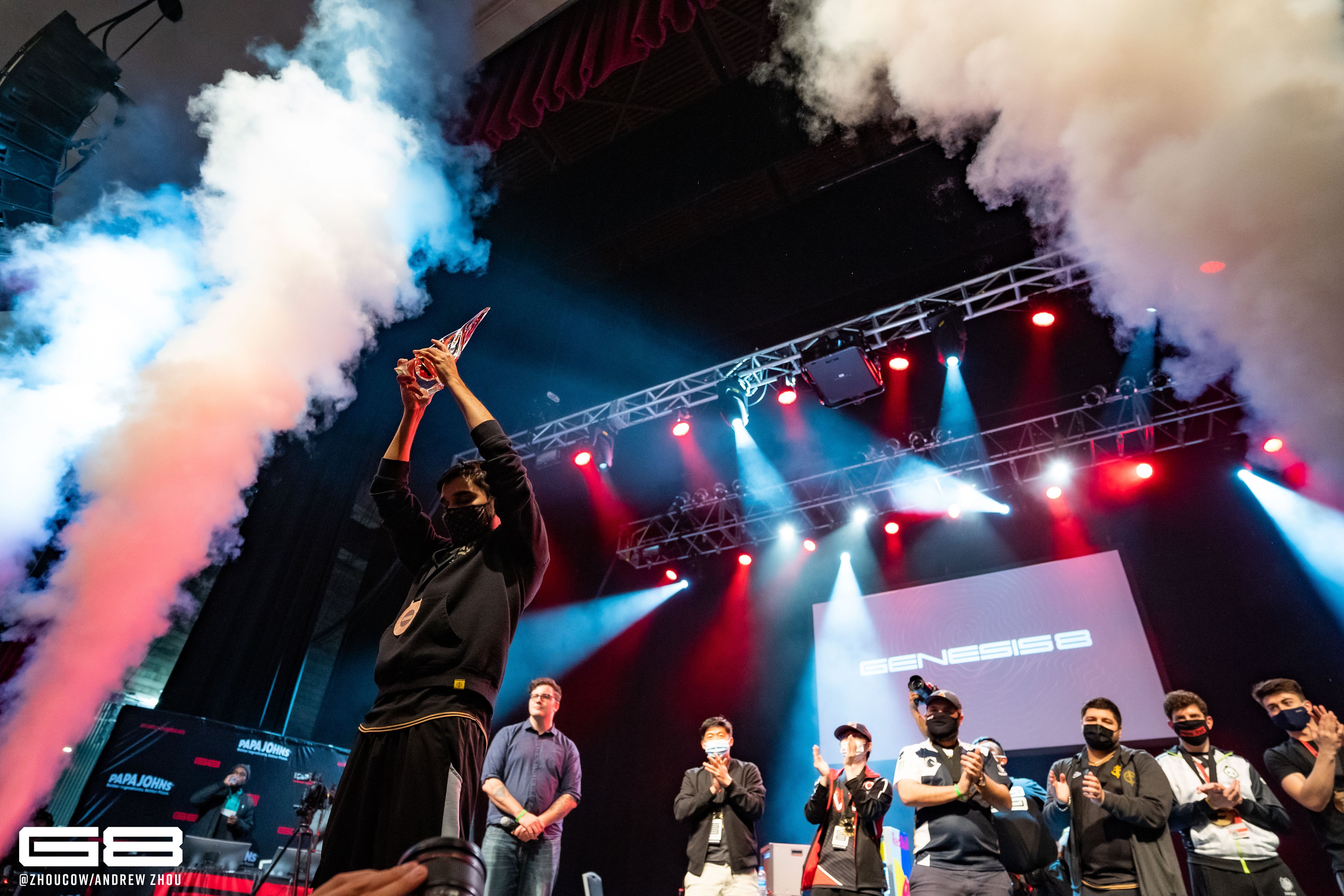 MkLeo wins fourth Genesis title
MkLeo is no stranger to winning at Genesis. Entering the tournament, he had won three of the last four Genesis tournaments going back to the Wii U era.
He came just short of four straight at Genesis 7, finishing 2nd to Marss. More than two years later, Leo was hungrier than ever to reclaim his crown.
After cruising into Top 8 with convincing wins over Lui$ and Glutonny, Leo faced Light in the Winner's Semifinals. He made short work of the world's best Fox player to advance to the Winner's Final. The 3-1 victory set up yet another battle his friend, countryman, and newfound rival, Sparg0.
In a gruelling set that went all five games, Leo outlasted FaZe Clan's newest signee 3-2. Sparg0 would lose to Glutonny in the Loser's Final, setting up a Grand Final runback between Leo and the Frenchman.
Leo 3-0'd Glutonny in their first match to make Top 8, and their Grand Final set was nearly identical. Going back to his trademark Byleth, the consensus world #1 proved once again what separates him from the rest. A second 3-0 sweep of Europe's best player earned MkLeo his fourth Genesis championship as well as his first major tournament win of 2022.
Zain earns second straight Genesis championship
Zain's claim as the #1 Melee player isn't quite undeniable like MkLeo in Ultimate. Others like IBDW, Hungrybox, and Mango also have legitimate cases.
However, Zain's run at Genesis 8 suggests that the turning of the guard may finally be in order. He too qualified for Winner's Top 8 without much trouble, but IBDW stood in his way of making the Winner's Final.
The two traded games back and forth in what may have been the most entertaining set of the entire tournament. Though both players battled hard, Zain prevailed 3-2.
Awaiting in the Winner's Final was Jmook, who had been the surprise story of the tournament. Zain cooled down his hot streak, defeating him 3-1 to advance to the Grand Final. Jmook would go on to route IBDW 3-0 to earn his runback, but the outcome was even worse the second time around. Zain swiftly defeated Jmook 3-0 himself to give him back-to-back wins at Genesis.
Top 8 Results
Several Melee players that were not directly invited to Smash Summit 13 qualified by making Top 8 at Genesis (marked in bold). Here are the full Top 8 standings from Genesis 8:
Melee (1,552 entrants)
1st – Zain
2nd – Jmook
3rd – IBDW
4th – n0ne
5th – Hungrybox
5th – aMSa
7th – lloD
7th – Kalamazhu
Ultimate (1,959 entrants)
1st – MkLeo
2nd – Glutonny
3rd – Sparg0
4th – Light
5th – Zomba
5th – Myran
7th – Marss
7th – Kola