BOOM Esports's Owner, Gary Ongko Putera, recently sat down with Esports.GG's LeonArthur on his podcast – Connecting the Dotes, to talk about his team's formation, his players, how's Mushi like as the coach, and more. Here's the summary for you!
BOOM Esports have been functioning as a full Indonesian squad ever since their foundation in the year 2017. Their goal had been to build a full Indonesian roster that was able to compete at the highest level – The International. But things changed. Esports.gg's LeonArthur spoke to BOOM Esports' owner, Gary, about the team's formation and plans.
Catalyst of Going International – Khezcute's Retirement
Khezcute, the leader of the team, had been with the team ever since May of 2017. To Gary, Khezcute used to be the player that came up with all the ideas on how the team should move forward and function. However, when Gary knew that Khezcute was going to retire after last season, that's when it was the timing for BOOM Esports to press the reset button.
In fact, according to Gary, the thought of retiring from Khezcute actually appeared in the middle of the first season. However, Khezcute finished the entire DPC season because he didn't want to put the team in a tough spot.
That was when the idea of completely rebuilding the team started to manifest. Moreover, Gary was not happy with the result of BOOM Esports getting relegated to the Lower Division.
Khezcute's retirement was the nail in the coffin for Gary to pull the trigger for the organization to finally go International.
First piece of the puzzle – BOOM.SKEM
Skem was the very first player that Gary wanted to build around. During Skem's time with OB.Neon Esports last season, they've managed to qualify for the team's first ever Major – ONE Esports Singapore Major. The team finished at the 5th-6th place in the event and left everyone with very strong and positive impressions of this young squad.
With OB.Neon Esports, Skem had impressed everyone with his versatility as a player. He'd also gone through multiple role swaps in the team, notably between positions 1 and 5 while maintaining very high-level performance and adaptability.
Skem's versatility and leadership convinced Gary that he was the right person to build the team around.
Skem the Magnet
According to Gary, the initial idea was to rebuild the team around FBZ and Mikoto, the two Indonesian superstar players that were in the team for the previous season. However, Mikoto expressed that he would like to wait for TI10 to end and explore more opportunities for himself.
When Skem was on board, he recommended his former teammate in OB.Neon Esports, Yopaj, who rose to fame with his aggression during the ONE Esports Singapore Major.
This was where Gary had to make a tough decision between Yopaj and Mikoto, both equally amazing. To Gary, the only two Mid players who can replace Mikoto are Armel and Yopaj. During the shuffle period, there were rumors of Armel possibly going to a European team. So, to BOOM Esports, if they didn't take Yopaj back then, they might be left with no comparable Mid player, since Yopaj was also receiving many offers.
Gary decided to buy out Yopaj's contract from OB.Neon Esports after buying out Skem's.
After landing Yopaj, Tims expressed his interest in playing alongside Skem and Yopaj in BOOM Esports. That was how the three incredible players came together.
The Unorthodox Carry – BOOM.Tino
BOOM Esports have been trying out many different players, officially and unofficially. During the BTS Pro Series 8, the team was playing with Palos, who is now with OB.Neon Esports, as their carry player. However, they didn't choose to continue with Palos even though they managed to win the tournament.
For BTS Pro Series 9, they had Hyde on the team, who is now playing position 4 with Talon Esports, as the position 5. This time, they didn't even finish the tournament with Hyde. Mushi stood in and finished the tournament with the team and again, they won the tournament and became back-to-back champion.
All in all, BOOM Esports have taken a long time to finalize their last player, also Skem's role in the team.
According to Gary, no one is the team let Skem played position 5 because he is that good. Everyone trusted his ability to be a good Carry player for the team. However, to Skem, his real passion was on position 5 and being the captain of the team.
That is when the team started searching for a Carry player to complete the roster. It was Skem that recommended Tino to the team. He liked Tino's attitude, ideas of the game and most importantly, his hero pool. Tino is very well-known in the South East Asian scene for his deep hero pool. Heroes like IO, Sniper, Nature Prophet, Lone Druid are some of his favorites. With this versatility, it fits perfectly well into the unpredictable style that Skem loves playing.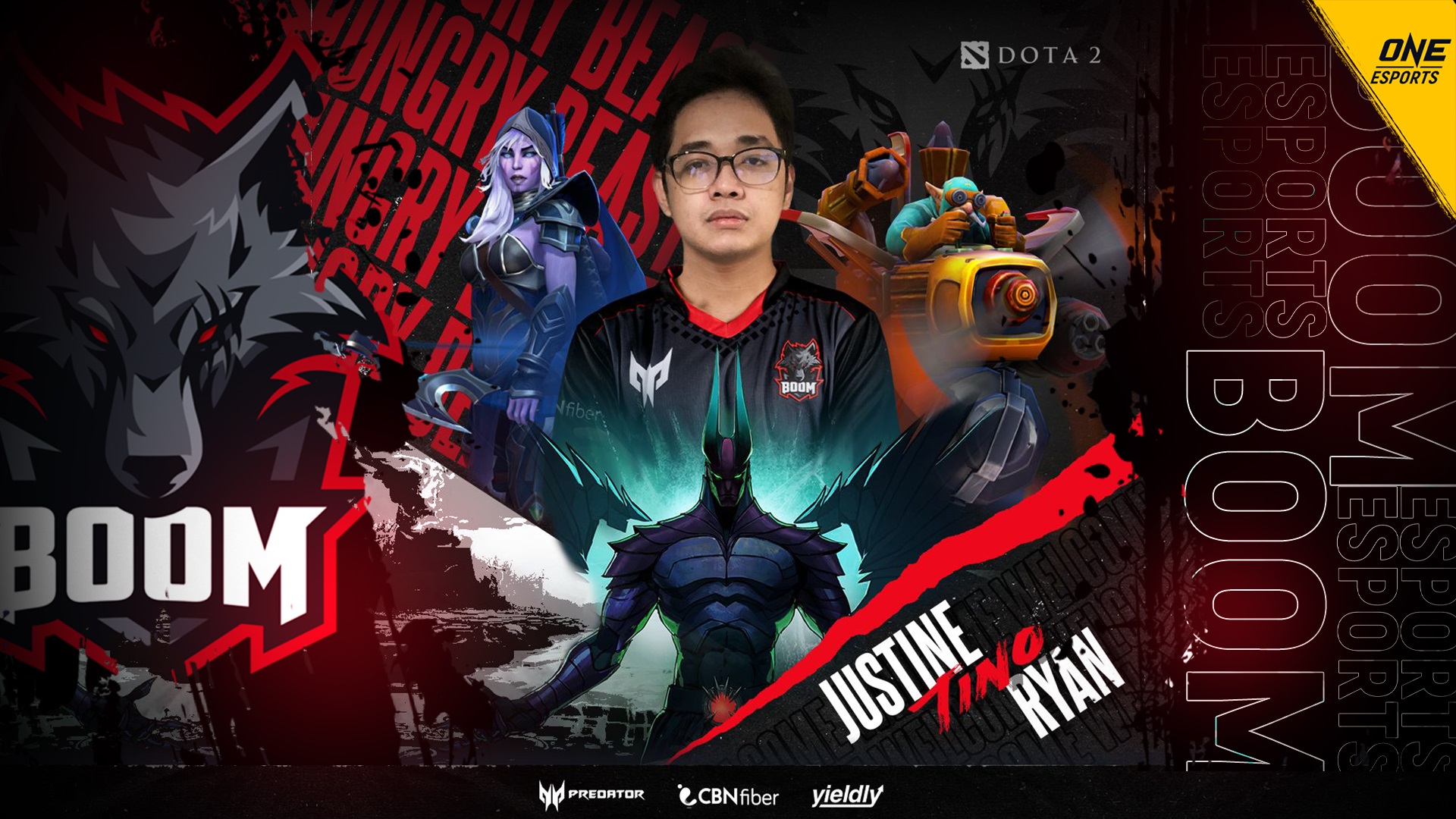 When Skem approached Tino, Tino took almost a week to make his decision. To Gary, it was very lucky for them to have Tino on the team because he was supposed to play with Execration.
Keeping Everyone on their Toes – Coach Mushi
Long before this International roster was born, Gary was advised to take Mushi as the coach for the organization when he left Team SMG. However, the team was coached by Clairvoyance back then, and Gary did not want to make any mid-season adjustment that could sabotage the team's progress.
That being said, sometimes fate has a way to bring people together. When Skem and Tims joined the team, both of them were strongly recommending Mushi to be the coach of the team.
Gary even revealed that Mushi declined an offer from a big China organization to join BOOM Esports.
When Gary was asked to describe Mushi, Gary sounded very appreciative of his coach. Mushi takes everything as practice, Gary described. Mushi has been making the environment very relaxing and chill for the players. There haven't been much stressful moments in the team so far.
Most memorable moment for Gary was when the team won BTS Pro Series 9 against Polaris Esports in a 3-0 fashion. Despite being a one-sided Grand Final, Mushi was reminding the team that they should be preparing for a 5 game series. That's Mushi, always keeping his guard up and playing with a lot of respect against any team.
Eyes on the prize – The International 11
To the entire team, the goal for this year is not just to qualify for The International 11, is it to win it all, Gary said.
BOOM Esports are currently dominating the Upper Division of SEA DPC. After the first half for the DPC SEA 2021/22, they are currently sitting at top of the group stage with 4-0 total score. More impressively, they have yet to drop a single match so far, it's been all 2-0 sweeps for them.
It seems like winning 3 championships before starting the DPC season has given them a fantastic start. BOOM Esports are going places this season under Mushi's guidance, the only question is – how far will they go?
You can catch LeonArthur's podcast live on Youtube. Stay tuned to Esports.GG for the latest Dota 2 news and updates.