The newly appointed, fresh from oven, Team Director of Fnatic – Pao Bago , aka KTM recently sat down with Esports.GG's LeonArthur on a podcast to talk about the team. Pao shared a lot of insights on how the new roster came together, Jabz as a captain, Fnatic's HPU (High Performance Unit) and a lot more. Here is the summary for you.
For the new DPC season, not only have Fnatic welcomed two Filipino star players – Armel from TNC and Jaunuel from OB.Neon Esports, the team has also gone through a change at the management level. Fnatic bid farewell to the former Team Director – Eric Khor, who had been with them since 2015. Fnatic appointed KTM to replace Eric Khor, trying out something new for the new DPC season.
Meet KTM: Fnatic's new Team Director
Pao used to be an in-game analyst for Fnatic during their TI9 run before he left the team. Last season, Fnatic failed to qualify for the AniMajor and as a result, did not collect enough points to secure a direct invite to TI10. The team knew that they would need strong reinforcements to prepare for the TI Regional qualifier.
That is where Pao came in, this time as the team's performance coach. Many would wonder, what does a performance coach do? Esports.gg's LeonArthur spoke to KTM for his podcast Connecting the Dotes to understand his role on the team and more about the Fnatic roster.
A performance coach is an IRL support
Eric told him that the team needed someone to deal with the outer game issues. Primarily with communication and mentality for the players, especially for the two players who were new to TI back then – Deth & Chyuan.
"So the way we view high performance, at least in this team, is that I support whatever it is that Pete (Sunbhie, Fnatic coach) wants to do, whatever it is that Jabz, our captain wants to do."

Pao explains his role as a performance coach
Not only that, as a performance coach, he paid attention to and took care of the players' diets, fitness and sleeping routines. All sort of aspects that would potentially affect a player's day-to-day performance.
Two new players: The Achiever and the Rising stock
When Pao was talking about the team's two latest additions – Armel and Jaunuel, he was full of excitement. Many might not know that before Fnatic officially signed Armel, they were considering Mikoto, an Indonesian mid-player who is currently playing for Talon Esports, as an option. Eventually, they went with Armel.
"There was some debate between Armel and Mikoto, but Armel was our top choice."

Pao
Fnatic are very excited to have Armel on-board. But the former TNC Predator mid-laner himself was very eager to perform as well. TNC Predator failed to qualify for The International 10 and with Fnatic, Armel has the renewed enthusiasm and excitement to try to do better.
"When do we start? When do we start?", he kept asking Pao over and over again.
"We were surprised with Jaunuel" – Fnatic KTM
While Armel is a well-known entity in SEA Dota, Jaunuel is a relatively lesser-known. However, KTM had nothing but praise for the youngster.
As for Jaunuel, he wasn't the only option for Fnatic for the position 5 role. KTM revealed the team was briefly considering xNova too. XNova is one of the most popular support players in Dota 2, and is currently playing for Team RNG in China.
"As for position 5, xNova was briefly in consideration but we were surprised with Jaunuel. Undervalued but stocks are rising."

Pao describes Jaunuel
Pao was particularly impressed by the youngster's decision to play the support role, mostly because he saw there was a demand for players in this position. He saw an opportunity and took it. His decision to become a support player in SEA was impressive, and showed his ability to think ahead and fill the gap.
"What excites me about Jaunuel is that this is a guy who decided, hey, I'm going to be a support player in Southeast Asia"

KTM on Jaunuel playing support.
"What excites me about Jaunuel is that this is a guy who decided, hey, I'm going to be a support player in Southeast Asia" said Pao. To Pao, the fact that Jaunuel made conscious to be a support player in SEA region because he saw shortage of great support players in the future is impressive.
The Growth of 'Captain Jabz'
After Iceiceice left the team in September 2020, the team has been seeing a lot of growth from Jabz as a captain. According to Pao, in the new season, Jabz has become a lot more mature and gained a renewed sense of how and why he wants to be a captain. The change in the player's outlook and approach to the game is a fundamental reason why Pao believes in Fnatic's chances in the upcoming season.
Experienced captains are rare to find in South East Asia, but Pao also believes that captaincy cannot be appointed.It should be wanted and desired. Hence, he was very happy that Jabz is willingly stepping up to take on the challenge. Fnatic's HPU (High Performance Unit) and the coach, Sunbhie, have all made it their mission to empower Jabz to lead the squad forward in the new season.
The Master-of-all-roles: A new milestone for Jabz
With Jabz switching to Position 3 this season, he has finally completed a milestone that only a handful of professional DOTA players could achieve – playing all 5 roles competitively.
Pao talked about the reasoning behind this, and it actually all went down to a simple thought.
"DJ playing Abaddon is a tragedy, when he can be playing Tusk"
DJ rose to fame for his aggressive playstyle and ability to get kills all around the map without much help. Utilizing him on Abaddon would mean pushing him to play a passive playstyle, a waste of his talents according to the team director. Tusk on the other hand, is a hero that can roam around the map, constantly applying pressure on various lanes and has solo kill potential, very similar to his infamous Tiny.
In Pao's words: "I don't want him to play Abaddon, never again." To Pao and the team, putting DJ on position 5 was just too big of a waste of his talent. And that is the same for Jabz as well. Both of them are skillful players, and they want to utilize them to the max.
Fnatic weren't left with much options since many SEA players were locked before TI ended, says KTM. Considering Jabz has been playing a lot of core roles in his pubs anyways, they asked if he'd like to play Position 3 for the team.
Without much hesitation, Jabz agreed to it.
Who is Fnatic's Toughest opponent in the DPC?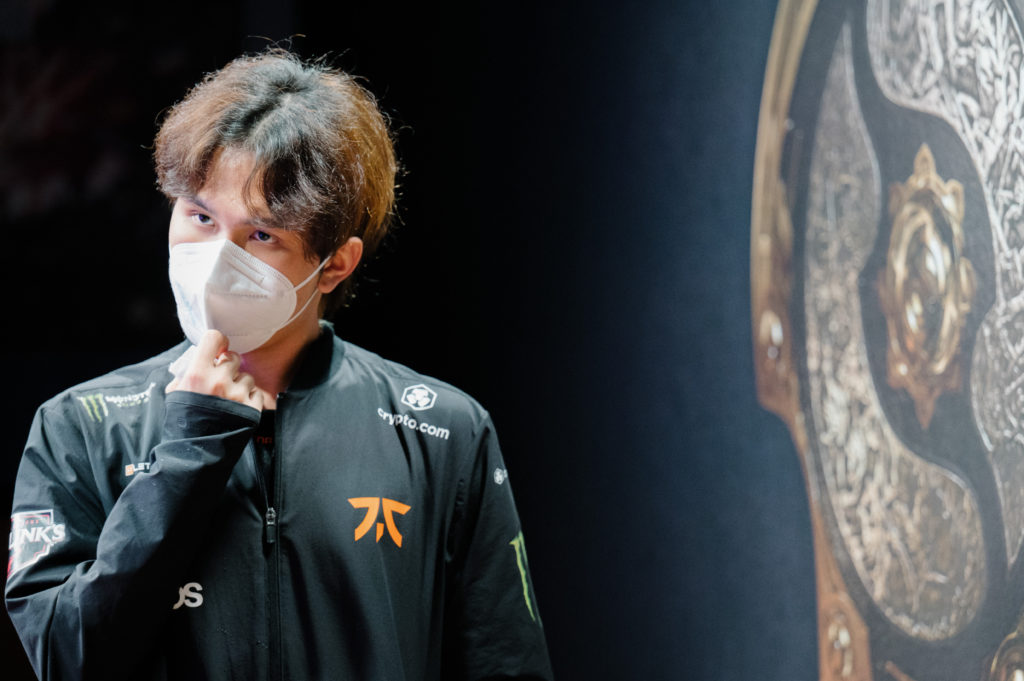 Southeast Asia is one of the most competitive regions in Dota 2. With several teams competing in the DPC season, there is team that has a very clear advantage. Not yet at least. Pai believes Fnatic's true opposition lies within.
"If you're trying to motivate yourself to get better, you should only really get better than who you were yesterday."

Pao's replied.
This is a sound philosophy and as Fnatic put it to test in their upcoming matches, only time will tell how far they can push themselves in the DPC.
In the upcoming DPC season, Fnatic will be looking to regain their glory again, to be the #1 team in SEA like they've been for the past years. With this roster, the boys in the orange are looking ambitious as ever this year!
You can catch LeonArthur's podcast live on Youtube. Stay tuned to Esports.GG for the latest Dota 2 news and updates.