The 12k MMR star player from PSG.LGD, NothingToSay, recently sat down with Esports.GG's LeonArthur to talk about the team's decision to stick together, his teammates, and the future for his team. Here is the summary for you.
PSG.LGD was one of the first teams to announce their roster after the end of The International 10. Shortly after TI10, the team's General manager, Pan Fei, revealed that the entire roster will be sticking together for another year on Weibo.
Esports.gg's LeonArthur spoke to NothingToSay days before the start of the new DPC season on his podcast, "Connecting The Dots". They spoke about the players' mentality after TI10, NTS' view on other players on his squad as well as taking a break after TI10.
Despite the post-TI exhaustion, the team was feeling more motivated to give it another shot. Hence after the final discussion, everyone decided to stay and play for another year.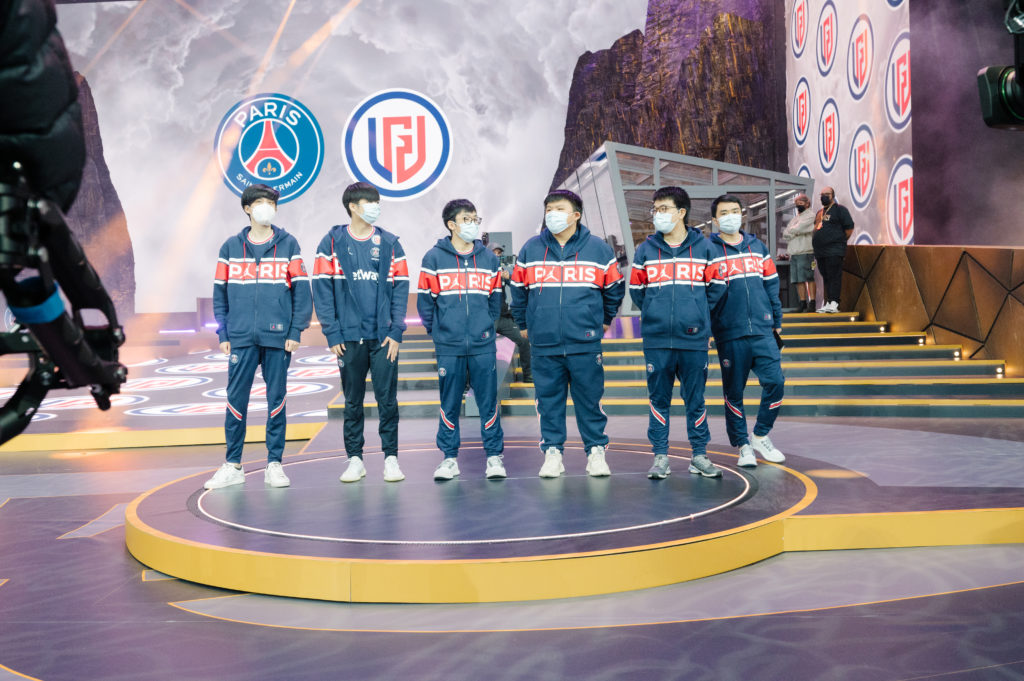 "It's a fate to play with this squad" – PSG.LGD NothingToSay
NothingToSay is happy with the team's decision to stick together. He thinks that for him personally, it would be best if everyone could stay together and play for another year as they have been through a lot together since Ehome. However, if anyone wanted to have a change of scenery, or take a break, he would respect that as well.
NothingToSay's mentors in PSG.LGD
Before NothingToSay got scouted and invited to play in China by xiao8, he was playing in SEA teams like the WarriorsGaming.Unity, Geek Fam and Alpha x Hashtag. NothingToSay was seen as a young prodigy and talented pub star by then. As a young rising star like many others, he was rather new to the competitive and especially the Tier 1 scene.
When he was asked who are the ones that have been helping him a lot through his growth, without hesitation, he said : position 3 , 4 , 5 and the coach.
They would tell me where did I play badly. If they thought something weren't good from their perspective, they would let me know. And I would reflect on it.

NothingToSay on how his teammates have been helping him improve
In most of the team discussions, NothingToSay and Ame are often the last ones to share their thoughts cause both of them are the quiet ones in the team. It would normally be the other four players that lead the discussions and speak their minds. Whereas Faith_bian and y` are better at expressing their thoughts, so they often talk a lot too.
As for XinQ, when he has something to say, he would be vocal. Otherwise, he's very quiet.
Xiao8 is very similar to Faith_bian and y` as well, especially since he is always watching them play, so he speaks a lot to the team too.
NothingToSay can't think of anyone who is similar to xiao8
LeonArthur asked NothingToSay about the role that his coach, xiao8, plays in the team. And whether or not xiao8 has to handle a lot of aspect of the team.
According to NothingToSay, the rare and special quality that xiao8 brings to the team is his understanding of the game, because he plays a lot of high-quality pub games. Hence he could always bring fresh ideas that he learned in pub games to the team, and also share some laning tricks and understandings with the players.
Since xiao8 plays offlane too, sometimes Faith_bian would think certain lane match ups are tough, but xiao8 would think differently. xiao8 has a lot of his own ideas. He plays mid too, so sometimes he'd tell me, oh this hero is pretty good. He knows a lot of things, and he'll share all of it with us.

NothingToSay on xiao8's role as a coach
Former TI winner, Xiao8's MMR eclipses that of several other Tier 1 Dota 2 players at over 9,500. His experience playing against the best players in China is often useful in helping PSG.LGD develop new strategies and come up with innovative playstyles.
"Ame has been carrying us every game" – PSG.LGD NothingToSay
After The International 10, there was a lot of discussion on who is the best carry. player of the year. The community was mostly split between Ame from PSG.LGD and Team Spirit's Yatoro. During Arteezy's recent stream, he thought that Ame has had a very consistent and high-performance year as well. When asked about his opinion on the best carry player and whether he agrees with Arteezy, NothingToSay had some interesting insights.
NothingToSay was quick to answer and said that Ame has been carrying them in a lot of games. Ame has played very well in the entire season, but he was particularly dominant in the series against Team Secret. The series against Team Secret that he's referring to was the Upper bracket finals where PSG.LGD 2-0'ed Team Secret. In this series, Ame had 0 deaths and a total KDA of 23/0/12 in two games where he played Tiny and Monkey King.
---
LeonArthur: Do you feel a sense of security to play alongside such a consistent carry player?
NothingToSay: Yeah of course. Especially when the games are on him to carry. We'd just be creating space for him to farm, and he'd step up in the mid and late game to carry us. We trust him for his ability to farm fast. And keep creating space for him.
---
Ame is one of the best. What's his secret?
Ame's consistency at the top level is what makes him one of the best carry players in the world. But part of his consistency comes from his ability to farm well, most definitely a necessary skill in any carry player's arsenal.
NothingToSay also talked about Ame's strengths and what makes him so different from other players. When he spoke about it, you can tell that he is also amazed by Ame's ability to farm and hit those crazy fast timings on some heroes.
NTS things this is partly because Ame is very familiar with his heroes. He also understands farming patterns very well that helps him farm very quickly. It's mainly a combination of high familiarity with his own heroes and their farming patterns.
When I'm playing with him, sometimes I'll think, damn he farms really quick man.

NothingToSay is still amazed by Ame's ability to flash-farm even after spending so much time together.
PSG.LGD players thought about taking a break after TI10
NothingToSay revealed on the podcast that some players actually were talking about taking a break, including himself. Would they take a more relaxing approach to the new DPC? Would they skip the next Major?
We've been working very hard for this entire season, it's kinda exhausting. We kept playing and playing. So some are exhausted, and said they want to rest. Some said they'd like to continue playing, everyone spoke out.

how the players felt and the discussion of the team after TI 10 Grand Final
PSG.LGD players had taken a break after TI9, and it took them quite some time to get back into form. Top-level Dota 2 esports can be extremely strenuous and many players often wish to take a break after The International.
The PSG.LGD players did indeed think about taking a break this year as well. However, after discussions, the team thought that the DPC points that they could get from the first season and Major are crucial to securing TI invitation. So they won't be taking a break.
They might decide to take a more relaxing approach though once they do secure the invitation that would really depend on how they do. So for now, they'll buckle up and strive for the best!
With that said, we will be seeing this PSG.LGD squad very soon, with the new DPC season starting on 29th November for the China region.
You can catch LeonArthur's podcast live on YouTube. Stay tuned to esports.gg for the latest Dota 2 news and updates.