NRG strolled to victory in the Knights Carnage Cup. They are shining with new signing Gilderson who has added a new dimension to their game.
NRG have put on a dominant performance to take the fourth edition of the Knights Carnage Cup. The team had victory all but secured at the half way point, but continued to show up across all 12 games to take the top prize handily.
The victory was the conclusion to an event that saw 20 teams battle across 2 days for a $10,000 prize pool—Six games were played each day, with the games split between Storm Point and Worlds Edge.
NRG finding their feet with Gilderson
This is by far the best NRG performance since the arrival of Gilderson from Team Liquid. The 18-year-old controller player is providing NRG with a new performance outlet and they shined all weekend with a new approach to the game.
Gilderson has taken NRG to a new level (Photo Credit: EA)
The addition of a true fragger has enabled NRG to move away from Gibraltar and towards a more aggressive edge playstyle which is clearly paying dividends. Yet, with an IGL as assured as Sweet, NRG avoid the trap of taking one too many fights on edge—they were able to make the end games incredibly consistently. However, they did get a fair share of fortunate zones. But, this isn't necessarily a benefit when they want to play in such an aggressive way.
NRG's 3 game streak secures them the win
While this event was taken over two days, NRG were essentially the winners at the half way mark. They had a commanding 38-point lead after a truly inspirational run of games on Storm Point.
Across Saturday's three Storm Point games NRG laid down a huge 36 kills, picking up a second place and two consecutive victories. In total, just these three games earned them 69 points. They could've finished 7th from these games alone ignoring the nine other games they played.
This shows the new ceiling that NRG have found with Gilderson. Even when playing for zone and rotating fast NRG could put down big totals. But simply, if you can find consistency on edge you can rack up huge games. Furia showed this at the ALGS Championship.
Sweet: "Aim assist. NRG needed Aim Assist"
Speaking briefly to esports.gg after the match, Sweet was candid about what has taken NRG to the next level.
"Aim Assist. NRG needed Aim Assist."
Frankly, it's hard to argue with this assessment. The current aggressive Seer led meta is perfect for controller players.
Sweetdreams of NRG (Photo Credit: EA)
SSG and Team Liquid only separated by a tiebreaker
Elsewhere, it took a tiebreaker to separate SSG and Team Liquid. Both teams secured 108 points. But, Team Liquid snuck 2nd place away from SpaceStation thanks to having the highest scoring individual game.
Team Liquid nearly lost second place thanks to former teammate Gilderson. NRG folded Team Liquid over as they tried to end their tournament on a win - however they just lost out to SSG who did just enough to force the tiebreaker.
Fuse was brought to the party this weekend by Liquid, and they made effective use of him - they like NRG have adjusted to a more aggressive edge style. Using Fuse and Maggie is about as aggressive as Apex Legends can get.
SSG show that Newcastle has a place
SSG have refused to adopt Seer. Instead of moving towards an aggressive edge playstyle NRG and others, they have continued to play for zone. Using Newcastle and Wattson on Worlds Edge, SSG regularly made end games and put down consistent placement points.
They aren't running up huge kill totals frequently, but are instead placing within the top 3 in half the games.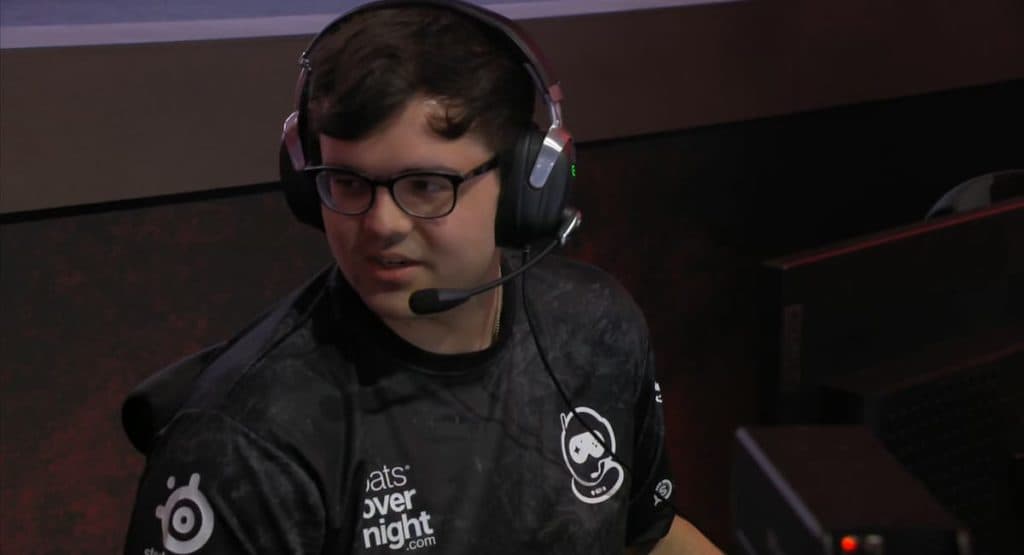 Dropped of SSG
Dropped in particular is an excellent zone player—his ability to generate free kills with a Charge Rifle or a 30-30 repeater added countless point's onto the SSG total. The talented Gibraltar player is adapting to Newcastle well, and even broke out some Bangalore on Storm Point. This is SSG's best result for some time, and they'll hope that they've cracked a legend composition that suits them.
NRG lead the top 5
NRG - 144 ($6000)
Team Liquid - 108 ($3000)
SSG - 108 ($1000)
OpTic - 94
ESA - 78
Valkyrie still popular
---