Gildersons has joined NRG, leaving Team Liquid. The player has made an absolutely meteoric rise through Apex Legends having only first competed last April.
Zachary "Gildersons" Dennis has officially joined NRG, leaving Team Liquid. He will team up with Nafen and Sweetdreams after the departure of Rocker who has now joined Cloud9. The news was announced on Twitter on the afternoon of August 12th.
It was anticipated that Gildersons would be the next NRG pickup following a few weeks of speculation. This was due to the suspicious and then admission that NRG with Gildersons secretly played Series E under the name Badboys.
Gildersons meteoric rise
Joining NRG crowns off an incredible 12 months for Gildersons, who has risen from a complete unknown right to the top of the Apex scene. He is now considered amongst the very best controller players anywhere in the world.
Gildersons has now departed Team Liquid for NRG
Yet, the 18-year-old only played his first ever tournament in April 2021. He was then signed to Pittsburg Knights who finished 12th in the Split 1 Pro League. However he did not stay long. His performances across Pro League as well as events like the Knights Carnage Cup soon attracted the attention of Team Liquid.
Gildersons revolutionises Team Liquid
Gildersons made a huge impact on Team Liquid right from the get go. The team steadily improved as a roster, establishing a unique game style.
Liquid were team that dominated Storm Point the best, with Gildersons proving a very capable Loba. At their performances in a later edition of the Carnage Cup, Gild had shined, before established them as a force to be reckoned with on the new map.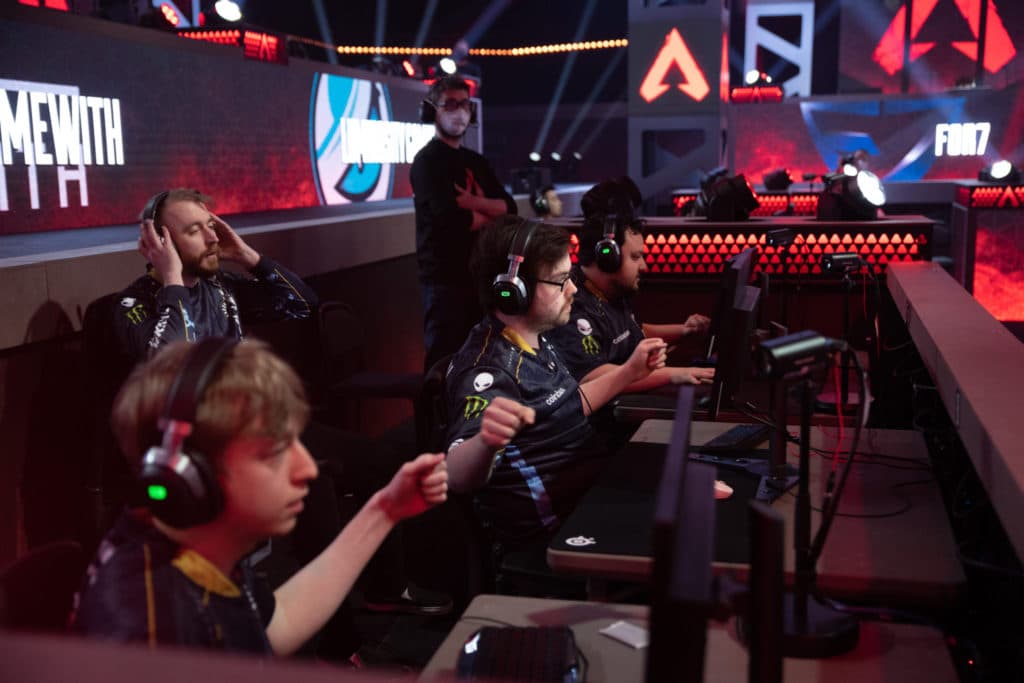 Team Liquid with Gilderson (near). Photo Credit: EA
The Team Liquid roster went from strength to strength. The squad won the final week of the Split 2 Pro League, and headed to Sweden on a high. Gild had only been competing for a year as he made his LAN debut, but it didn't show.
Gildersons unbelievable debut LAN
Gilderson was on top form across the LAN, performing his fragger role perfectly. There was no sign of any nerves across the whole event. Team Liquid finished third in the group stage, third in the winners bracket and then took second place in the finals. They were the most consistent team across the whole event by far.
Throughout Gilderson performed admirably. For example he single handedly earned his team several points with this incredible play.
NRG have clutch potential
NRG will be hoping that Gildersons brings the huge clutch potential that he displayed on Team Liquid to their roster. Sweetdreams said he hoped the roster change would reignite their passion, but he will also be expecting to see Gilderson's frag potential help NRG find some momentum.
Team Liquid will sorely miss Gilderson on their team, but when an opportunity as big as NRG comes calling it is hard to keep big talents from leaving.
NRG set to adopt Gibby-less playstyle
It seems that the arrival of Gildersons will mean NRG move away from the use of Gibraltar in competitive. With the departure of Rocker they don't have a natural anchor player, and it would not be worthwhile for any of Sweet, Nafen and Gild to play such a Legend.
Sweet said he hopes that Gildersons brings more passion to the team
With the recent Season 14 changes Gibraltar has recieved a big counter in the form of a Mad Maggie buff, so more and more teams have departed from the defensive legend. In their secret Series E debut they operated with Horizon, Seer and Valkyrie.
NRG look to be a force to be reckoned with in ALGS Year 3, for full coverage of all things Apex Legends stay tuned to esports.gg.