It appears to have been revealed that the FaZe Apex roster is being dropped ahead of the ALGS Year 4 Pro League.
Battlefy has once again leaked roster news. Ahead of ALGS Year 4, Battlefy is officially listing all the teams who have qualified or been invited to the next ALGS Pro League. Among them appeared to be confirmation that the FaZe Apex roster has been dropped.
The roster of Frexs, Phonyhead and Snip3down were initially listed as "ex-FaZe" under the official list of teams.
UPDATE: Battlefy has now changed the FaZe roster to appear as FaZe, and not "ex-FaZe". It's unclear if this was a mistake, or if it has been changed until an official announcement is made. esports.gg has reached out to FaZe for comment.
FaZe Apex Roster seemingly dropped
Based on results, this would be a surprising move for FaZe to make. After bringing in Phonyhead and Frexs ahead of the 2nd split of the ALGS Pro League, the FaZe Apex roster was among the most consistent performers at LAN.
They backed up some strong online performances in the North American Pro League with two respectable LAN finishes. They finished 5th at the Split 2 Playoffs, and then finished 6th at the ALGS Championship.
However, it is a strong possibility that this decision would not be results based. Several organisations, most notably NRG, have pulled out of the ALGS citing concerns about the sustainability of Apex esports. When FaZe were first rumoured to be joining the ALGS, a major hint was that the org had branded skins in the game files ready to be released.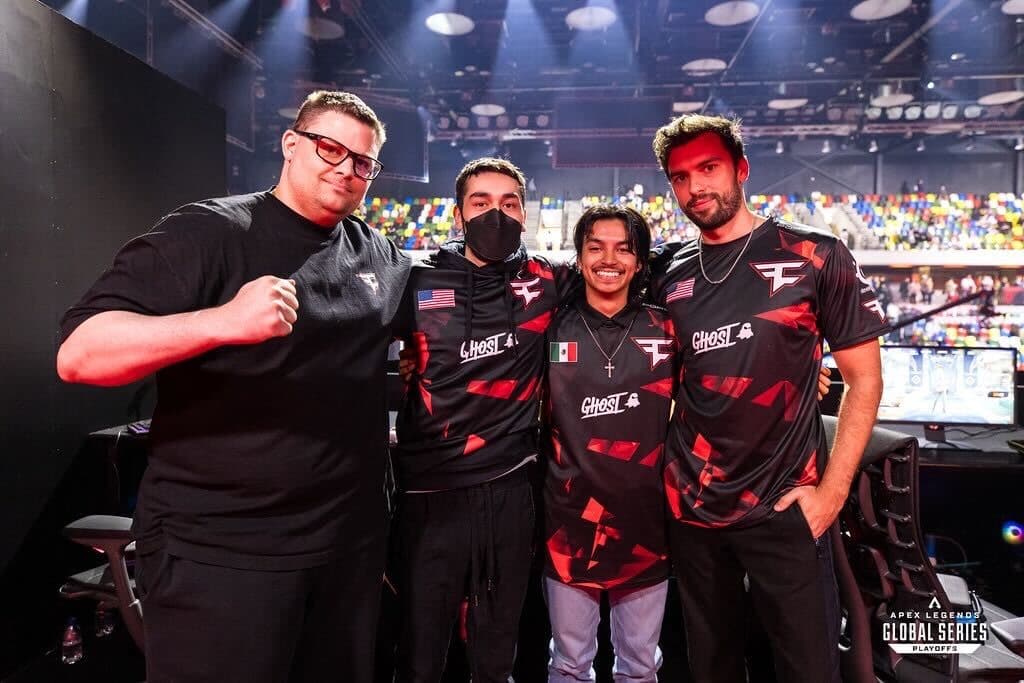 (Photo: EA/Joe Brady)
Those skins have never been released, and there has been consistent rumours and grumbling about why org skins fell at the final hurdle for months.
It is likely that if FaZe are dropping this team and leaving ALGS, they are leaving for the same reasons that NRG and others have.
FaZe Apex Roster's Year 3 Results
20th - Split 1 Pro League (With Snip3down, Albralelie and SlurpeeG)
5th - Split 2 Pro League
5th - ALGS Split 2 Playoffs 2023
1st - Code Red Freedom Season 2 - Qualifier 2
6th - ALGS Championship 2023
Tripods not invited to Pro League
Of course, FaZe have more invested into Apex Legends than just Snip3down, Phonyhead and Frexs. All three members of the Tripods, including NickMercs, are all signed content creators with the org. It is unclear if there will be any change here - or if the roster will become the official FaZe team as a result.
However, today's lists have also shown that Tripods have not been afforded an invite to the first split of the ALGS Pro League. They will have to re-qualify in one of the eight Pre Season Qualifiers slots avaliable.
This has come as somewhat of a surprise. The Tripods performed solidly in their first year of Pro League action. Additionally, they are amongst the most popular personalities and teams in the game.
Sweet and Nafen also potentially competing together in ALGS Year 4
Further information provided by Battlefy today also shows ex-NRG listed as one of the invited teams. While Gild has joined Moist Esports, Sweet and Nafen would still automatically qualify if together. It seems that the long term duo will be competing together in some form in ALGS Year 4.