Apex Legends' biggest pro player streamer Phillip "ImperialHal" Dosen has been crowned the Best IGL in North America according to a panel of expert judges.
After crunching the data we can unveil the winner of the Best IGL NA Award is TSM's Phillip "ImperialHal" Dosen. The winner was decided by a private vote, with the esteemed panel of judges a mix of players, broadcast talent and community figures.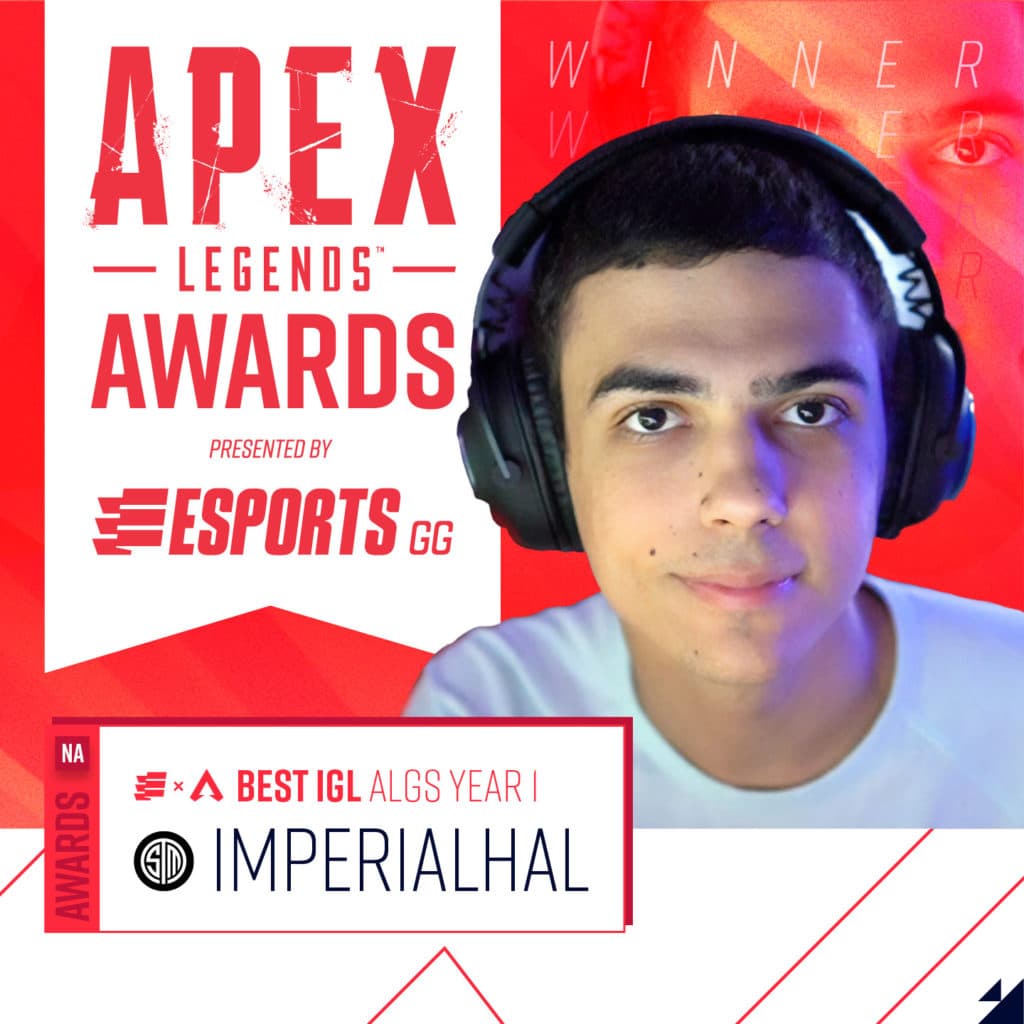 Winner: Phillip "ImperialHal" Dosen
22-year old ImperialHal is the Best IGL in North America according to our panel of expert judges. Hal finished first ahead of finalists Zach "Zach" Mazer of Cloud9 and Chris "sweetdreams" Sexton of NRG.
"Hal is arguably the best player in Apex Legends, but what makes him so great is not just his mechanical gifts and prowess, but his knowledge of the game, how to win, and his remarkable spur-of-the-moment shotcalling. Pound for pound, Hal IMO is the best mid-game, mid-crisis shotcaller in Apex," said ALGS talent and Esports.gg's Falloutt earlier in the week.
"Hal's ability to direct the troops, communicate with meticulous precision, and make the RIGHT decision is bar none some of the best in the game. The proof is in the pudding – he is the most successful player and IGL in Apex Legends history, and has won tournaments with any team combination, stemming from Lululuvely's Throwdown to Twitch Rivals with Guhrl & Daltoosh. Combine that with his insane mechanics, playmaking ability, and slaying output, and you have an undisputed GOAT in the making."
1st ALGS Online #2
2nd ALGS Online #3
2nd ALGS Online #4
1st ALGS Autumn Circuit #3
3rd ALGS Autumn Circuit Playoffs
3rd ALGS Winter Circuit Playoffs
3rd ALGS Championship 2021
Be sure to check out the winners of our other Award categories that we we will be announcing throughout the day. Also keep an eye on our Apex Legends news section as we head into the new season.