We take a look at the three finalists for the Best Team Award! The finalists are G2 Esports, TSM and NRG. Find out more about their season inside.
The title for best Team in NA is up for grabs as part of our Apex Legends Awards. Our panel of expert judges has cast their votes and these are the three finalists for our Best Team Award. This Award is for the ALGS Year 1 season as a whole. We will be revealing the winners of all six award categories on September 8th!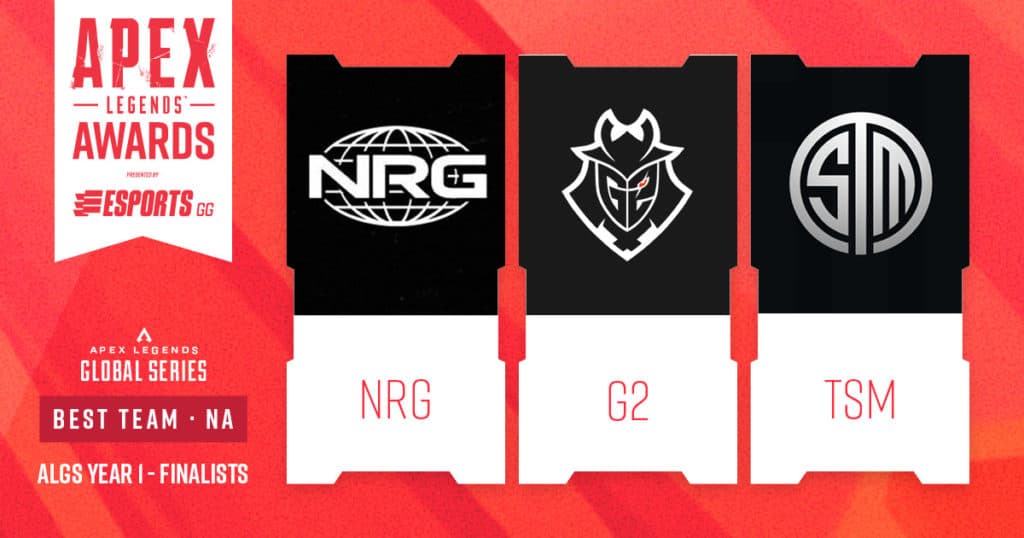 NRG
NRG has been a community favorite team since they got their start in Apex back in 2019. The highly decorated team is comprised of the finalist for best slayer Nathan "Nafen" Nguyen, Aidan "Rocker" Grodin and their leader Chris "sweetdreams" Sexton (who is also a finalist for best IGL). NRG is a force to be reckoned with 35 top 5 finishes throughout their time in Apex. During the ALGS championships group stage they amazed everyone as NRG had a grand total of 262 points over the 3 days. The runner up in the group stage was TSM with only 197 points, which just goes to show the dominance of NRG.
G2 Esports
The G2 Esports achievement list with the current roster may seem rather stark for them to be a top 3 nominee but Resultuh, Gentrifyinq and Dezignful, only joined G2 recently. The trio competed on the ALGS first as orgless Aim Assist and later under the banner of SolaFide. Playing as the orgless AIm Assist they were winners of ALGS Summer Circuit #2 and finished 3rd place in the ALGS Autumn Circuit #1 for NA.
The trios results caught the attention of SolaFide, who recruited the squad in late 2020. It proved a wise addition as the trio secured three top 3 finishes in the ALGS Online events before going on to place 2nd at the ALGS Winter Circuit Playoffs. Ahead of the ALGS Championship they were picked up by G2 Esports, and although they finished 11th, the three players had a phenomenal season.
TSM
Another iconic team of Apex that has been around since the start of the Esport is TSM. The squad is a community favorite for its members and amazing start in Apex. Back in 2019 when the Esport was just getting started, TSM placed top 5 18-times in 22 tournaments that year. The consistent high placements continued in the following years with 8 back to back wins and several win streaks. This consistency regardless of the roster shuffles has made TSM a heavy favorite team. The squad currently is comprised of IGL finalist Phillip "ImperialHal" Dosen, slayer nominee Eric "Snip3down" Wrona and Jordan "Reps" Wolfe. 
There you have it, the top three finalists for the Best Team Award. But, the fun doesn't stop there. Keep an eye on the Esports Twitter account for the next exciting announcement on September 8th, where will we reveal the winner! Stay tuned!