We reveal the voices behind the cast of Arcane, the brand new animated Netflix series, ft actors from Breaking Bad to Game of Thrones.
The Netflix animated series Arcane, which is based around the lore of esports title League of Legends, has been incredibly well received. One massive takeaway viewers have had so far is the exceptional Arcane voice actors for the lead characters.
It seems no expense was spared as the voice acting cast includes talent from shows such as Breaking Bad to Game of Thrones. If you feel a voice is sounding oddly familiar but you can't place why, don't worry.
Arcane Voice Actors: The Main Cast
Who voices Vi in Arcane?
Violet (Vi) in Arcane is being voiced by Hailee Steinfeld. Hailee Steinfeld prior to Arcane was best known for voicing Gwen Stacy and Spider-Woman in Spider-Man: Into the Spider-Verse (2018).
Who voices Vander in Arcane?
Vander, an instant hit with fans of the Netflix Animated show Arcane, is voiced by JB Blanc. JB Blanc won the BTVA Video Game Voice Acting Award for his portrayal of Bane in Batman: Arkham Origins in 2013. He has also appeared as an actor in Breaking Bad and later the spin-off prequel Better Call Saul.
In recent years however, JB Blanc has come somewhat of a connoisseur of the video game voice acting realm. He recently was the voice of Terrorblade in another Netflix animated series, Dota: Dragon's Blood. Fans of Apex Legends may also recognise him, as he voices legend Caustic.
A video game voice acting veteran
JB Blanc's notable video game voice acting work:
Bane in Batman: Arkham Asylum
Kano in Mortal Kombat 11
Caustic in Apex Legends
Dr Vinderman in Fortnite
Oryx in Rainbow Six: Siege
This is not the first time JB Blanc has been involved in a Riot Games project. He is also the voice of Laurant Gatekeeper in Legends of Runeterra.
If you want to learn more about Vander in Arcane check out our Who is Vander in Arcane article.
Who voices Powder in Arcane?
Powder who appears in the first three episodes of Arcane is voiced by teen theatre and voice actress Mia Sinclair Jenness. She is best known for playing Nancy on Disney Junior's animated television series Fancy Nancy.
Want to learn more about Powder? We've got you covered with our article Who is Powder in Arcane.
Who voices Jinx in Arcane?
Jinx is voiced by British actress Ella Purnell. Ella Purnell is best known for her role in Tim Burton's Miss Peregrine's Home for Peculiar Children. Near the start of her career she appeared as Dolce in Kick-Ass 2.
"There's a joke in my family that I'm going to make a career out of playing other people's younger selves," said Ella Purnell. "I played the younger Keira [Keira Knightley], I've played the younger Angelina [Angelina Jolie] and more recently the young Margot Robbie."
However, it seems that trend is now broken, as she plays Powder's older self Jinx in Arcane.
Who voices Caitlyn in Arcane?
Caitlyn in Arcane is voice by Katie Leung, whose breakout role was playing Cho Chang in Harry Potter and the Goblet of Fire. Katie Leung would subsequently appear in three more Harry Potter films; Order of the Phoenix and the Deathly Hallows (Parts 1&2).
Arcane is only Katie Leung's second voice acting job since voicing Cho Chang for the Harry Potter and the half-Blood Prince video game back in 2009. Since concluding work on the Harry Potter franchise, Katie Leung has primarily focused on TV work,
Who voices Jayce in Arcane?
Revolutionary scientist Jayce in Arcane is voiced by Kevin Alejandro. Kevin Alejandro is best known for his role as Sebastian Blood in the TV Series Arrow, which is based on the DC Comics. He has also appeared on cult TV shows such as True Blood (2010-2012), Southland (2009 to 2011) and more recently Lucifer (2016 to 2021).
Interestingly, Jayce is Kevin Alejandro's first role as a voice actor.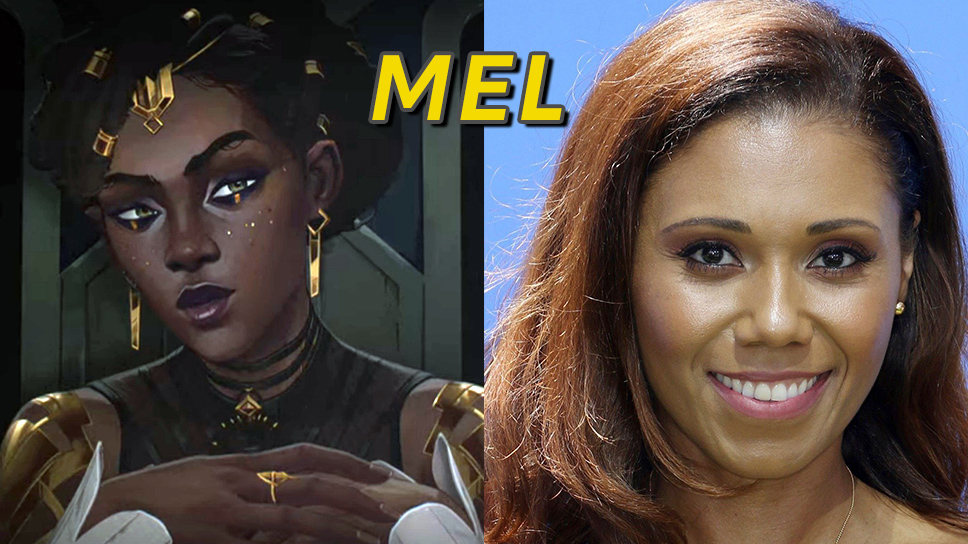 Who is the voice of aristocrat Mel?
The mysterious and powerful aristocrat Mel in Arcane is voiced by Toks Olagundoye. Toks Olagundoye has been an actress for close to two decades, and focused primarily on voice acting over the last 7 years.
She was the voice of Zamfdir in the TV series Castlevania and Mrs Beackley in the comedy adventure series DuckTales, However, for gamers out there they might be more interested to know Toks Olagundoye voiced Carnán in the 2017 video game Middle-Earth: Shadow of War.
Who voices Viktor in Arcane?
The ambitious scientist Viktor in Arcane is voiced by English actor Harry Lloyd. Harry Lloyd was the voice of Viserys Targaryen in Game of Thrones. He also acted in 2014's Theory of Everything, 2011's The Iron Lady and 2016's Anthropoid.
Primarily a TV actor, Harry Lloyd's most recent work was playing Bernard Marx in the TV Series Brave New World.
In terms of voice acting work, Harry Lloyd is still relatively new. His only prior experience is voicing his Game of Thrones character in Conquest and Rebellion: An Animated History of the Seven Kingdoms. Outside of that he appeared in one episode of TV series American Dad.
Who voices Silco in Arcane?
The conniving Silco in Arcane is voiced by Jason Spisak, an experienced video game voice actor. Jason Spisak has lent his voice to video game titles such as Doom Eternal, Anthem, Dark Siders III, Magic the Gathering Arena and even Artifact! Yes, Jason Spisak was the voice of Tinker in the now deceased Valve card game.
A voice for 74 different games
In fact Jason Spisak is a credited voice actor for 74 different video games in the last 21 years.
Notable video game voice acting work:
Tinker in Valve's Artifact
Scorpion in the PS4 hit Spider-Man
Klegg in Rage 2
Karney in Anthem
Mageseeker Conservator in Legends of Runeterra
If you want to learn more about the mysterious Silco character, check out our Who is Silco in Arcane article. Be warned, there may be spoilers inside.