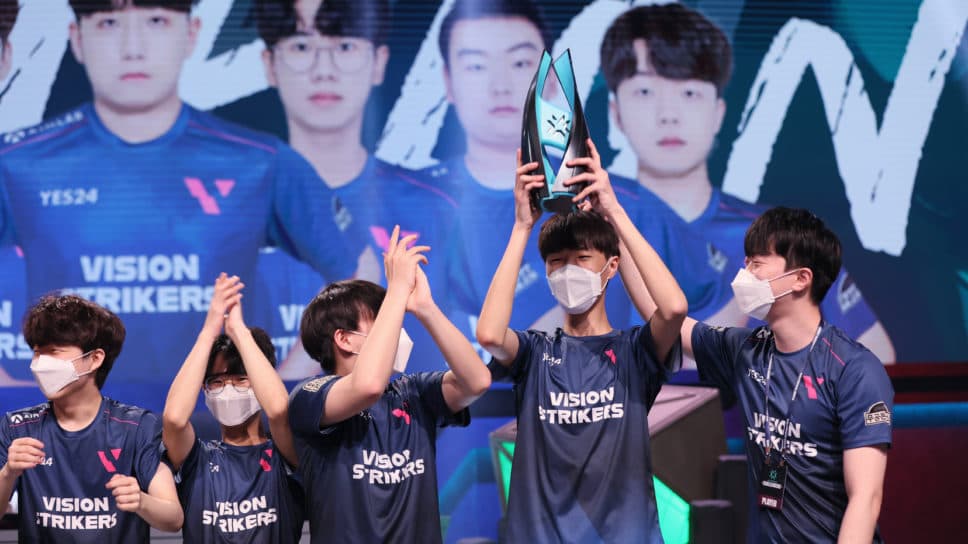 Vision Strikers Lakia: "Just because your name is the most prominent on a VALORANT roster, does not entitle you to the starting lineup"
Vision Strikers' Lakia, BuZz, and MaKo sat down with Esports.gg to discuss dynamics within the team and hopes for Berlin.
Vision Strikers dominated Korean and Asian VALORANT for a long time. Throughout all of 2020, they wouldn't lose a series, against any team. They won every tournament they participated in, and in most, it wasn't close. Their reign continued in early 2021, where they lost their first matches but still came out ahead in Masters 1. However, they fell off at the worst time, losing to NUTURN in Stage 2 Challengers Finals and missing out on Reykjavik.
For Stage 3, they made big changes. Yu "BuZz" Byung-chul, Kim "MaKo" Myeong-Gwan, and NUTURN star Kim "Lakia" Jong-min joined the team. The improvement was immediate and apparent - Vision Strikers are heading to Berlin as Korea's #1 seed.
Several members of Vision Strikers sat down with Esports.gg to discuss Korea's international prospects, roles and dynamics within the team, and hopes for Berlin.
The following interview was conducted in Korean and translated to English. Answers have been edited for clarity and grammar.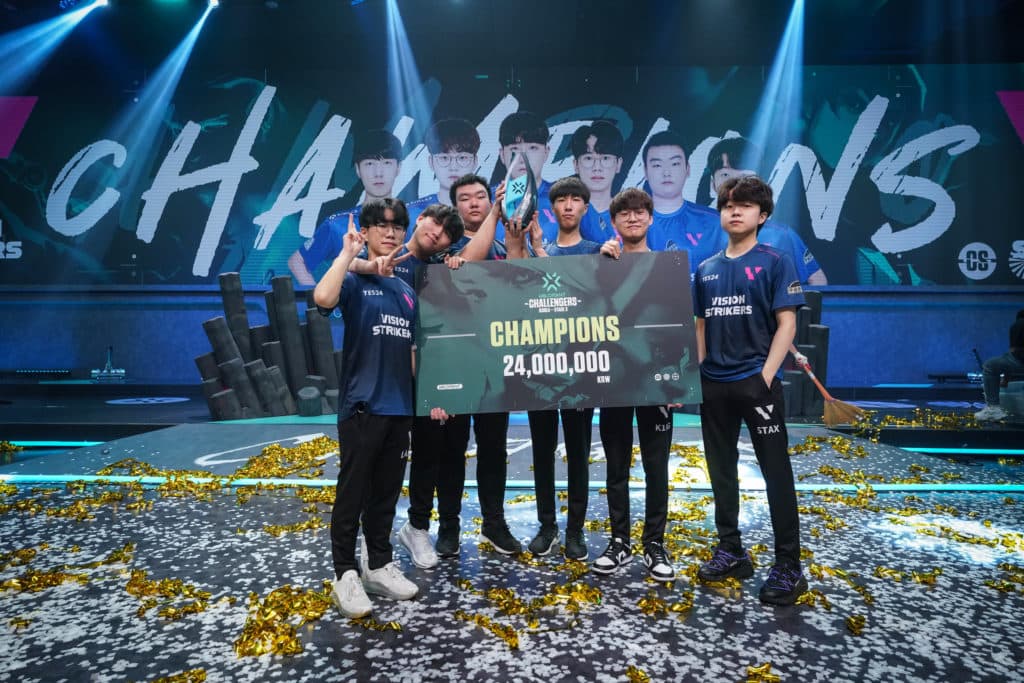 Vision Strikers pose after winning Stage 3. From left to right: Lakia, BuZz, MaKo, Rb, k1Ng, and stax. Image credit: Riot Games Korea.
Lakia's Iceland experience
What was the experience like in Iceland? Did you get to meet players from other regions?
Lakia: Iceland was an amazing experience for me overall. It was truly cool to meet other regions' best teams and players, but also to realize that they are not that different from the Korean region's talent either. I am not really fluent in English, so while players said hi to each other a lot at the hotel, it was hard for me to continue conversations. But after losing to Fnatic in the playoffs, I shared a lot of conversation and took many pictures with Fnatic's Boaster which was nice.
How did scrims go against European teams?
Lakia: Scrims against European teams went fairly well I think. Our record was pretty commendable in my opinion. Other than Split of course...
Lakia on-stage during Vision Strikers' quarterfinal match against GOnGO Prince in VCT Stage 3. Image credit: Riot Games Korea.
NUTURN was doing really well. You guys came third in Iceland with you as the star player. So why did you decide to leave the team to join Vision Strikers?
Lakia: Placing 3rd overall at Reykjavik was a great feeling for me because we were able to show everyone our talent, including the fanbase in Korea. But afterwards, I thought about the long-term future of my career and after my contract with NUTURN ended, I joined Vision Strikers.
(Note from Vision Strikers management - Lakia's contract with NUTURN ended after Reykjavik. Vision Strikers signed him as a free agent, and didn't buy him or his contract off their rivals.)
Deciding the direction of the new Vision Strikers
There were three Jett players coming in to this new VS squad: BuZz, Rb, and MaKo. How was it decided that BuZz would stay playing Jett, while the others would swap roles?
BuZz: All three of us and the coaching staff had a meeting and we discussed each others' strengths and weaknesses. We also discussed who was comfortable swapping roles and agents, and after an in depth session, we decided to try out different combinations and this was the final result.
Even though you're probably the most well-known player on the team, Lakia, it's usually you and Rb switching out while the others play every map. How and why was the decision made to have it be you two switching?
Lakia: This is a misconception I want to heavily emphasize: just because your name might be the most prominent on a roster, does not entitle you to the starting lineup. I joined the team quite late considering the timeline and the team and I needed more time to create some synergy, not to mention the fact that I had to get used to a new environment altogether as well. I did not play my best VALORANT in the games during VCT KR Stage 3 due to this, but I will try my utmost best in the coming international LAN at Berlin and aim for a permanent spot on the starting lineup.
Thoughts heading towards Berlin
Who are you most interested in playing in Berlin?
MaKo: I am most looking forward to playing against cNed and his Acend. Admittedly, I haven't been following up on EMEA too much, but I see the results and I can tell that he is a talented player.
MaKo: I honestly think that Envy is overshadowed by the spotlight on Sentinels and 100 Thieves. I think Envy is going to be really good at this event.
MaKo playing with Vision Strikers in their semifinal match against TNL Esports. Image credit: Riot Games Korea.
Sadly Korea has only been using a single-elimination bracket, so we haven't gotten to see every team play each other. Do you think F4Q are the second-best team in Korea right now? Would they have gotten through if they played TNL, for instance?
MaKo: Don't get me wrong, F4Q is a talented roster and they definitely can be the second-best team in Korea right now. That being said, I also think that if they faced NUTURN, it could have gone either way. If they faced TNL Esports, I personally think they would have lost. If the playoffs were held as a double-elimination format, I believe we would be going to Berlin with TNL Esports instead.
What are your thoughts on KAY/O? Is he good in the right hands, or not useful at all? Or do you have a different opinion?
MaKo: KAY/O can definitely be OP at the hands of a right player, but it is just as challenging to master this agent. Furthermore, there are more "traditional" agents that can replace him easily, so if you are going to be playing KAY/O, I believe you better have a great instinct or your own flair with this agent.
When this roster was put together at the start of Stage 3, people called you a superteam and were predicting a finals appearance at Berlin. Do you think you can challenge teams like Sentinels there?
MaKo: When we qualified for Berlin, I immediately thought of the teams we would be facing from EMEA and NA, but quite honestly I don't think we will be losing to any of them. In fact, I believe we have a chance at taking the championship in Berlin.
---