VCT Masters Berlin is set to be an amazing event – VALORANT's second-ever LAN, with 16 teams in attendance. All teams have now been determined, we give a brief rundown of each.
Masters Berlin is set to be one of the best VALORANT events to date. It'll be the game's second-ever LAN, with 16 teams participating, up from 10 at Reykjavik. Some of the biggest communities in VALORANT are getting their first representatives. And we get another chance to see who is the best team in the world. Over these next few weeks, all 16 teams are slowly being determined. Get the run-down on each of them below.
Sentinels - North America
Shahzeb "ShahZaM" Khan - Hunter "SicK" Mims - Jared "zombs" Gitlin - Michael "dapr" Gulino - Tyson "TenZ" Ngo
Image credit: Colin Young-Wolff/Riot Games.
The reigning Masters champions are coming to defend their crown. Sentinels were clearly the best team at Masters Reykjavik, not dropping a single map throughout the event. Now, they've breezed through Stage 3 relatively easily, and once again come in as North America's first seed. It'll be a true challenge for any team to topple them.
They boast a squad made up of the best players in the world. TenZ is the superstar leading from the front. ShahZaM is the coach, IGL, and just general mastermind behind their success. dapr is the consistent sentinel, SicK is the flex god, and zombs is the reliable support player. Anything less than another win would be a huge disappointment for this team.
100 Thieves - North America
Spencer "Hiko" Martin - Nicholas "nitr0" Cannella - Peter "Asuna" Mazuryk - Ethan "Ethan" Arnold - Joshua "steel" Nissan
Always a consistent top-6 placer, 100 Thieves finally found their full stride in Stage 3. With Asuna moving to Jett, and steel becoming one of North America's only regular KAY/O players, this new mix worked. 100T had a very good run, and ultimately proved themselves deserving of their Masters Berlin spot with wins over big teams like XSET and Envy. They come into Berlin wanting success, and have a massive fanbase behind them. Watch for Asuna to shine and Hiko to clutch as 100T try to finally beat Sentinels and bring home a big trophy.
Envy - North America
Pujan "FNS" Mehta - Victor "Victor" Wong - Austin "crashies" Roberts - Jaccob "yay" Whiteaker - Jimmy "Marved" Nguyen
Another very consistent lineup, like 100T, Envy made big waves with the signing of yay midway through Stage 3. Being billed as a new superteam, they delivered on the promise by snagging NA's third and final Berlin spot.
yay and Victor are the flashy stars here, but Envy have a great support line as well. Envy are stacked in all positions, and despite falling to 100 Thieves in the lower bracket finals, they have just as good a shot at success at Masters Berlin.
Acend - EMEA
Mehmet Yağız "cNed" İpek - Patryk "starxo" Kopczynski - Vladislav "kiles" Shvets - Santeri "BONECOLD" Sassi - Aleksander "zeek" Zygmunt
There were rumours when Stage 3 was beginning that the new Acend roster was looking strong. Fast forward a month and a bit and they've firmly established themselves as Europe's best. Featuring a deadly support line and probably the best OPer in the game (sorry Wardell), they might have the best chance of anyone at taking down Sentinels.
cNed is maybe the best player in Europe. His operator play is second to none, and he's the star this Acend team is built around. But they boast a stellar support line too. kiles is a Sentinel player that sometimes flexes to Reyna, and starxo is a charismatic Skye player. If anyone can take down SEN, it's these guys.
Supermassive Blaze - EMEA
Baran "Izzy" Yılmaz - Eren "Brave" Kasırga - Melih "pAura" Karaduran - Batuhan "russ" Malgaç - Mehmet "Turko" Özen
Supermassive Blaze were a completely new roster formed for Stage 3. Plucking Turkish talent out of some of Europe's best teams, they were billed as Turkey's superteam. But given the lack of international success Turkey has had, no one expected them to be this good. Something just clicks about this team, elevating them higher than any other Turkish roster before.
Izzy really came into his own in SMB's Masters Berlin qualification run. pAura was a First Strike champion with Team Heretics. Names like russ carry weight in Turkey. But the biggest thing about this qualification is that the monstrous Turkish fanbase gets representation internationally. Turkish games regularly double the views of European ones - expect a good Supermassive game at Berlin to break viewership records.
Gambit Esports - EMEA
Timofey "Chronicle" Khromov - Nikita "d3ffo" Sudakov - Bodgan "Sheydos" Naumov - Ayaz "nAts" Akhmetshin - Igor "Redgar" Vlasev
Gambit are finally here. The Russian team has been hyped behind the European scene for a long time, and with a hard-fought 2-1 win over Team Liquid, booked their spot in Masters. Known for their creativity and on-the-fly strategies, Gambit have been one of Europe's better teams for a while, and now finally have the chance to make their mark internationally.
The big player to watch on this roster is nAts. He's one of the single best players in Europe, famed for his Viper and Cypher setups as well as his anchoring ability. Gambit should be one of the stronger teams in the event and have the potential to upset anyone if they can play their game.
G2 Esports - EMEA
Oscar "mixwell" Cañellas Colocho - Žygimantas "nukkye" Chmieliauskas - Auni "AvovA" Chahade - Jose Luis "koldamenta" Aranguren - Cista "keloqz" Wassim
Europe's fourth and final representative is a familiar face. G2 Esports have had a great stage with their revamped roster. They placed second in Europe's Challengers events and took down the surging Vodafone Giants in playoffs to claim their spot. They're one of Europe's quicker and more exciting teams, and certainly a worthy fourth representative.
mixwell and nukkye are each some of the biggest names in European VALORANT, but eyes should be on the young duelist keloqz. The space he makes provides a lot of room for G2's heavy secondary firepower to shine.
Vision Strikers - Korea
Kim "stax" Gu-taek - Goo "Rb" Sang-Min - Lee "k1Ng" Seung-won - Yu "BuZz" Byung-chul - Kim "MaKo" Myeong-kwan - Kim "Lakia" Jong-min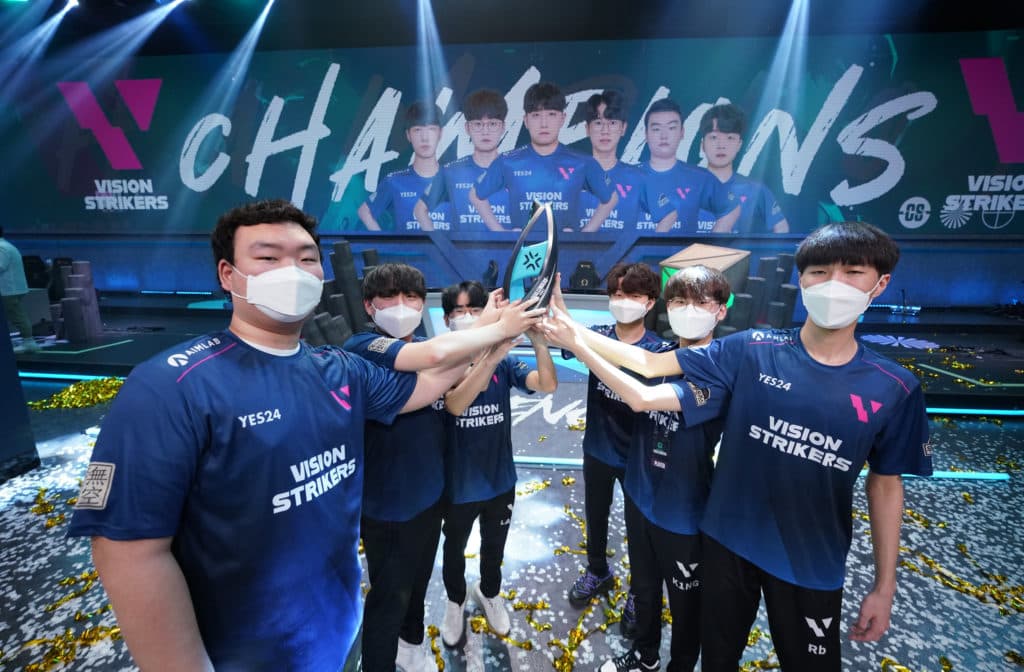 Another huge transfer between Stages 2 and 3 occurred in Korea, when Lakia joined Vision Strikers. The Sova main starred with NUTURN at Reykjavik, and has now helped Vision Strikers to make their LAN debut. VS were Asia's dominant team throughout 2020, and didn't lose a match until mid-April 2021. They missed out on Reykjavik, but now have a chance to make their mark at Masters Berlin. Every player on this team has huge clutch potential and is incredibly solid. Some have Vision Strikers marked for a finals appearance, we'll see if they can live up to that potential.
F4Q - Korea
Chae "Bunny" Joon-hyuk - Yoo "FiveK" Sung-min - Kim "zunba" Joon-hyuk - Kim "Efina" Nak-yeon - Jeong "Esperanza" Jin-cheol
Originally formed as a streamer team, F4Q have become much more than that over the months. They were the team that gave Vision Strikers their first loss, they were the poster boys for blast-packing Bucky plays. And now they're one of Korea's best squads, representing the region on LAN.
Overwatch fans will recognize zunba and Bunny as some of Korea's original pros. They're the heart and soul of this team, and make sure F4Q has plenty of fans. This is a team that likes to play flashy, we'll certainly see some entertaining games out of them.
Havan Liberty - Brazil
Rodrigo "myssen" Myssen - Gabriel "shion" Vilela - Marcelo "pleets" Leite - Felipe "liazzi" Galiazzi - Gustavo "krain" Melara
Compared to pre-tournament expectations, Brazil had a very disappointing Masters Reykjavik. First seed Vikings fell out 5th-6th, while second seed Sharks tied for last. And for a while in Stage 3, it looked like we might get those same teams representing the region again. But most big teams were upset in the first round of Brazil's playoffs, and a surging Havan Liberty took full advantage.
This is a team focused on the whole. There's no superstar duelist leading the way. Rather, they win through strategies and coordination, very unlike the typical Brazilian playstyle. But it's worked wonders - they didn't drop a map in their run through the playoffs bracket to qualification. They'll likely be Brazil's first seed, and will try to redeem their region at Masters Berlin.
Vivo Keyd - Brazil
Olavo "heat" Marcelo - Jonathan "JhoW" Glória - Lucas "ntk" Martins - Murillo "murizzz" Tuchtenhagen - Gabriel "v1xen" Martins
At the start of Stage 3, Vivo Keyd signed a brand new roster. The team consisted of a group of players that had been removed from some of Brazil's best rosters. A few months later and that team of rejects has conquered the region and will represent Brazil in Berlin.
Unlike Havan Liberty, Vivo Keyd have one big standout - heat. The Jett is the star of this team, and is in particular nasty with the Operator. VK will certainly be a squad to watch out for as Brazil tries to redeem itself in Berlin.
Paper Rex - Southeast Asia
Aaron "mindfreak" Leonhart - Jason "f0rsakeN" Susanto - Benedict "Benkai" Tan - Khalish "d4v41" Rusyaidee - Zhan "shiba" Teng Toh
Paper Rex come in as SEA's first seed after a solid qualification run. Western and casual fans probably know this team for f0rsakeN, brother of Kevin "xccurate" Susanto, one of the better CS:GO talents Asia has seen. f0rsakeN himself, though, is a fantastic player and statistically one of the best in the region. With Patiphan "Patiphan" Chaiwong out for Stage 3 and X10 Esports hardly a factor, the way was clear and Paper Rex took full advantage.
Bren Esports - Southeast Asia
Jayvee "DubsteP" Paguirigan - Jim "BORKUM" Timbreza - Kevin "dispenser" Te - Jessie "JessieVash" Cuyco - Riley "Witz" Go
The 16th and final team to book their spot at Berlin was Philippine team Bren Esports. Led by one of the best duelists in Southeast Asia, DubsteP, this team has a lot of firepower and will be looking to build on what X10 Esports started in Reykjavik for the region. Bren have been clearly one of the region's top teams since Stage 3 began, and could surprise a lot of people in Berlin.
ZETA DIVISION - Japan
Koji "Laz" Ushida - Tomoaki "crow" Maruoka - Takemori "takej" Shogi - Oshiro "Reita" Ryu - Akatsuki "makiba" Miyamoto - Ryo "barce" Takebayashi
Much like Vision Strikers, Absolute JUPITER dominated the Japanese scene in 2020. They handily won every major event. Also like Vision Strikers, they fell off in 2021, ultimately failing to qualify for Masters Reykjavik. Now rebranded to ZETA DIVISION, the roster has found their stride once again and come into Masters Berlin as Japan's first seed.
Duelists takej and Reita define this team. When these guys hit their shots, ZETA win, when they don't, they lose. takej in particular boasts some of the best stats in Asia and will be a force to be reckoned with on the international stage.
Crazy Raccoon - Japan
Yusuke "neth" Matsuda - Hideki "Fisker" Sasaki - Daiki "Minty" Kato - Teppei "ade" Kuno - Hiroto "rion" Tateno - Byeong "Munchkin" Sang-beom - Park "Bazzi" Jun-ki - An "Medusa" Min-cheol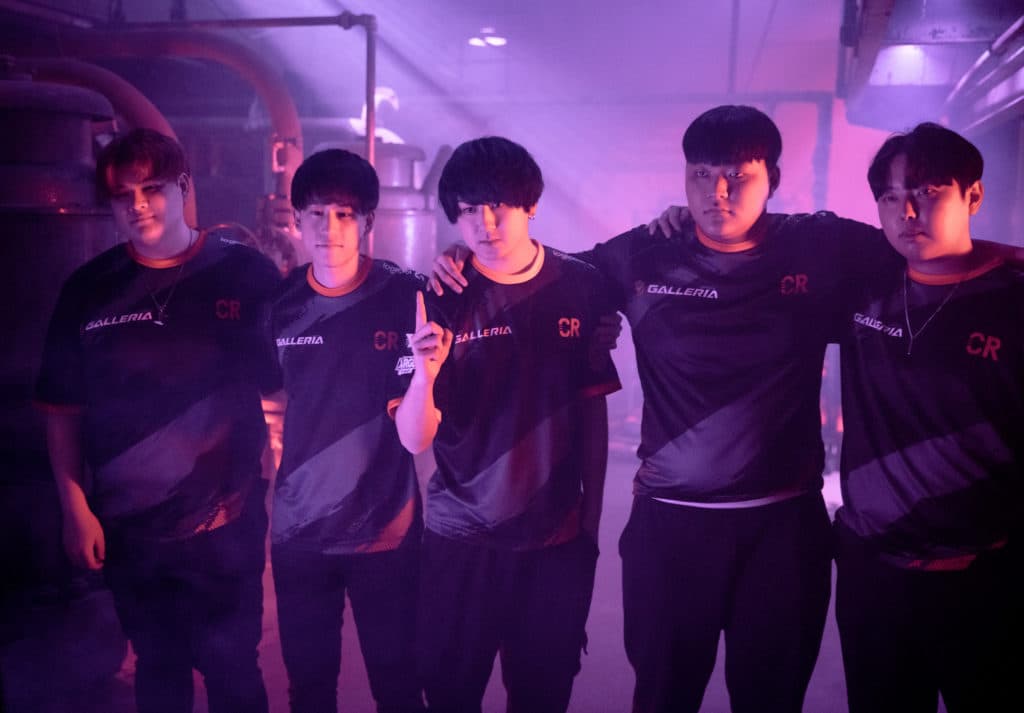 Image credit: Colin Young-Wolff/Riot Games.
No, that's not a typo. Crazy Raccoon are sporting an 8-man roster as they head into Masters Berlin. After a disappointing performance in Iceland, they made some big roster moves. neth, Fisker, and Munchkin play every map for this team, while the other five rotate depending on which map is being played. Fisker in particular has been one of Japan's best players for a long time, and will be making his LAN debut in Berlin.
KRÜ Esports - Latin America
Angelo "keznit" Mori - Juan Pablo "NagZ" Lopez - Roberto "Mazino" Rivas - Joaquin "delz1k" Espinoza - Nicolas "Klaus" Ferrari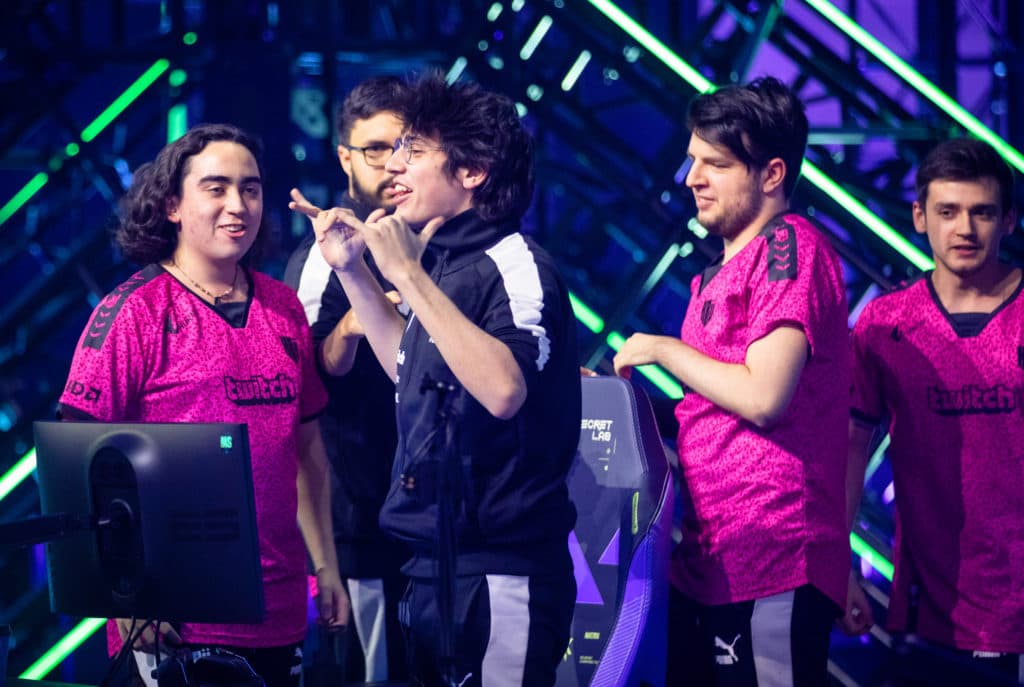 Image credit: Colin Young-Wolff/Riot Games.
After their 7th-8th finish at Masters Reykjavik, KRÜ Esports made one massive change. keznit, one of the best players in Latin America, joined the roster to create what could be called a LATAM superteam. Predictably, they breezed through Stage 3, only finding real opposition from one team, Australs, in the final two matches of their qualification run. KRÜ are a better team than they were in Iceland, but many regions have improved - it'll be another good test for LATAM on the international stage.
---
All 16 teams have now been determined for the big LAN. Masters Berlin begins on September 10th.