VALORANT has officially been out for over a year and the game has already developed into a promising esports scene. We take at the state of VALORANT one year on.
It has been a full year since Riot Games officially entered the tactical shooter genre, and we felt it was the perfect time to talk about the state of VALORANT. For many, VALORANT was the breath of fresh air in the genre that they were looking for.
Riot Games has proved time and time again that their esports ecosystem for League of Legends has been nothing short of success. This track record set the expectation bar incredibly high right from the beginning. That of course does not mean that everything in the VALORANT space has been perfect, it has had issues with some of its talent and some of its main teams.
The COVID-19 Pandemic also caused a lot of issues in its initial launch and made the start of an esports ecosystem rocky. With even all these major hurdles we can take a look back at the state of VALORANT and see how the game has evolved and how perception might even be different from what it originally was. So what is the state of VALORANT one year on?
The birth of VALORANT and Riot Games' early predictions
VALORANT began its life-cycle with a codename and a tease during Riot Games' 10th-anniversary live stream, where they showcased their upcoming new titles and finally showing that they are a company to have more than one game. Fast Forward to April 2020, this was the month people had been waiting for, we found out that Riot's new free-to-play game would be called VALORANT, releasing a closed beta to EU and NA players gaining access by watching some select streamers on Twitch.
Riot made it clear that they wanted to be part of a "robust competitive ecosystem" for VALORANT, the first step was the introduction of the IGNITION series, this was going to be a set of twenty or more events. All the events would have Riot be more of a moderator rather than announcing their own pro circuit or league. One of the initial missions was to have an organically growing ecosystem. Even though some teams and other organizations had hosted their tournaments before the IGNITION series, they seemed to be lacking the desired viewership and prize pools. This initial sub-optimal reaction from the public did raise doubts over VALORANT's potential longevity but it was still early days.
State of VALORANT when it comes to balancing agents
With the start of the IGNITION series, we started to see some of the challenges that would be faced. Some of the initial points would be how Riot Games planned on balancing the game and its agents. Since release we have seen five new Agents, all trying to bring something new to the game. Riot had a lot of initial issues on balancing Raze due to her mainly damage-focused abilities. Fans felt that this was not what the developers had promised and felt that an agent that focused purely on the use of Grenades and an AoE Ultimate was poor on the developer.
This is not the first case of troubling agents, however, Sage has been a mainstay in the competitive scene. Since release we have seen nerfs to her healing ability and her use of the wall and slows. On the other hand, we have Viper, one of the original agents that has been unable to really find a significant footing in the competitive scene. There is a lot of room for Riot to find a healthy spot for their agents, and with the constant addition of new agents this will prove to be difficult. However, they did discuss the possibility of a pick/ban phase in the future.
Riot works similarly in all of their current titles, they release balance changes once every two weeks, these patches are to keep anything in check or buff any needed Agent. We have also since seen some changes to maps that make it harder for the attackers to position or take objectives safely.
While Riot's approach can be new to some players, this is the approach that Riot Games has taken for its esports behemoth League of Legends. Even though players still believe some of the changes are on the slower side, Riot seems to do its best to listen and use data to try to fix any possible issues that show up. Riot was rather quick when working on any map exploits people would do with Omen and Sage when the game was first released. This balancing strategy can be hard for some as the game might evolve at a pace quicker than what you can establish certain strategies, but for fans of other Riot Games' titles, it is something to be accustomed to.
State of VALORANT on Twitch from January to April 2021. It has risen from 70K average viewers in January to 110K in April
Igniting the competition - a tempting new battlefield for pro gamers
At the start of any esports, you need a dedicated player base that has the goal of becoming a professional gamer. VALORANT had the luxury of being a new title for some well-known players of other existing titles, during its early stages we saw CS: GO and Overwatch being two of the main games that had a large portion of their players "retire" and move to VALORANT.
Some of the more popular names include Spencer "Hiko" Martin, Tyson "TenZ" Ngo, and Jacob "pyth" Mourujärvi to name a few. This caused many fans and new players to see the game as an alternative to CS: GO. Even though all Agents came with unique abilities, the game was also not quite Overwatch. This caused complaints from people that thought VALORANT was just copying CS: GO but adding unnecessary abilities to the game.
Even though that is the way things originally started, it is pretty clear that VALORANT has found its unique style. The majority of Agent abilities provide a tactical rather than destructive edge, which fans have grown to appreciate.
It does bring people from all areas of the Tactical Shooter genre due to its similarities to other games while trying to bring its unique flavor. With already five new agents we can expect Riot to continue to bring different characters with unique play styles that can give teams an edge if used properly. Riot agent developer "Morello" has confirmed that they are aiming to release six agents every year.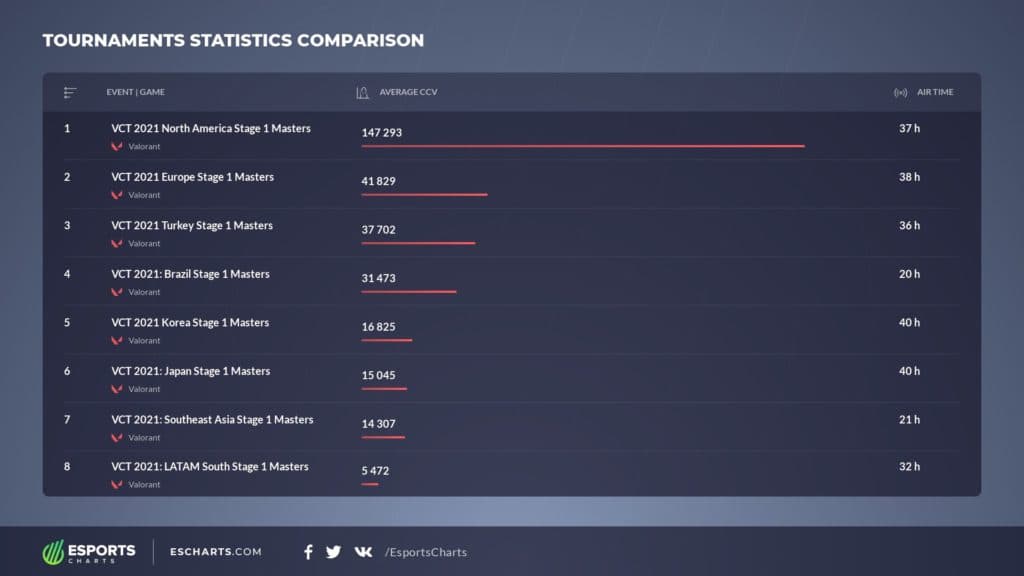 VCT Masters Stage 1 - NA remains the most prominent region for VALORANT attracting the largest viewership (Data from
EScharts
)
State of VALORANT: Groundwork now in place for future success
Riot may have originally been hands-off with many of their events but with the first full year behind us, they are setting a wide array of tournaments that will lead to the VALORANT Champions tournament set to begin in December 2021. The current system has three stages, each stage has two weeks of open qualifiers that lead to the VALORANT Masters events, one in each stage. Each Masters series will reward teams with Circuit points, used to qualify for the VALORANT Champions event. The most recent Masters events have had a successful viewership of 505k combined from EU and NA events, each also bolstering a whopping $150k USD prize pool.
NA remains the strongest region for the game one year on, both in terms of number of top flight teams and popularity. As a result, Riot Games experimented with co-streaming for the VCT Masters NA broadcast in March to fan the flames of popularity even further. For the event Riot granted high profile streamers Myth, Shroud, Ninja and Pokimane exclusive rights to co-stream the event on their own private channels. Although the decision did attraction criticism - mainly as it meant several pro players were unable to co-stream - it demonstrated Riot is willing to experiment.
The VCT Masters were a huge success, and Riot Games has found a solid format to ensure high quantity and quality games for all major organizations trying to compete in VALORANT. However, the game's future is likely to be heavily judged on its first international LAN, which is near at hand. Riot Games has its first LAN event coming up in May with the Iceland Masters tournament. This will be the first international LAN tournament that VALORANT has ever had, and will be a glimpse of what Riot has planned for any future LAN events for the VALORANT scene.
We have been seeing success across each region and many new organizations with players that had the little previous experience have been making a splash, making this an exciting time for the growth of the scene. Despite being launched during the pandemic, The state of VALORANT is looking good one year on. 2021 will be a decisive for its long-term future.