Riot announce RiotXArcane event centred around show launch
To go along with the launch of Arcane on Netflix, Riot Games are running a large event across all their games. Find out what free content you can get and what you can expect from the show's launch!
Riot Games have
announced
RiotXArcane, a huge event to go along with the launch of their new show Arcane.
There's a ton going on here - let's break down exactly what you can expect on launch weekend and the following weeks.
Arcane premieres November 6th at 7pm PT/10pm ET
Image via Riot Games.
Everything is centered around Arcane. This Netflix show is set in Piltover and Zaun, in Runeterra, and will explore the stories of League of Legends characters Vi, Jinx, and Caitlyn, among others.
The show premieres this Saturday, November 6th, at 7 pm Pacific/10 pm Eastern. As the show launches, Riot will be hosting a watch party on their own official Twitch channel, and are allowing many creators to do the same.
Those who tune in to the launch of Arcane on a Twitch watch party or
Arcane.com
will receive a pack of rewards across Riot's properties. These include:
League of Legends - Arcane capsule.
League of Legends: Wild Rift - "A Single Tear" Emote.
Teamfight Tactics: Gizmos and Gadgets Little Legends Egg.
Legends of Runeterra: "Fascinating" Emote.
VALORANT: "Fishbones" Gun Buddy.
Arcane will launch in three stages. Act 1, the first three episodes, launches on November 6th at the times set out above. Act 2 releases November 13th, and Act 3 on November 20th.
In-game events
Every
Riot property will be getting an in-game event
during the weeks that the show releases. Things will be released in three themed sections: the first is simply titled "Arcane Premiere Super Weekend", while the week following the show's launch is "Progress Days", themed around Piltover, and the week leading up to the finale will be "Undercity Nights", themed around Zaun. Arcane's release has also been timed with the regular introduction of a ton of new game content, such as a new VALORANT agent and a new Teamfight Tactics set.
League of Legends
LoL has a ton going on. Free Arcane skins will be given out for some of the show's main characters - Jayce, Vi, Caitlyn, and Jinx. Caitlyn is receiving an art and effects update, and the Summoners' Rift map will be customized with accents for the show. Lastly, new details and trials will be launched around Preseason 2022.
League of Legends: Wild Rift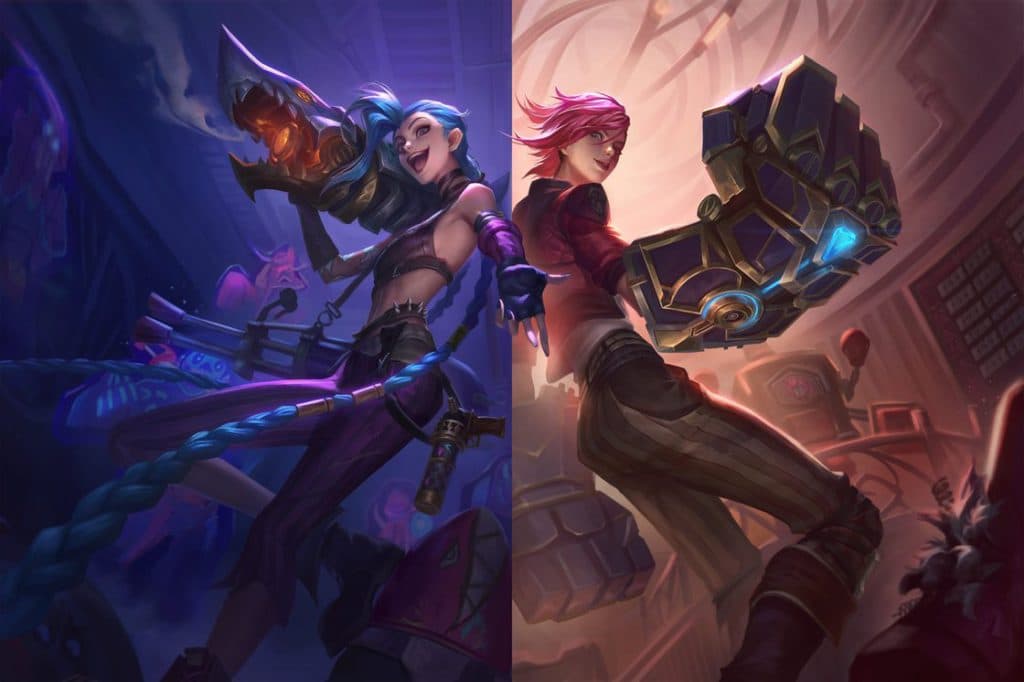 Image via Riot Games.
Wild Rift will be launching a full event around the show, titled Arcane Experience. Free skins will be given out for Jinx and Vi, and those two champions will also face off in themed Guild vs. Guild weeks. Most importantly, though, Jayce and Caitlyn will be released as full champions in the game.
Legends of Runeterra
Legends of Runeterra is getting an entirely new permanent game mode added: The Path of Champions. It will be a PvE mode for Riot's card game. In addition to that, Jayce will be added as a champion, and multiple themed cards from Piltover and Zaun will be added. There will also be a "Mega Event Pass", presumably to earn even more rewards.
Teamfight Tactics
Teamfight Tactics is having its new set launch. Gizmos and Gadgets is an exciting one, and there's also an entire new game mode, Double Up, being added. There's also new Arcane Little Legends being released, and "Chibi Champions" - LoL champions in Little Legends-sized form.
Lastly, we come to VALORANT. While the game doesn't take place in the LoL universe, it's still a Riot property, and taking part in the Arcane event. The new agent
Chamber
will be released, alongside a ton of loot. There will be a free pass to complete, free collectible items, and the new Arcane Collector's Set.
Worlds finals opening ceremony to be Arcane-themed
Finally, Arcane will be a major theme of the Worlds 2021 finals opening ceremony. Taking place the day the show launches, the pinnacle of Riot esports will be joining the celebration. The opening ceremony will feature artists such as PVRIS, Denzel Curry, and
Imagine Dragons.
DWG KIA
and
EDward Gaming
are set to clash in the big match.
---
Shawn "Germanicus" Heerema
A writer from Niagara, Canada, Shawn covers VALORANT, League of Legends, and PUBG. He previously wrote for THESPIKE.GG and is a journalism student at Ryerson University. He has also been accredited press for Worlds 2021 and VALORANT Champions.