Worlds 2021 viewership broke a Twitch record after its incredible semi-final between T1 and DWG KIA drew in over 2 million viewers on Twitch.
With still the Grand Finals to go, League of Legends' Worlds 2021 event has already smashed the previous record for peak viewership on Twitch. A remarkable 2.23 million people watched the official T1 versus DWG semi-final on Twitch alone. The Worlds 2021 viewership is now also #1 for hours watched according to fresh statistics from Esports Charts.
---
3-2 thriller attracts insane viewership, 62.9% from Twitch
The semi-final between T1 and DWG KIA was a clash of titans, and a clash that drew in viewers by the millions. At its peak, the match had 3.54 million peak viewers. 2.23 million viewers came from Twitch (62.9%), with the rest a combination of viewers from YouTube, AfreecaTV, NimoTV, Facebook, Mildon and VKontakte. The numbers do not include Chinese viewership figures on Chinese platforms.
The 2.23 million peak viewers on Twitch from the semi-final is now the new record, overtaking the 1.73 million peak viewership during the Worlds 2019 Championship. Dota 2's The International 10 is now in 3rd with 1.7 million.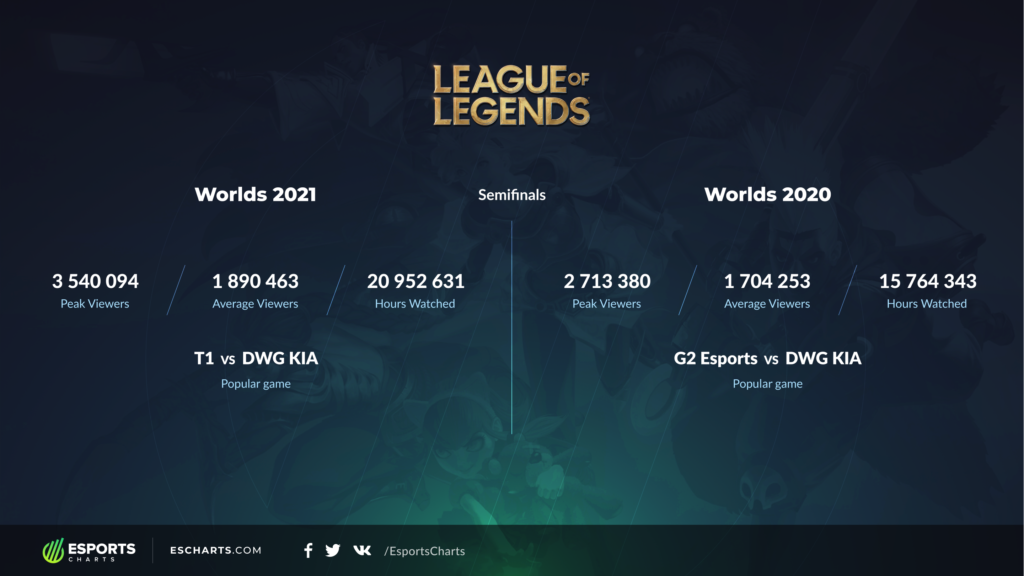 ---
Quick stats for Worlds 2021 Viewership:
T1 vs DWG KIA had a peak viewership of 3.54 million, #5th of all time
T1 vs DWG KIA had a peak viewership of 2.23 million on Twitch alone, a new record
Worlds 2021 is the most watched esports tournament of all time by Hours Watched (158 million so far)
---
The 5th highest peak for viewership of all time
The 3.54 peak viewership (across multiple platforms) is not the highest of all the time, but it is pretty close. Worlds 2021 is now #5th in terms of Peak Viewers, with Worlds 2019 and Worlds 2020 in #2nd and #3rd according to Esports Charts.
The Worlds 2021 viewership figures could increase though, as we have yet to have the Grand Finals. Two years ago, the Worlds 2019 peak of 3.9 million, the 2nd highest of all time, came during the Grand Finals.
The Grand Finals of Worlds 2021 will see EDG take on DWG KIA on November 6th.
You can check out more statistics related the Worlds 2021 viewership over on Esports Charts.