IMT Insanity is ready to show viewers that Immortals are a contender for the LCS title.
As the 2021 LCS Summer Split Regular Season comes to an end, we can understand where teams place on the standings. Yet, even with just three games left in the season, there are still existing opportunities for teams to jump up in the standings. One of theses teams are the Immortals, who are currently in a tight race with Dignitas for that 6th seed. In this interview, we speak to IMT Insanity to talk about their strong Week 8 performance, their playoff race against Dignitas and how he feels mentally at ease as an LCS player now.
---
The entire Immortals LCS lineup in 2021 LCS Summer Split.
I wanted to say congratulations on this entire week, specifically with Evil Geniuses. Given how close the standings are, what does this win mean for you guys?
IMT Insanity: Some people actually believe that they are the best team in the LCS based off of how they are playing. It feels really great to win of course, but to me, it is a bit expected. Every time we match up against Evil Geniuses, we always take control of the game. I do not think they are particularly strong going against us. This may sound a little weird, but I feel we actually play well against their style and team. I think we have a lot of individual players who are good against them as well.
---
I remember in the first split, you had a winning record against them early on.
IMT Insanity: We played really well in some portions, but I think we could have played a lot better if we were not so stressed out this game. At least for me, we ended up needing to random a champion. We got really lucky that we were able to land Kayn, but if we got a random champion like Rammus, it would have been really bad. One of our players DC'd. Everything got really hectic so when it came time to lock in a champion, I was not hovering anything.
---
That has to be really tough especially against Dignitas, who you are in this close race against.
IMT Insanity: I don't feel sixth seed matters very much to us honestly. Personally, I do not really care who we face nor the options we have. What matters for us is making sure we have good practice. I am set on seeing continuous progress and I think we can beat anyone as long as we fix our problems.
Dignitas and Immortals are currently in a tight race for the sixth seed in the 2021 LCS Summer Split. Image via espat.ai
This week, you locked in playoffs. Entering your first playoffs, what is that like?
IMT Insanity: It is a bit surreal, but it is expected in my eyes. It was bound to happen eventually, but I am glad it is happening as soon as it did. I do not feel we had a very great showing last year and it really scared me. This roster, I feel we have so much potential as a group.
---
What has this split been like for you guys? You have a strong start to the split before entering a slump halfway into the split. Talk to me about overcoming that obstacle.
IMT Insanity: It was definitely rough. We had that amazing start to Summer and then we suddenly start losing the majority of our scrims. It is stressful for everyone, but we are able to recognize that this is not going to doom our team. We always know that we are able to bounce back from these tougher periods as a team. As long as we can identify our problems and fix them, that is what matters to me. As long as we keep that mindset and take a step back during these situations, we will be good.
---
Do you feel it helps being so close to your teammates to where you can go through these periods with less friction?
IMT Insanity: It definitely helps. We are able to be more open with each other and attack problems faster than letting them all build up.
---
---
Is there a different type of stress being in this playoffs race. How does this sophomore campaign feel different for you?
IMT Insanity: I just feel I have a lot more consistency in my gameplay now. I think it is slowly coming to the point where I can show what type of player I am on stage now. A lot of the time, I would make so many micro errors that created big errors in game. I am beginning to play more like myself on stage. Now, I treat my nerves as if it were a soloqueue game and am more comfortable now. I am doing a lot to fix my mindset towards being in the LCS like having a routine that I give myself before I play LCS games which really helps me mentally prepare for games. Gameday always feels the same for me now and I am doing a good job combatting the nerves now.
Xerxe hugging Insanity after a win in 2021. Image via espat.ai
---
What is this pre-game routine that helps you develop consistency in your life?
IMT Insanity: It is not always pre-game, it is really about the everyday now. It all starts by waking up 5 to 7 hours before my game. While I shower, I listen to music and then afterwards I meditate. I listen to music and study the players I will be laning against. After we do our draft prep, I listen to even more music to take my mind off of everything. I let this all ride while we wait for games at the LCS studio. Once we enter the game, I feel extremely at ease. The second we lock in our champs and get into games, I am completely in the zone. It is a nice routine that helps me stay centered on LCS day.
---
You are using music to help calm your breathe which helps center your nerves on LCS day.
IMT Insanity: Exactly, I just look to take in as much information as possible throughout the day. For me, I notice that if I am on social media a lot throughout the day, my focus is not there. I try to avoid any social media and do things that are very simple on my mind. It is important to clear all of the clutter and let my mind center so I can focus on the present.
---
When you entered the LCS, what is it like going through a period where you would get more notifications. How were you able to balance that all back then?
IMT Insanity: I got used to having all of those notifications even before I was an LCS player. Back then, I made a lot of stupid tweets on twitter before I was a pro player. I would check my phone every few seconds to see so many notifications and it would be so fun for me. However, at a certain point, I just realize that this does not matter to me. If anything, it just makes my mind run more wild. I am learning that this is all superficial. What is most important now is making sure I am being a good teammate, focusing on my play and keeping my head on the right path.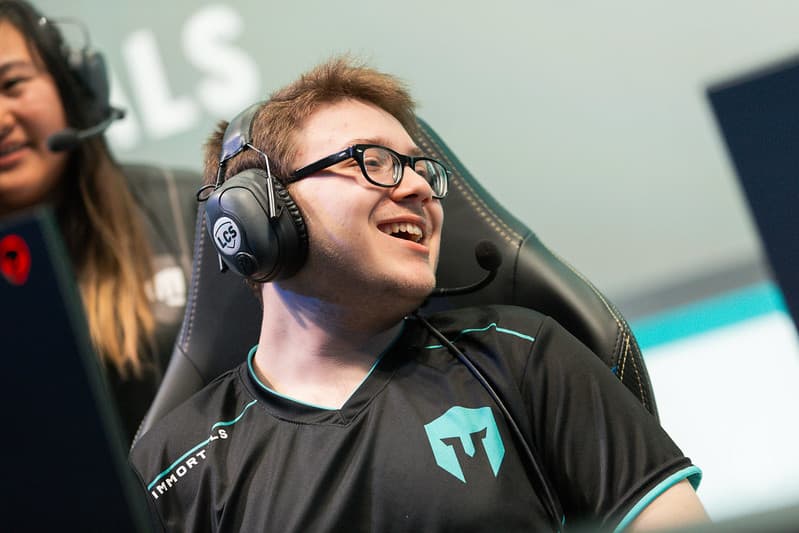 Insanity is the only player from Immortals 2020 lineup. Image via espat.ai
It seems like you think more about your end goal and base your everyday decisions around becoming the best version of yourself.
IMT Insanity: Yeah, I am slowly realizing that the little things in my life attribute to how I tackle the big tasks in life. The more I build better habits, the better part of my play comes more natural to me now.
---
Moving forward in the LCS, what is the mindset heading into this final week?
IMT Insanity: Our focus is using every game as a learning experience. I want to improve as much as we can for playoffs. We currently do not look like the best contender to win playoffs, but from the inside, I know our potential is really high. If we fix our issues, we can beat any of the top teams. I also want to thank the fans. We want to thank you for your patience and hopefully we can take wins cleaner when we are ahead.
---