Beyond Gaming head coach Benny is learning to manage different personalities in his first year no longer as a player.
Heading into the 2021 LoL World Championship Play-In stage, expectations were high for PCS's second seed Beyond Gaming. After qualifying for the World Championship losing a very close series to PSG Talon, many felt this would be the strongest set of teams from the PCS in quite some time. Unfortunately, as a young team, nerves began to follow the team throughout the play-in stages. So much that, instead of fighting for 1st, they were fighting for fourth. Now, they face Galatasaray Esports looking to make a miracle run to the 2021 LoL World Championship Group Stage. And while the path may be more difficult than originally planned, confidence is beginning to increase for coach BYG Benny.
In this interview we speak to Beyond Gaming coach Benny to talk about being a coach at 23 years old, leading a group of young players and the challenges he faced during the first stage of Play-Ins.
Congratulations on being able to get your first one against Unicorns of Love in a do or die situation. How important was it to just be able to get this win today?
BYG Benny: This was an incredibly important game because we lost our first two matches. Then to finish the group stages 1-3 and fight to not be last, a lot of pressure was on us. This is the first time this team has been to Worlds and the nerves are really showing. That being said, we have always been a slow team to rev up so I think having these play-in games will carry over well into our future matches. We will be going into these matches with less fear now.
---
What do you feel like was the biggest challenge going through play-ins? You talk about nerves, but were there other things that you were noticing in those first four games?
BYG Benny: I really think a lot of it was about player form. Many of our players are not used to playing on the big stage so they end up compensating with aggression. Their gameplay was way faster than I was expecting and I feel as if they just need to slow down a bit. When the team was trying to win a game outright, a lot of mistakes were being made. There is definitely discomfort especially with the best-of-one format.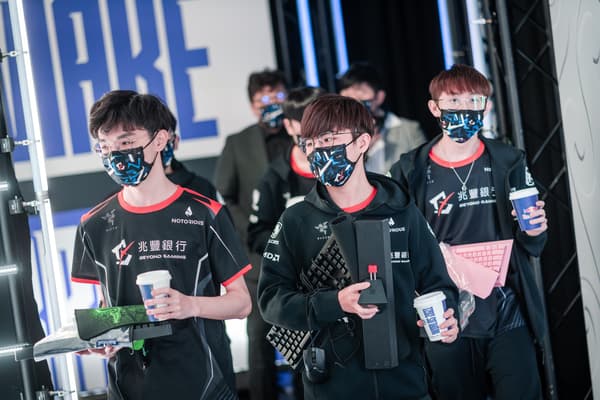 REYKJAVIK, ICELAND - OCTOBER 6: Team Beyond Gaming prepares to walk on stage to compete during the League of Legends World Championship Play-Ins Stage on October 6, 2021 in Reykjavik, Iceland. (Photo by Michal Konkol/Riot Games)
You were at Worlds 2018 as a jungler for MAD before. From your perspective, what is your opinion on being drawn into play-ins versus direct seeding into groups?
BYG Benny: Even though we are not in the greatest position right now, I am really grateful to be in play-ins. This is definitely the mindset I had back on MAD. I went into groups just feeling a lot worse than my opponents. By the time I was ready, I just felt out of it.
To be honest, if we were thrust into group stages right away, it would be embarrassing. Our performance would be a lot worse so this is honestly a nice painful lesson for us. It is better to get this wake up call in play-ins so it can propel us to become better. The road to groups is tougher now though.
Let's talk about our transition to coach. This is your first year where you're not a player so what has that adjustment been like going from the jungle to where you are now?
BYG Benny: Because I started off my career as a player, I think it's easier for me to tell other players how to improve on the spot. I can give them more direct instructions. As for my transition, as a player, you only need to focus on yourself. As a coach you need a more holistic approach. Since all of our players are so young and I am young myself, that is a very big challenge for me.
How were you able to make that transition as a 23 year old? There are a lot of people at the World Championship that are older than you and this is their first Worlds. What are the challenges of being younger that you experience?
BYG Benny: It really was about learning to manage the process. I think I have pretty good game knowledge which is a great base to have as a coach. But I needed to learn how to communicate with my players. When you are a player yourself, all you have to do is communicate to your coach your own needs. However, if you are a coach, you have to communicate to everyone's needs. So as for the transition, I am beginning to make it through constant attention to my players. I am learning to listen to more people to get better at this.
I started talking to my own coaches early on and my own coaches that I worked with in the past so that I could get a better understanding of this coaching role. Slowly, I observed how other coaches started to communicate. It's a very long process and it's about getting accustomed to your players in that environment.
---
What is your goal for the World Championships this year? And also Do you have any final words on top of that?
BYG Benny: I want to make it into groups and make sure that we're not a winless team. As for what I want to say to everyone, we are a very slow team to ramp up. Do not count us out just yet, we will make a bounce back.