Unicorns of Love botlaner Argonavt sat down with Esports.gg following Day 1 of Worlds 2021 to discuss his past, the team's performance so far, and the pressure on them.
While usually one of the strongest wildcard regions, the CIS has been struggling as of late. Unicorns of Love failed to progress out of a group they were favoured in at MSI 2021. Their struggles continued on the first day of Worlds, as they went 0-2 with losses to fellow wildcard teams DetonatioN FocusMe and Galatasaray Esports.
One thing changed in UOL's roster between MSI and Worlds, and that was new bot laner Andrey "Argonavt" Yakovlev. He sat down with Esports.gg after the day's games to discuss the matches, his mindset, and the pressure around the team.
Answers have been edited for clarity and grammar.
UOL's disappointing Day 1
The stage ahead of UOL's first game of Worlds 2021. Photo via Riot Games/Getty Images.
Shawn "Germanicus" Heerema, Esports.gg: Can I get your overall thoughts on UOL's matches today?
Andrey "Argonavt" Yakovlev, Unicorns of Love: I can speak for myself for sure. I think that pressure took hold of me. I didn't play my games. I didn't think about lanes. I didn't think about the game at all. It was all about handling the pressure and I didn't do it well. But I think our guys were on the level of the other teams' players. So I would blame myself. So it's hard to tell on which level our team is, because I can't understand. We didn't play to our strengths. That's all I have to tell about today's matches.
Germanicus: Both DetonatioN FocusMe and Galatasaray picked Talon against your team today. Was that something you were prepared for?
Argonavt: Yeah. We thought that if we picked Lee Sin, Trundle, or Xin Zhao, it would be stronger than any assassin. So, we will rewatch the games and see if we were wrong or just played bad. So we can either adapt or try to play better, I guess.
Germanicus: You guys have two games left, and you basically HAVE to beat at least one of Beyond Gaming or Cloud9 if you want to advance. What are your thoughts going in to that, and how doable do you think it is?
Argonavt: I think it sounds like a miracle run, because we need to beat either Beyond Gaming or Cloud9 to play the best-of-5 for third place versus fourth place, then play into Hanwha Life or LNG. So it will be really hard. If we will continue playing like we play now, I think it's almost impossible. But it's not a 0% chance. So probably we can try to do it.
Germanicus: What are some specific things that went wrong today that you'll try to improve on?
Argonavt: For me for sure, it was the pressure of the first stage. So if I can handle the mental state, I think I'll be fine playing into Zven and Doggo.
Argonavt's beginnings and stepping into UOL
Germanicus: I don't think many Western fans know much about you. How did you get into League and into playing professionally?
Argonavt: My cousin showed me the game, and I was kinda hooked in. But it wasn't like, only one game, I played a lot of games. I just liked video gaming, and switched the games a lot. But about three years ago I decided that I really wanted to go professional. And I tried to start training, started looking for teams. In our league, in LCL, we had an open cup. It's like a lower division league where every player can participate for the qualification and then play against professional teams. My team qualified, and made some plays, I guess, and was noticed by professional teams. I was invited about last summer, last summer 2020. So that's how I started playing professionally.
Germanicus: What was it like taking over from Lodik and stepping into the pressure that surrounded UOL after their underperformance at MSI?
Argonavt: For me, there was no pressure about MSI performance. I had the pressure of me, being a no name, joining the Unicorns of Love, who are the six-time champions, right? So to fit in the team, to not be the weak link, it probably happened. But now I'm like a bit afraid, because I'm that kind of person who blames himself for every mistake, and it can take over me really easily. So it's all about me, not about the guys or fans or whatever.
Germanicus: What are some differences you've noticed between your old CIS teams and UOL, who regardless of their international performances are still the best in the region?
Argonavt: For sure much better players, and much more professional players. For example SaNTaS, I think that I play and perform probably worse than [previous UOL botlaners] Gadget and Lodik, but he tries to communicate to me easily, tries to teach me, and the same for the other guys. They understand that I'm not experienced, not that good, but they try to help me be better. I like that a lot.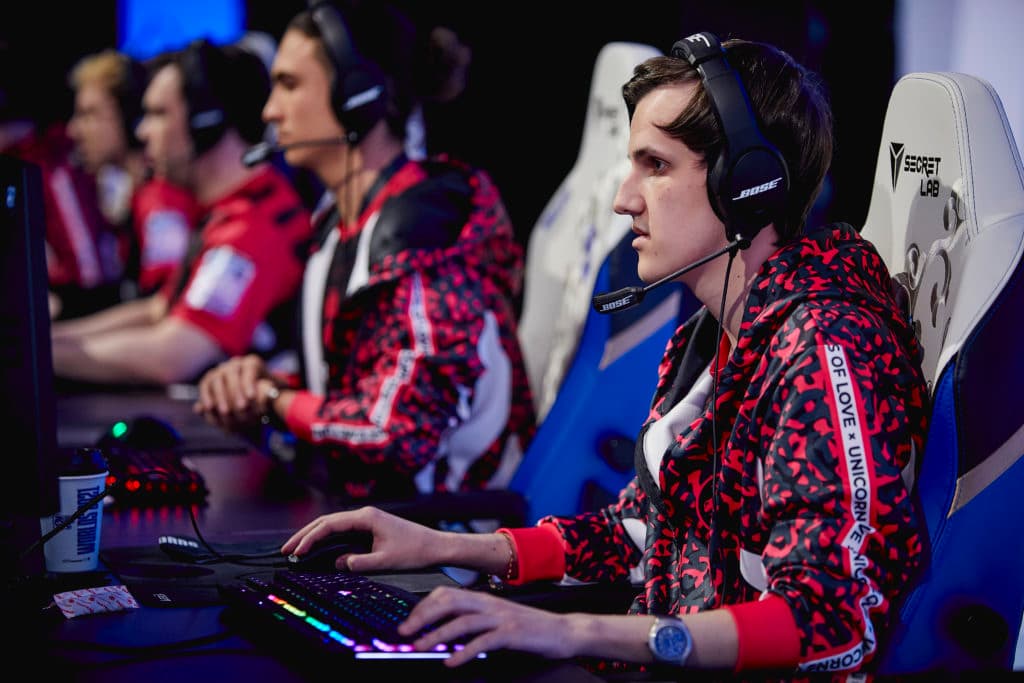 SaNTaS onstage on the first day of Worlds 2021. Argonavt is beside him. Photo via Riot Games/Getty Images.
Germanicus: What does it mean to have made it to Worlds?
Argonavt: Exciting. I can play more League, that's for sure.
Germanicus: What has the experience been like so far?
Argonavt: Not really fun, to be honest. Losing two games out of two, 0% winrate, sounds kinda meh. But it's much less enjoyable because I am, like, fighting myself. I'm not fighting the opponent. The losses are not bothering me that much because I can't win the first fight. I can't win the fights against myself to play the game - to start playing the game. So I think that I will enjoy the games much more if I can play them. Either win or lose, I just want to enjoy the game.
General and closing thoughts
Germanicus: What are your thoughts on the bot lane meta, both going into Worlds as a whole and from what we've seen today?
Argonavt: I think that Miss Fortune, for me, has surprisingly high participation and high winrate. I thought that Lucian would be the strongest ADC, and probably Draven, because they were like the top two. Probably the meta is quite simple, with some additions, like MF. Lee Sin is not the strongest right now, probably assassins with Goredrinker like Talon and Qiyana will take over. And yeah, the MF addition. She's like, more than Lucian. And Amumu, which is like 50/50. Some teams prioritize it, some teams drop it. Play-ins won't be the same as the group stages, and so on. The meta will change for sure.
Germanicus: Is there any pick you think is really strong that we didn't see today?
Argonavt: I think Draven, Draven for sure. I think that, guys who can play Draven, they will.
Germanicus: Is there any player that you've scrimmed since coming to Iceland that you've particularly enjoyed playing against, or that you felt like you learned from?
Argonavt: I guess not. I mean, it's hard to say, because when I was playing scrims, it was like a more formative atmosphere, so I felt good, and I was just enjoying the game, not playing against some particular player. Probably Cloud9 or Team Liquid, because they were good and I feel that this player who I'm playing against is much better than me and I can learn a lot. Probably Zven and Tactical.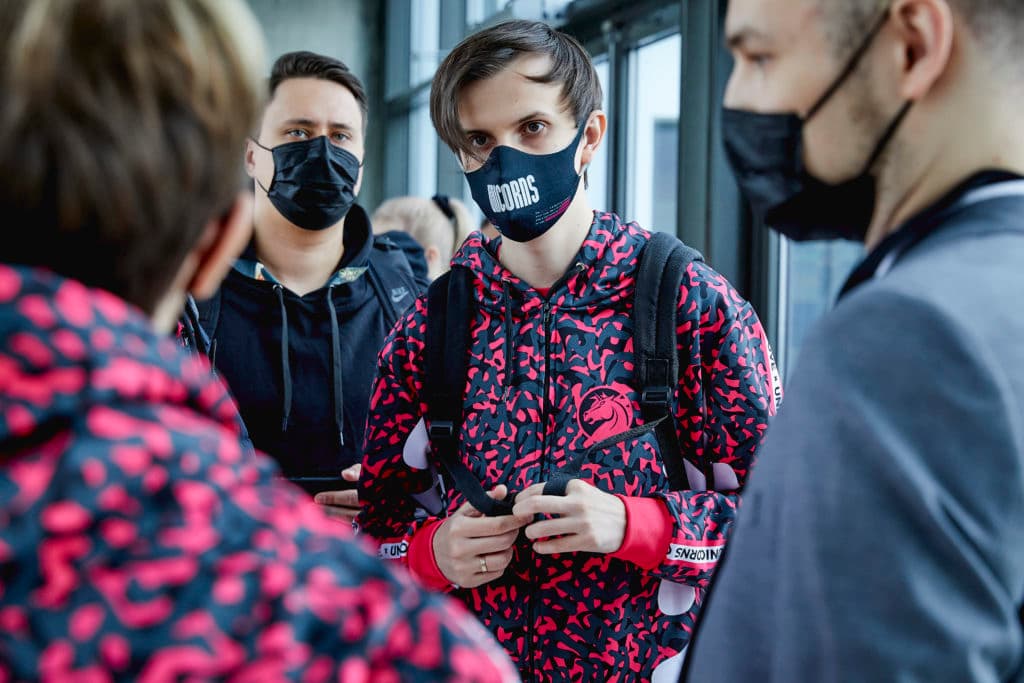 UOL's SaNTaS looks on ahead of Day 1 of Worlds 2021. Photo via Riot Games/Getty Images.
Germanicus: Do you think it's better for a play-in team to scrim other play-in teams, or teams close to that level, or to scrim top opponents? Who do you think you can learn more from or better prepares you for the tournament?
Argonavt: I think that you would want to scrim against good teams while they scrim you, because if you will learn something, and they won't, they just won't scrim you right? It's like, we won't scrim with Damwon, because for them, the experience of playing good against us is nothing much. But I would like for sure to play against Damwon, even if it went like, 0-10, something like that, because I can learn a lot about the game. How their ADC positions, how is their team play. So for sure to play against stronger teams.
Germanicus: Finally, LoL's popularity in the CIS pales in comparison to tactical shooters, or other MOBA's like DOTA. What do you think it might take to get the region more interested in League of Legends?
Argonavt: Tough question. Either a drop off in shooters or DOTA, or the League of Legends hype from good international performances from teams. So even in CIS gamers will know about League of Legends.
---