Here's how to access the game mode, what to expect, the list of eligible card pools, and more.
The inaugural Hearthstone Twist season is now live! Players can download the update, launch the game, and jump into the fray.
How to access the Hearthstone Twist game mode (Image via Blizzard Entertainment)
How to access Hearthstone Twist Season 1
To access Hearthstone Twist Season 1, launch the game and select the "Hearthstone" option in the main menu. Click on the symbol located near the top-right corner of the screen. Next, select "Twist," press the "My Collections" button, and build some new decks under the Twist Wonders format.
Launch the game
Select "Hearthstone"
Press the symbol near the top-right corner
Choose the "Twist" game mode
Hearthstone Twist Wonders format and rules (Image via Blizzard Entertainment)
How the Hearthstone Twist Wonders format works
The Twist Wonders format involves cards from past expansions alongside the Legacy and Caverns of Time sets. Season 1 features every Hearthstone class except for the Demon Hunter or Death Knight classes since they didn't exist in the seasonal list of past expansions.
Below is the list of eligible card pools:
Legacy (not Core or Classic)
Curse of Naxxramas
Goblins vs Gnomes
Blackrock Mountain
The Grand Tournament
The League of Explorers
Whispers of the Old Gods
One Night in Karazhan
Mean Streets of Gadgetzan
Caverns of Time
"We're excited to announce that Caverns of Time will be in the Twist rotation for at least the first three Twist seasons," Blizzard noted in an announcement.
Caverns of Time refers to a Wild Hearthstone set that boasts a total of 147 cards. These include 113 reprints and 34 brand-new ones. There are also Signature cards to add to one's collection.
The return of classic favorites
Remember the Jade Golems decks, C'Thun shenanigans, and Loatheb? These legendary minions are in Hearthstone Twist Season 1 as well! In an interview about the Twist beta, Hearthstone's Matt London and Chadd Nervig told esports.gg about the philosophy behind the return of old cards.
"Ultimately, I think that we want to provide those opportunities for people that don't have built-out collections to be able to jump in and play Twist," London said. "But one of our primary goals with Twist is to create more value for players' existing collections."
This means Wild players with a decent collection can jump into Twist easily.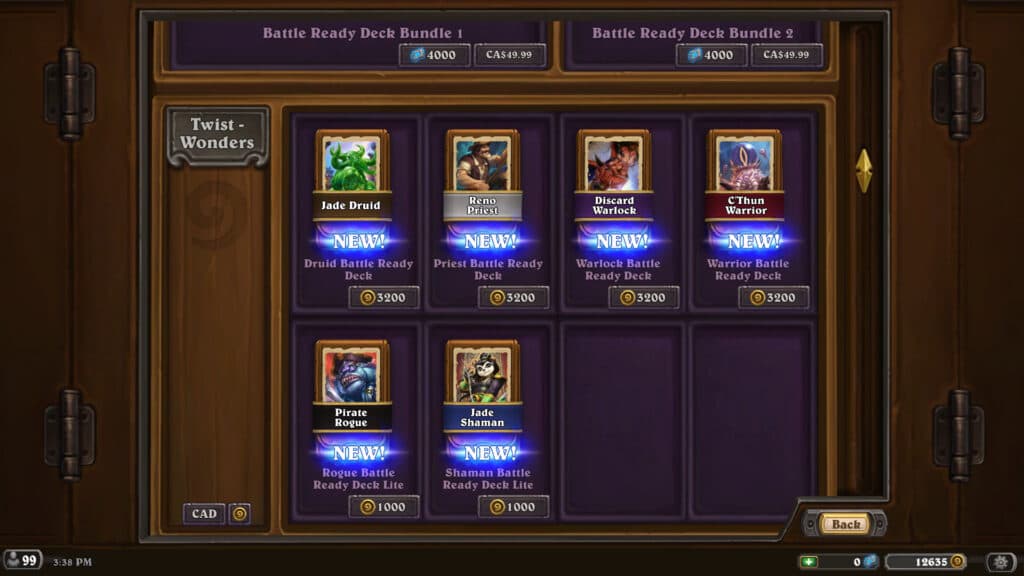 Where to find the battle-ready decks (Image via Blizzard Entertainment)
Hearthstone Twist Battle-ready decks
Meanwhile, newer players can catch up by purchasing some battle-ready decks. To obtain these decks, just visit the in-game shop and get them using gold, real money, or Runestones.
Be sure to check out our guide on every battle-ready deck as well!
That's all for now. Are you ready to jump into battle? Stay tuned on esports.gg for more news and updates!